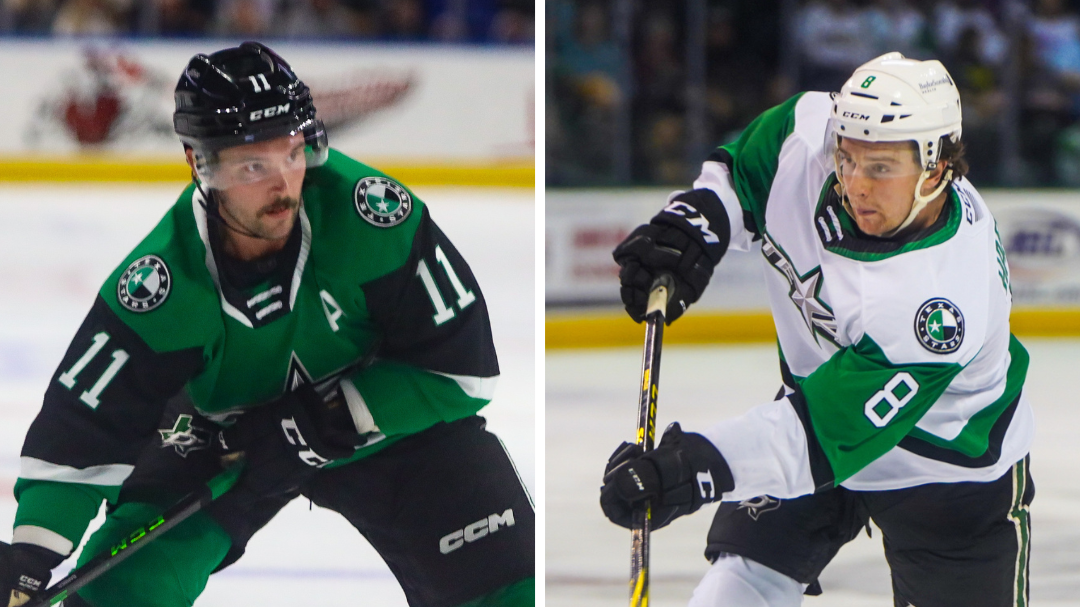 Texas Stars Forward Riley Barber and Defenseman Thomas Harley Named AHL All-Stars
Jan 11, 2023
SPRINGFIELD, Mass. – The American Hockey League announced today the rosters for the 2023 AHL All-Star Classic presented by Bell in collaboration with Manulife Bank, to be held February 5-6 in Laval, Que. Two players from the Texas Stars were selected to represent the Central Division, including forward Riley Barber and defenseman Thomas Harley.
Barber, 28, joined the Stars last summer as a free agent and immediately provided a spark when the team hit the ice this season. The eighth-year pro leads Texas with 33 points (19-14=33) in 34 games and has the second most goals (19), game-winning goals (5) and shots on goal (120) in the entire league.
The Pittsburgh, Penn., native was originally selected in the sixth round by the Washington Capitals in 2012 and has accrued 337 points (173-164=337) in 398 AHL games for Hershey, Laval, Wilkes-Barre/Scranton, Grand Rapids and Texas. Barber has also skated in 16 NHL games for Washington, Montreal and Detroit.
Harley, 21, ranks second among Texas defensemen with six goals and 20 points (6-14=20) in 34 games this season. The third-year pro also has one short-handed goal and two game-winning goals this season, and shares third on the team with 68 shots on goal.
The Syracuse, N.Y., native was selected in the first round (19th overall) by the Dallas Stars in 2019 and has 56 points (14-42=56) in 99 AHL games for Texas. Harley has also skated in 34 regular season NHL games and one Stanley Cup playoff game for Dallas.
Barber and Harley will join Texas head coach Neil Graham, who was named the coach of the Central Division All-Stars by virtue of the Stars being in first place by the Jan. 1 deadline.
The AHL's All-Stars will be divided into four teams, one representing each of the league's four divisions, for the 2023 Mise-o-jeu AHL All-Star Challenge on Monday, Feb. 6. The teams will participate in a round-robin 3-on-3 tournament featuring six games of 10 minutes each. The two teams with the best records at the end of the round-robin will face off for the championship, a six-minute game also played at 3-on-3.
The 2023 Rona AHL All-Star Skills Competition on Sunday, Feb. 5, will pit the All-Stars from the two Eastern Conference divisions against those from the two Western Conference divisions in seven skills events.
Head to www.theahl.com to view the complete All-Star Classic rosters.
Texas returns to the ice Saturday at 7:00 p.m. and Sunday at 5:00 p.m. as the Stars host the Milwaukee Admirals at the H-E-B Center at Cedar Park. Tickets are available at www.texasstars.com/tickets.
Photo Credit: Colorado Eagles (L) / Trevor Murphy (R)
Back to All