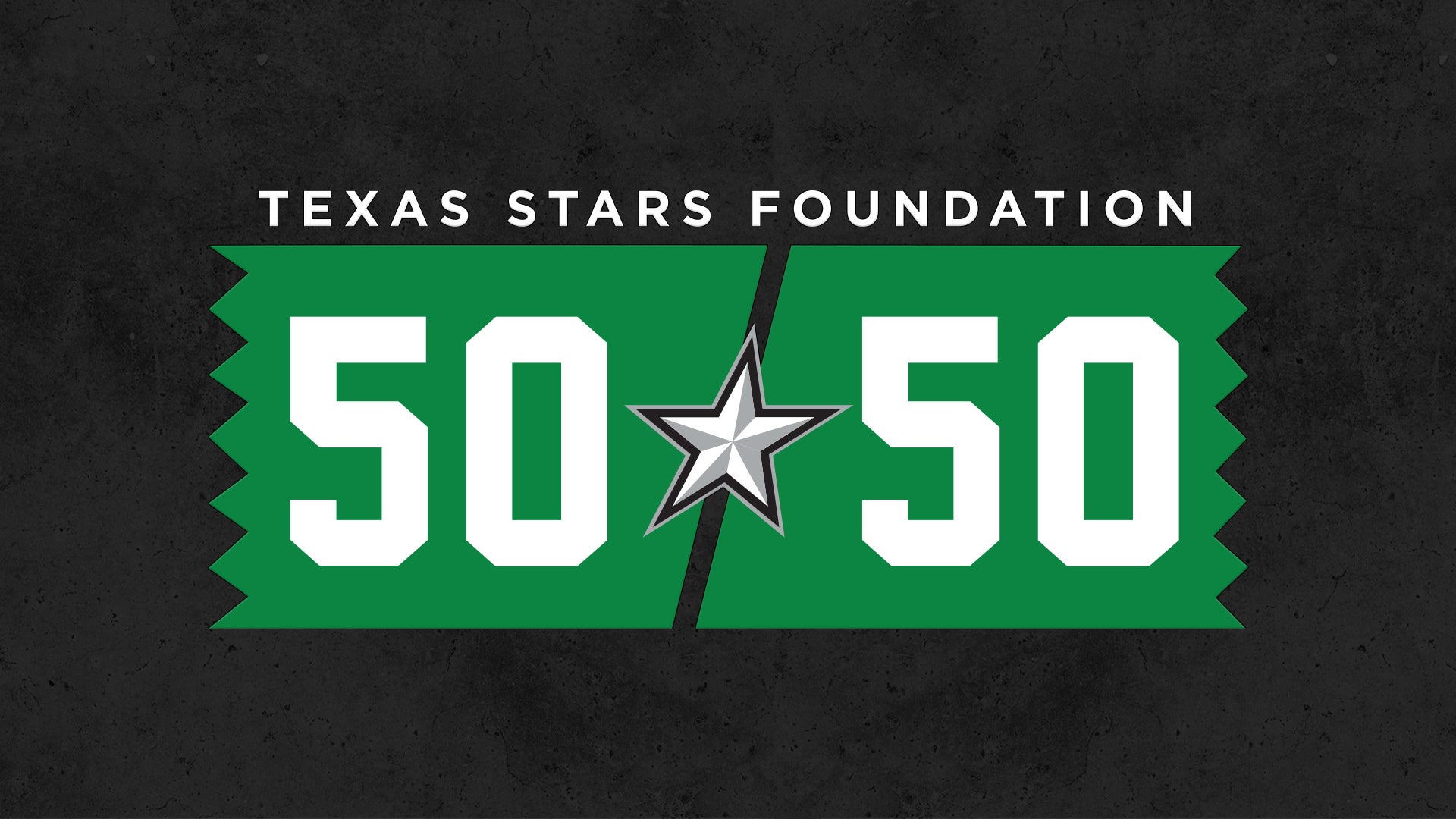 Give back and win big with the Texas Stars Foundation's 50/50 Charitable Raffle
The Texas Stars Foundation brings you one of the most popular fundraisers at hockey rinks across North America: the 50/50 Raffle! The Texas Stars Foundation 50/50 Raffle raises funds for worthwhile central Texas charities while giving you the chance to walk away with a nightly cash prize.
50/50 raffle tickets are sold by Texas Stars Foundation staff during each Texas Stars home game, and a drawing is held at the beginning of the 3rd period to determine the lucky winner of half the total pot for that game. The other half of the proceeds raised during that game go to the Texas Stars Foundation to support local nonprofits throughout central Texas.
The Texas Stars Foundation strives to utilize the talents and resources of the Texas Stars players, families, staff and ownership to enrich the greater central Texas area and military children throughout the United States.
Quick Facts:
Must be 18 years old to participate
Raffle tickets may be purchased with cash and debit cards
Raffle tickets are available at manned kiosks on the concourse near sections 104 and 120; as well as from mobile sellers on the concourse and in the Suites.
To claim prize: Report to the Guest Services Desk near section 121 between the announcement of the winning number and the end of the game, or contact the raffle manager at Pharris@TexasStars.com to arrange presenting your ticket within five days.
Click Here for the complete Official Rules for the Texas Stars Foundation 50/50 Raffle.
For more information or to contact the 50/50 Raffle Manager, email Foundation@TexasStars.com
Texas Stars 50/50 Raffle results:
| RAFFLE DATE | GAME | WINNING NUMBER | JACKPOT | WINNING AMOUNT | CLAIMED/NOT CLAIMED |
| --- | --- | --- | --- | --- | --- |
| 10/14/2022 | COLORADO EAGLES | 35297071 | $2,345 | $1,172.50 | CLAIMED - BRENT PARRES |
| 10/15/2022 | COLORADO EAGLES | 177843018 | $2,930 | $1,465 | CLAIMED - SCOTT FORAN |
| 10/29/2022 | GRAND RAPIDS GRIFFINS | 493180002 | $2,040 | $1,020 | NOT CLAIMED |
| 10/30/2022 | GRAND RAPIDS GRIFFINS | 168556068 | $1,440 | $720 | CLAIMED - LUIS GONZALEZ |
| 11/12/2022 | ROCKFORD ICEHOGS | 100255004 | $3,250 | $1,625 | CLAIMED - JENNIFER HANKIN |
| 11/13/2022 | ROCKFORD ICEHOGS | 384912004 | $1,600 | $800 | CLAIMED - FLAVIA SA |
| 11/18/2022 | MANITOBA MOOSE | 126273028 | $1,900 | $950 | CLAIMED - HALEY MANDRIK |
| 11/19/2022 | MANITOBA MOOSE | 105877005 | $2,370 | $1,185 | CLAIMED - DAVID WALDEN |
| 12/9/2022 | CHICAGO WOLVES | 139088006 | $3,360 | $1,680 | CLAIMED - JOHN JOHNSON |
| 12/10/2022 | CHICAGO WOLVES | 123777004 | $2,325 | $1,162.50 | CLAIMED - BRENDA MARTINEZ |
| 12/20/2022 | ROCKFORD ICEHOGS | 389220009 | $1,805 | $902.50 | CLAIMED - RITA MOORE |
| 12/21/2022 | ROCKFORD ICEHOGS | 471699028 | $2,845 | $1,422.50 | CLAIMED - STEVEN RADNEY |
| 12/30/2022 | TUCSON ROADRUNNERS | 150672019 | $3,450 | $1,725 | CLAIMED - WADE SMITH |
| 12/31/2022 | TUCSON ROADRUNNERS | 334622027 | $2,195 | $1097.50 | CLAIMED - GEORGE POE |
| 1/14/2023 | MILWAUKEE ADMIRALS | 350285048 | $3,365 | $1,682.50 | CLAIMED - REYNALDO MANZANALEZ |
| 1/15/2023 | MILWAUKEE ADMIRALS | 126794066 | $2,890 | $1,445 | CLAIMED - THEODORE HARRIS |
| 1/27/2023 | COLORADO EAGLES | 173323055 | $4,735 | $2,367.50 | CLAIMED - DALIN LEHMANN |
| 1/28/2023 | COLORADO EAGLES | 356636076 | $3,435 | $1,717.50 | CLAIMED - BRUCE BIAS |
| 1/30/2023 | IOWA WILD | 333220035 | $1,225 | $612.50 | CLAIMED - BRUCE BIAS |
| 2/1/2023 | IOWA WILD | 103629211 | $600 | $300 | CLAIMED - DEREK ADAMS |
| 2/3/2023 | GRAND RAPIDS GRIFFINS | 179721002 | $4,865 | $2,432.50 | CLAIMED - BILLY SHELTON |
| 2/4/2023 | GRAND RAPIDS GRIFFINS | 155704006 | $4,760 | $2,380 | CLAIMED - JAMIE COLE |
| 2/24/2023 | BAKERSFIELD CONDORS | 389907004 | $3,210 | $1,605 | CLAIMED - PETER BEARDSLEY |
| 2/25/2023 | BAKERSFIELD CONDORS | 171539002 | $2,815 | $1,407.50 | CLAIMED - GINA WRIGLEY |
| 3/3/2023 | MILWAUKEE ADMIRALS | 390679020 | $2,345 | $1,172.50 | CLAIMED - MARCUS GRIMM |
| 3/4/2023 | MILWAUKEE ADMIRALS | 181146008 | $2,815 | $1,407.50 | CLAIMED - ARMANDO SAMANIEGO |
| 3/21/2023 | COACHELLA VALLEY FIREBIRDS | 146063006 | $1,375 | $687.50 | CLAIMED - JOSEPH BUNNER |
| 3/22/2023 | COACHELLA VALLEY FIREBIRDS | 135414011 | $1,310 | $655 | CLAIMED - CAROLYN BOTTS |
| 3/25/2023 | CHICAGO WOLVES | 389674003 | $3,345 | $1,672.50 | NOT CLAIMED |
| 3/26/2023 | CHICAGO WOLVES | 373877003 | $1,410 | $705 | CLAIMED - KATHLEEN MCNEELEY |
| 3/31/2023 | SAN JOSE BARRACUDA | 310228159 | $3,025 | $1,512.50 | CLAIMED - JOSEPH BLACKLEDGE |
| 4/1/2023 | SAN JOSE BARRACUDA | 195290004 | $3,445 | $1,722.50 | CLAIMED - JORDAN PEREIRA |
| 4/11/2023 | MANITOBA MOOSE | 463883058 | $1,730 | $865 | CLAIMED - KYLE KEMP |
| 4/12/2023 | MANITOBA MOOSE | 146845019 | $1,410 | $705 | CLAIMED - TODD EARLY |
| 4/15/2023 | IOWA WILD | 101054036 | $3,795 | $1,897.50 | CLAIMED - JOSEPH BREHM |
| 4/16/2023 | IOWA WILD | 389228013 | $6,450 | $3,225 | CLAIMED - BRANDON BREWER |
| 5/3/2023 | ROCKFORD ICEHOGS | 364385062 | $5,130 | $2,565 | CLAIMED - PATTI RALPH |
| 5/17/2023 | MILWAUKEE ADMIRALS | 373281154 | $4,275 | $2,137.50 | CLAIMED - GREG EAKENS |
| 5/19/2023 | MILWAUKEE ADMIRALS | 140974229 | $5,065 | $2,532.50 | CLAIMED - BRETT BUELL |
| 5/21/2023 | MILWAUKEE ADMIRALS | 318513010 | $5,395 | $2,697.50 | CLAIMED - SHELDON WING |