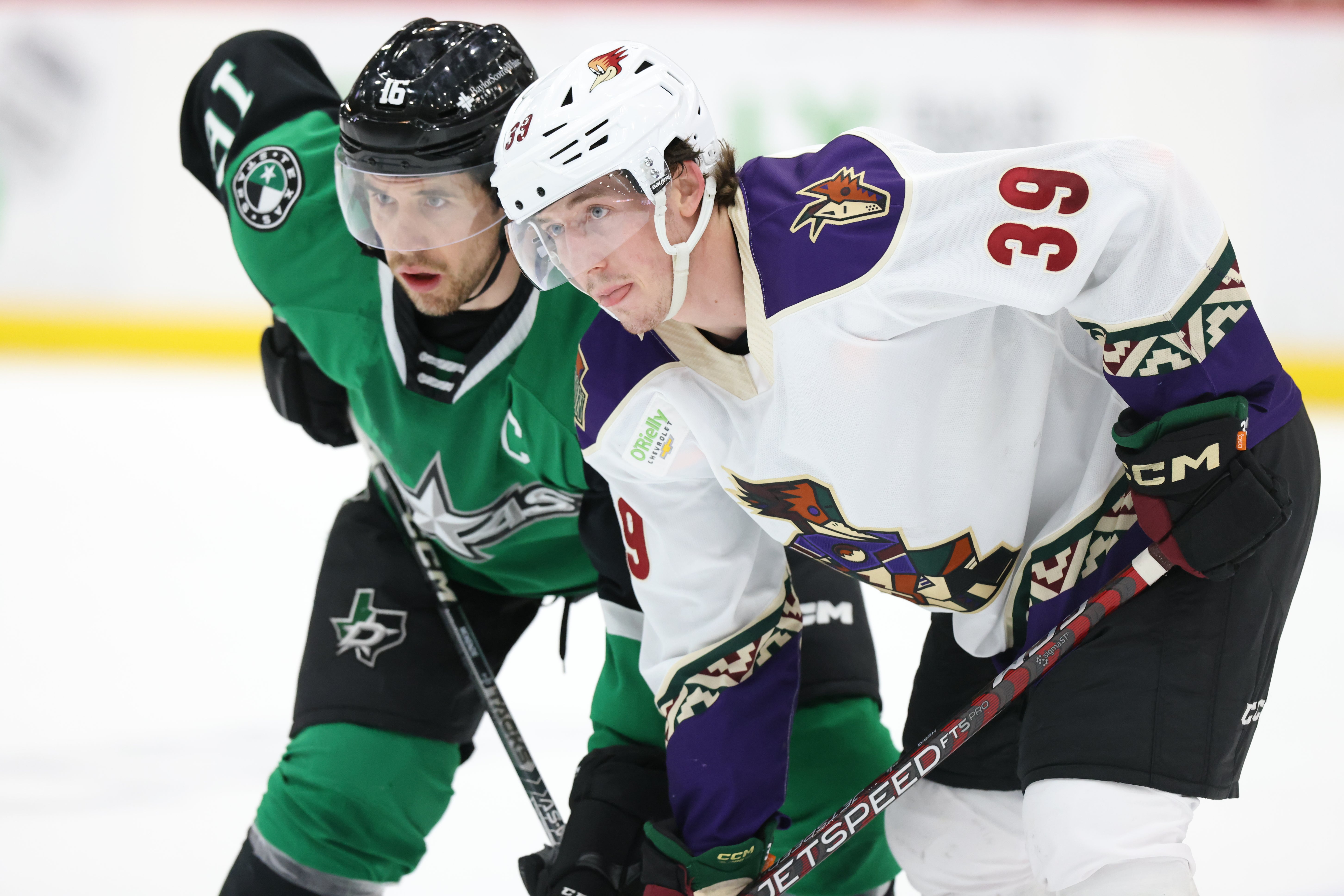 Studenic Scores in Overtime, Stars Sweep Roadrunners
Apr 9, 2023
TUCSON, Arizona – The Texas Stars, American Hockey League affiliate of the NHL's Dallas Stars, completed a road sweep over the Tucson Roadrunners with a 5-4 overtime victory Saturday night at Tucson Convention Center Arena.
The Stars scored the game's first goal 20 seconds in when Riley Tufte scooped up a loose puck near the left dasher before firing it into the top-right corner from the left dot. Texas extended its lead to 2-0 when Mavrik Bourque buried his fourth goal of the two-game series past Tyler Parks from the slot at 6:28. Then Bourque followed it up by scoring another to make it five on the weekend when he chipped another puck behind Parks with 3:17 left in the stanza.
Both sides scored a goal in the middle period. Stars captain Curtis McKenzie tapped in the first one off a pass from Antonio Stranges while he was on his knee near the edge of the crease at the 7:45 mark. Tucson scored its first of the night when Colin Theisen fired a one-time feed from Steven Kampfer past Remi Poirier with 1:21 remaining in the second period.
The Roadrunners fought back to even the score 4-4 in the third period. Josh Doan got the comeback started when he cut the deficit to two 3:04 into the third. Jean-Sebastien Dea and Cameron Hebig then teamed up to score goals 37 seconds apart at 17:19 and 17:56, respectively, to tie the game and force overtime, which also locked up a spot for Tucson in the playoffs.
With 17 seconds left in the extra session, Marian Studenic ripped a wrist shot past Parks to win it for the Stars. The Stars, still in pursuit of their third divisional title in franchise history, secured the second seed in the Central Division with the win.
Poirier improved to 8-4-2 after he turned aside 36 of the 40 shots he faced. Parks came down with the overtime loss after surrendering five goals on 32 shots.
The Stars capped their regular-season travel schedule by improving to a 19-9-7-1 road record Saturday night. Texas begins a four-game homestand to conclude the regular season by hosting the Manitoba Moose Tuesday and Wednesday at 7:00 p.m. at the H-E-B Center at Cedar Park.
Photo Credit: Tucson Roadrunners
| Game Info | Shots | Goaltenders | 3 Stars (Ubeo Business Services) |
| --- | --- | --- | --- |
| Boxscore | TEX: 32 | W: Poirier (TEX) | 1: Bourque (TEX) |
| Photo | TUC: 40 | L: Parks (TUC) | 2: McKenzie (TEX) |
| Video | | | 3: Doan (TUC) |
Back to All