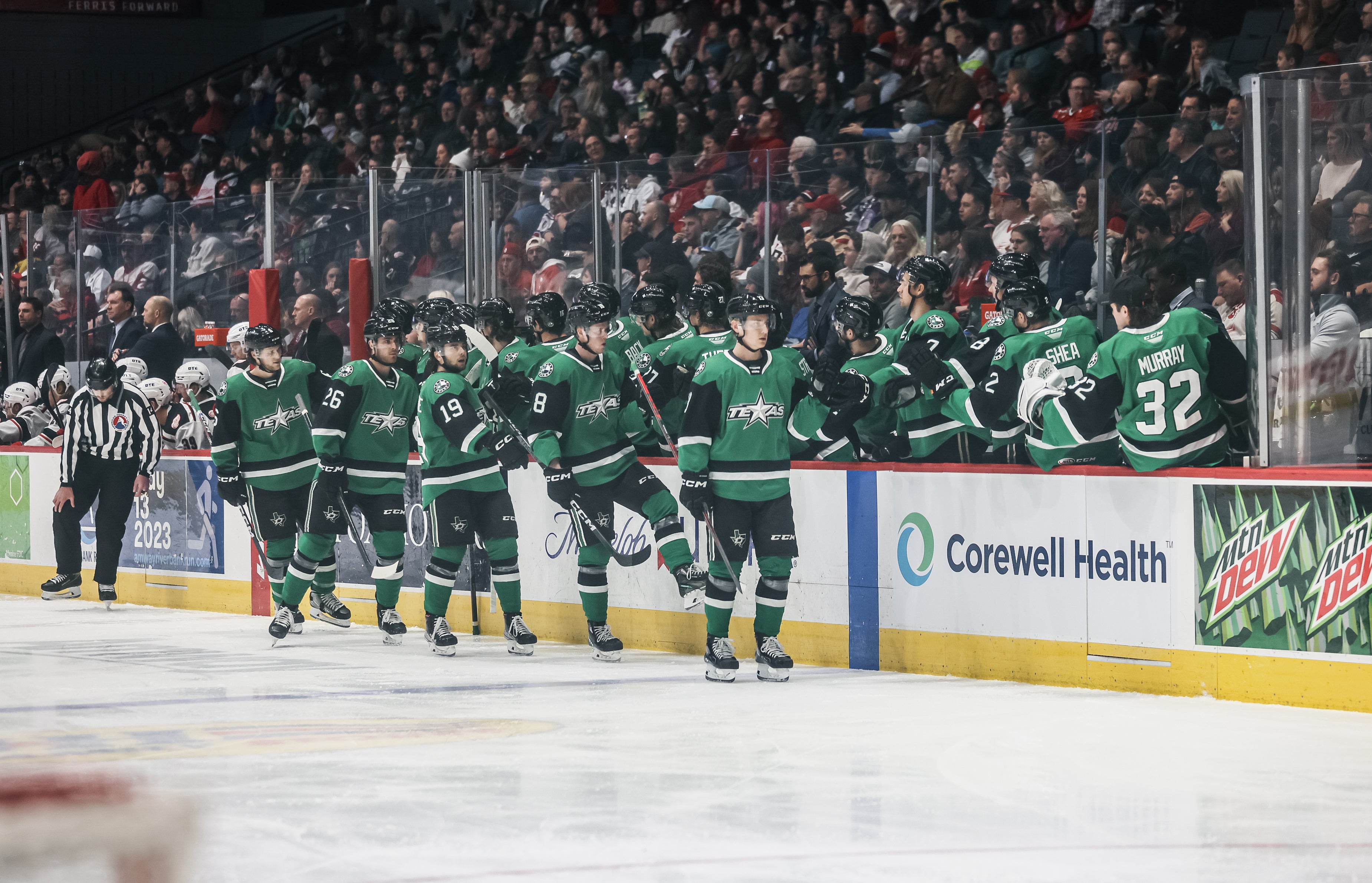 Stranges' Shootout Winner Sends Stars Past Griffins
Jan 7, 2023
GRAND RAPIDS, Michigan – The Texas Stars, American Hockey League affiliate of the NHL's Dallas Stars, got back in the win column thanks to a seventh-round shootout goal by Antonio Stranges, which sent the Stars past the Grand Rapids Griffins 3-2 Saturday night at Van Andel Arena.
The Stars struck first early Saturday night when Jacob Peterson shoveled in a backhand shot through the five-hole of Alex Nedeljkovic during a net-front scramble 1:41 into the contest. Carrying a 1-0 advantage into the first break, the Stars outshot the Griffins 15-8 in period one.
Texas extended its lead to 2-0 in the second period when Matej Blumel unloaded on a one-timer from the top of the right circle at 14:26 on the power play. After outshooting the Griffins 12-7 in the second 20 minutes of action to take a 27-15 lead in shots on goal, Texas grasped a two-goal upperhand after 40 minutes in Michigan.
Grand Rapids fought back to tie the game 2-2 in the final regulation period. Cutting the deficit in half, Drew Worrad scored first for the Griffins at 3:37 before Taro Hirose beat Anton Khudobin to eventually force overtime at 18:07. After 60 minutes of action, the Stars were outshooting the Griffins 35-21.
Saturday night's thriller in Michigan eventually called for a shootout to determine the winner following a scoreless extra session. In the shootout, Stranges was the eventual hero when his goal in the bottom of the seventh round provided the Stars with a 3-2 road win over the Griffins.
In goal for the Stars, Khudobin moved to 12-3-4 as well as 2-1 in shootouts this season after he stopped 19 of 21 shots. On the opposing end, Nedeljkovic steered away 36 of the Stars' 38 shots en route to the loss.
The Stars return home next weekend to play host to the Milwaukee Admirals for the first time this season. Face-offs for the two-game series are slated for 7:00 p.m. Saturday and 5:00 p.m. Sunday at the H-E-B Center at Cedar Park.
Photo Credit: Nicolas Carrillo / Grand Rapids Griffins
| Game Info | Shots | Goaltenders | 3 Stars (Ubeo Business Services) |
| --- | --- | --- | --- |
| Boxscore | TEX: 39 | W: Khudobin (TEX) | 1: Stranges (TEX) |
| Photo | GR: 21 | L: Nedeljkovic (GR) | 2: Hirose (GR) |
| Video | | | 3: Blumel (TEX) |
Back to All