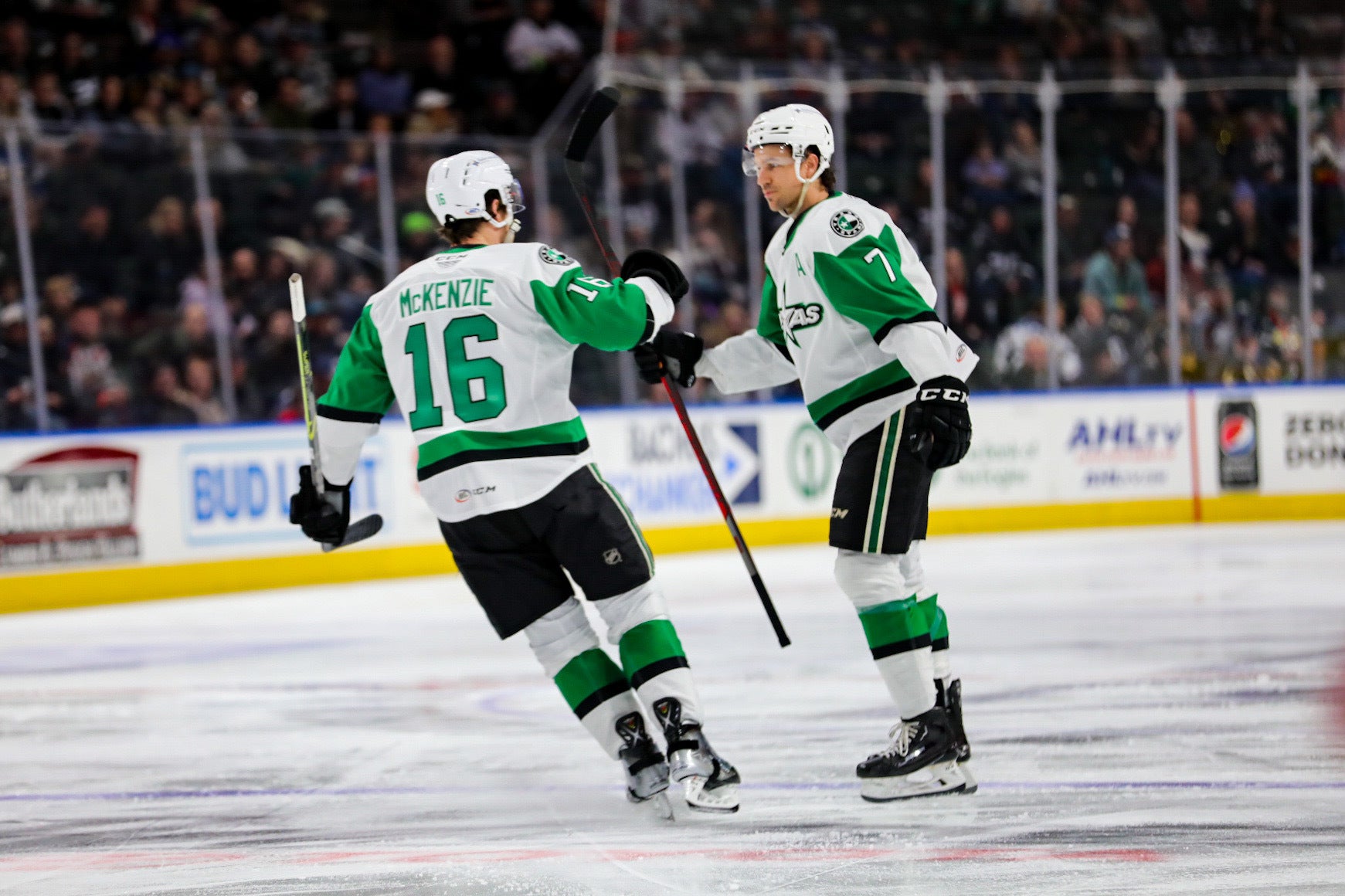 Stars Sneak Past Eagles with Shootout Win
Feb 10, 2023
LOVELAND, Colorado – The Texas Stars, American Hockey League affiliate of the NHL's Dallas Stars, won 4-3 in a shootout over the Colorado Eagles Friday night at the Budweiser Events Center.
Curtis McKenzie fired in the first goal past Justus Annunen at 1:07 after Mavrik Bourque assisted with a face-off win back to the Stars' captain near the top of the right circle. The Eagles then grabbed their first lead of the night with back-to-back goals scored at 8:17 and 13:09 by Josh Jacobs and Callahan Burke, respectively. Thirty seconds later at the 13:39 mark, the Stars evened the score 2-2 when a shot by Riley Barber through traffic glanced off McKenzie and in on the power play.
Texas reclaimed its lead 3-2 at the halfway mark of the middle frame when Bourque redirected in a rebound shot by Barber to make it 3-2 near the front of the Eagles' goal.
In the third period, Colorado tied the game 3-3 when Ben Meyers beat Matt Murray on a breakaway for the Eagles second short-handed goal of the contest. Meyers' third goal of the season 1:11 into the third period was enough to force overtime Friday night.
Following a scoreless extra session, Tanner Kero and Barber each scored goals for the Stars in the first two rounds of the shootout. On the other end of the ice, Murray turned aside both Eagles' attempts to secure a 4-3 victory for the Stars.
Murray improved to 12-7-4 with the win after making 28 saves on 31 shots. In goal for the Eagles, Annunen came down with the loss and 35 stops on 38 shots.
The Stars and Eagles go head-to-head again Saturday night in Colorado. The opening face-off is scheduled for 8:05 p.m. CST at the Budweiser Events Center.
Photo Credit: Colorado Eagles
| Game Info | Shots | Goaltenders | 3 Stars (Ubeo Business Services) |
| --- | --- | --- | --- |
| Boxscore | TEX: 39 | W: Murray (TEX) | 1: Kero (TEX) |
| Photo | COL: 31 | L: Annunen (COL) | 2: McKenzie (TEX) |
| Video | | | 3: Burke (COL) |
Back to All