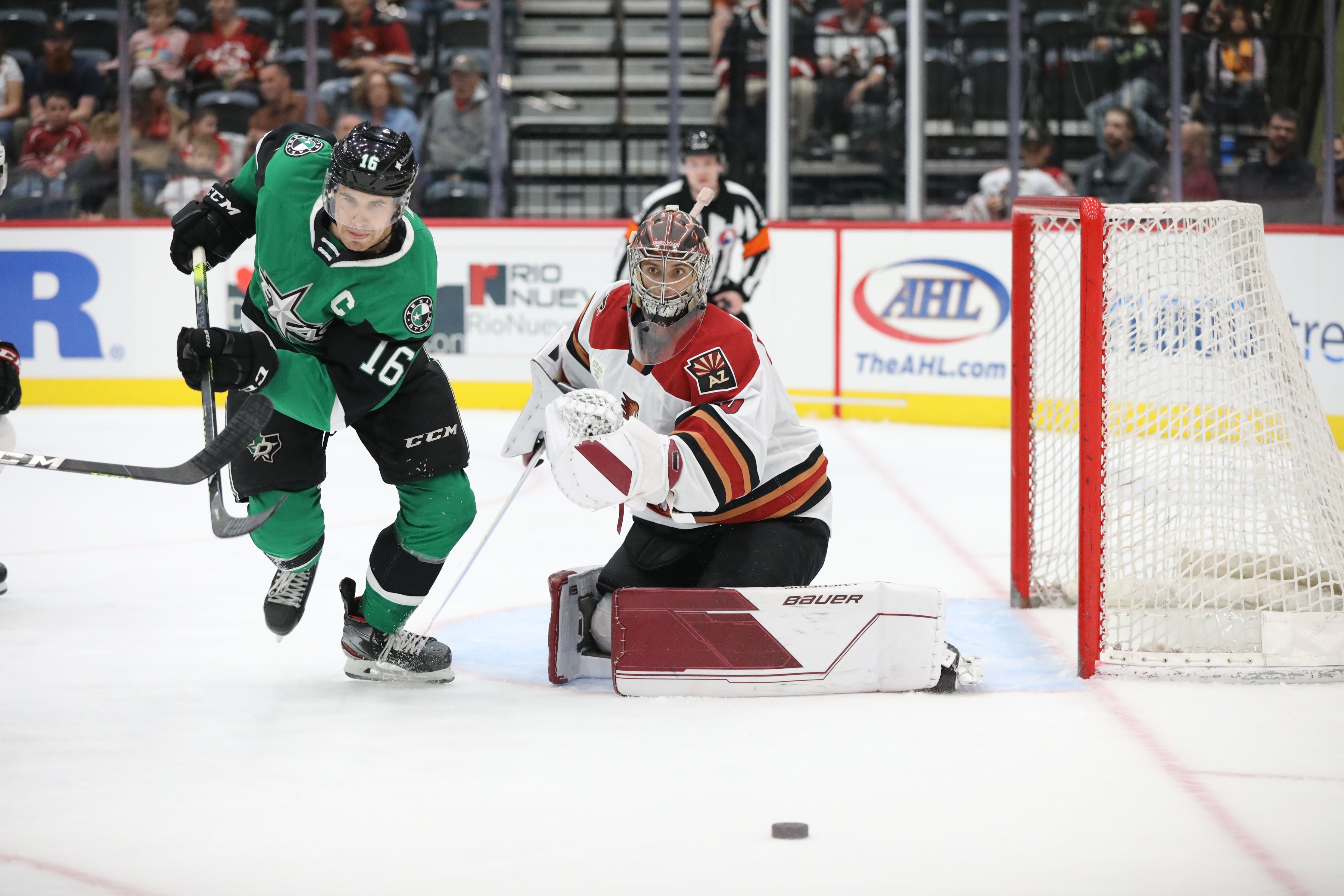 Stars Shutout 4-0 in First Road Game of the Season
Oct 24, 2021
TUCSON, Arizona – The Texas Stars, American Hockey League affiliate of the NHL's Dallas Stars, fell to the Tucson Roadrunners 4-0 in their first road game of the season. Ivan Prosvetov collected his second shutout of the 2021-22 season.
In the first period, the two goaltenders, Jake Oettinger and Ivan Prosvetov stood tall as they each faced two power play chances. It wasn't until the 19:37 mark that the Roadrunners would break the tie. Vladislav Kolyachonok took a shot from the blue line, which Oettinger saved but Liam Kirk was lying in wait for the rebound and slid it past the glove of Oettinger to put the home team up by one.
In the second frame, Ben McCartney collected his first of the night at 4:02 in the second when a turnover in center ice led to a two-on-one chance for Tucson. Cameron Hebig led the charge towards the Stars net and found an open McCartney, who one-timed the puck past Oettinger to put the Roadrunners ahead by two. Just eight minutes later, McCartney scored his second of the night on the power play to increase the lead to three.
In the third, Oettinger stood tall as the Roadrunners had two more power play opportunities. The Stars, in an attempt to get some offense started, pulled Oettinger for the extra skater, but McCartney wasn't done just yet. With just under two minutes left to play, McCartney collected his first professional hat-trick with an empty-net goal.
Oettinger finished the night with 20 saves on 23 shots, while his counterpart, Prosvetov made 19 saves on 19 shots.
The Stars went 0 for 8 on the man-advantage, while Tucson was 1 for 7.
Photo Credit: Tucson Roadrunners
| Game Info | Shots | Goaltenders | 3 Stars (Xerox Business Solutions Southwest) |
| --- | --- | --- | --- |
| Boxscore | TEX: 19 | W: Prosvetov (TUC) | 1: Ben McCartney |
| Photo | OPP: 23 | L: Oettinger (TEX) | 2: Ivan Prosvetov |
| Video | | | 3: Barrett Hayton |
Back to All