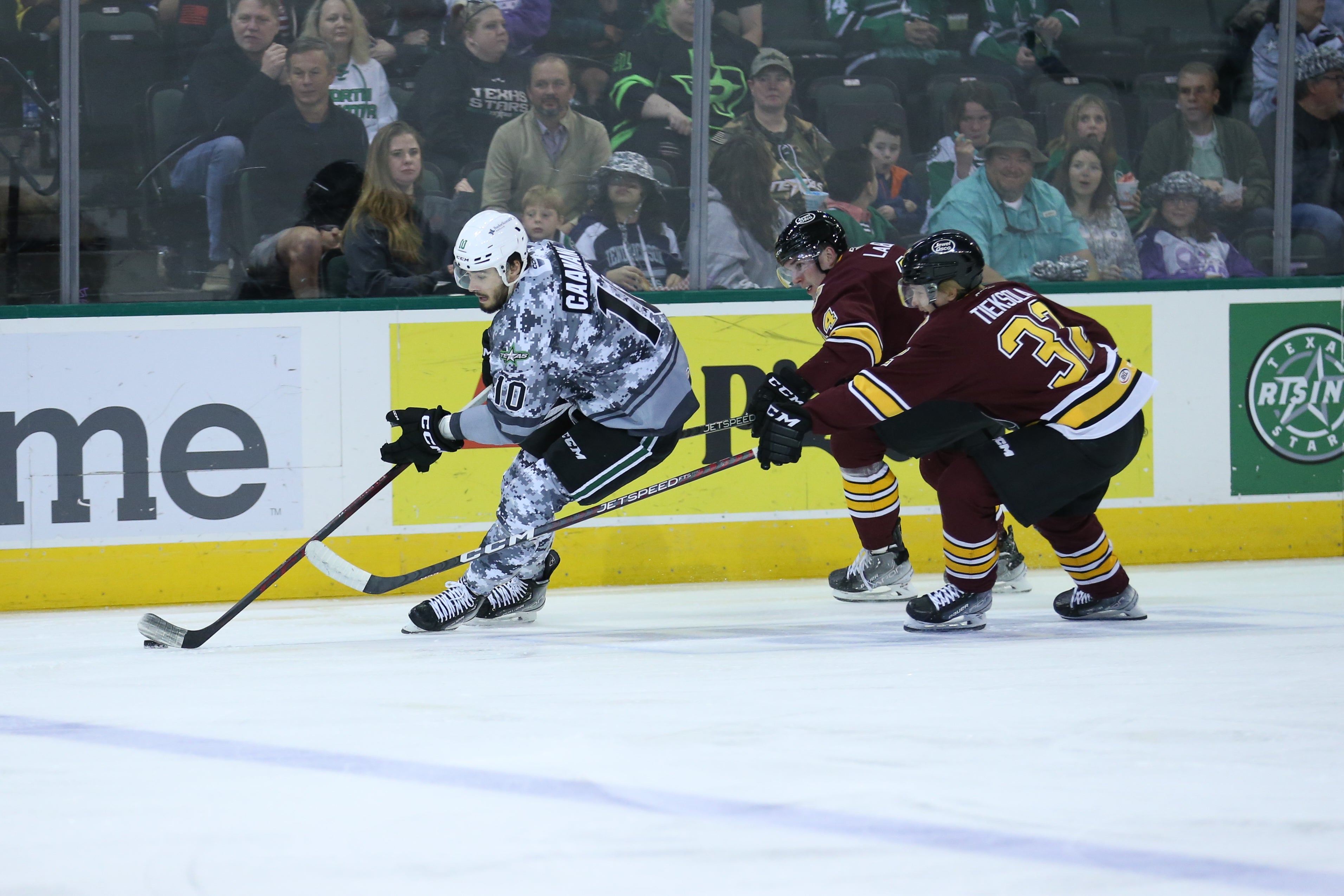 Stars Shrink Magic Number to One with Barber's Overtime Winner
Mar 25, 2023
CEDAR PARK, Texas – The Texas Stars, American Hockey League affiliate of the NHL's Dallas Stars, defeated the Chicago Wolves 4-3 in overtime thanks to goal in the extra session by Riley Barber Saturday night.
The Stars skated in front of their ninth sellout crowd of the season as 6,778 fans packed the H-E-B Center at Cedar Park.
Marian Studenic put the Stars in the score column first when he capitalized on a feed from Curtis McKenzie that he was able to fire past Zachary Sawchenko 3:03 into the contest. The Stars got out to a 2-0 lead with 2:10 remaining in the first when Antonio Stranges picked up a pass from Will Butcher near the front of the net, where he lifted it in on his backhand. Scott Reedy scored the final goal of the opening period 46 seconds later to make it 3-0 after tapping a backdoor pass from Mavrik Bourque behind Sawchenko.
The Wolves opened the scoring in the middle period at 6:44 and cut the deficit to 3-1 when Tuuka Tieksola picked up a bouncing puck near the Stars' goal and shoveled it past a sprawled out Remi Poirier. They later closed the gap to within one when Mackenzie MacEachern scored on a breakaway short-handed with 1:38 left in the stanza.
Chicago completed a comeback 12:45 into the third period when Tieksola scored his second goal of the night on a one-timer fed to the slot by Cavan Fitzgerald, which tied the game 3-3 and eventually forced overtime.
During the extra session, Barber buried the game-deciding goal at 1:45 when he tapped in a pass across the slot by Thomas Harley. Barber's eighth game-winner of the year set a new single-season record for Texas, surpassing the previous mark set by Greg Rallo during the 2010-11 season.
In goal for the Stars, Poirier turned aside 26 of 29 shots to improve to 6-3-2 with the win. For the Wolves, Sawchenko was handed an overtime loss after he surrendered four goals on 30 shots.
The Stars can clinch a playoff berth facing the Chicago Wolves again Sunday at the H-E-B Center at Cedar Park at 5:00 p.m.
Photo Credit: Ross Bonander / Texas Stars
| Game Info | Shots | Goaltenders | 3 Stars (Ubeo Business Services) |
| --- | --- | --- | --- |
| Boxscore | TEX: 30 | W: Poirier (TEX) | 1: Barber (TEX) |
| Photo | CHI: 29 | L: Sawchenko (CHI) | 2: Tieksola (CHI) |
| Video | | | 3: Reedy (TEX) |
Back to All