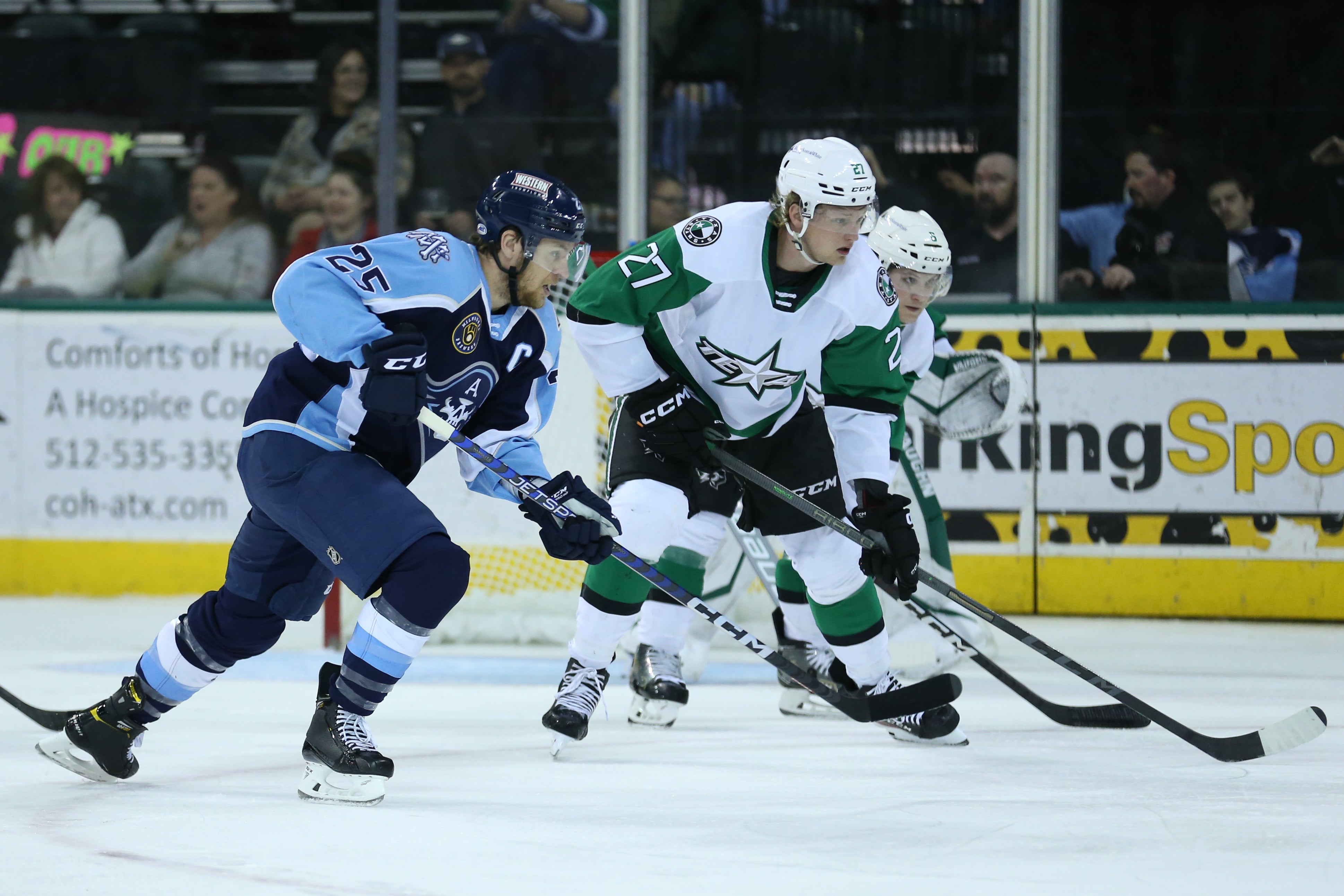 Stars Shock Admirals with Late Comeback Win
Jan 14, 2023
CEDAR PARK, Texas – The Texas Stars, American Hockey League affiliate of the NHL's Dallas Stars, overcame a three-goal deficit to stun the Milwaukee Admirals 5-4 Saturday night at the H-E-B Center at Cedar Park.
The Admirals struck early in the contest to get things rolling when Zach Sanford tapped in a pass from Jimmy Huntington at 2:13. However, the Stars evened the score not long after when Matej Blumel ramped a shot by Ryan Shea off the crossbar and in at 3:36 of the first period. Milwaukee reclaimed its lead at the 10:43 mark when Egor Afanasyev beat Anton Khudobin from the top of the right circle with a wrist shot. Despite trailing 2-1 after 20 minutes of action in Cedar Park, the Stars doubled up the Admirals 12-6 in shots on goal during the first period.
The second period saw Milwaukee's Markus Nurmi and Cole Schneider score goals at 6:32 and then 8:13, respectively, to extend the Admirals' lead to 4-1. Before the period could end, Texas forward Rhett Gardner helped the Stars climb back into the fight when he slid the puck between Devin Cooley's legs at 12:27 of the middle frame. Down by two after two in Texas, the Stars grasped a 17-13 advantage in shots through 40 minutes of play.
In the third period, Texas mounted a rally that saw it cut the deficit back to one when Oskar Back chipped a loose puck in front over Cooley and in to make it 4-3 with 5:33 remaining in regulation. The Stars ultimately eliminated the three-goal deficit and completed the comeback late in regulation when Ryan Shea buried a shot from the left point for his third goal of the season to make it 4-4 with 4:13 remaining. Then with 36.3 seconds left to play, Marian Studenic called game by scoring the eventual game-winner near the high slot with a wrist shot that beat Cooley blocker-side.
In goal for the Stars, Matt Murray picked up the win in relief to improve to 9-5-1 after he stopped each of the six shots he faced after entering the game in the middle period. For Milwaukee, Cooley was handed the loss after making 26 saves on 31 shots.
The Stars rematch the Admirals Sunday night at 5:00 p.m. in the two-game series finale at H-E-B Center at Cedar Park.
Photo Credit: Ross Bonander / Texas Stars
| Game Info | Shots | Goaltenders | 3 Stars (Ubeo Business Services) |
| --- | --- | --- | --- |
| Boxscore | TEX: 31 | W: Murray (TEX) | 1: Studenic (TEX) |
| Photo | MIL: 17 | L: Cooley (MIL) | 2: Shea (TEX) |
| Video | | | 3: Petrovic (TEX) |
Back to All