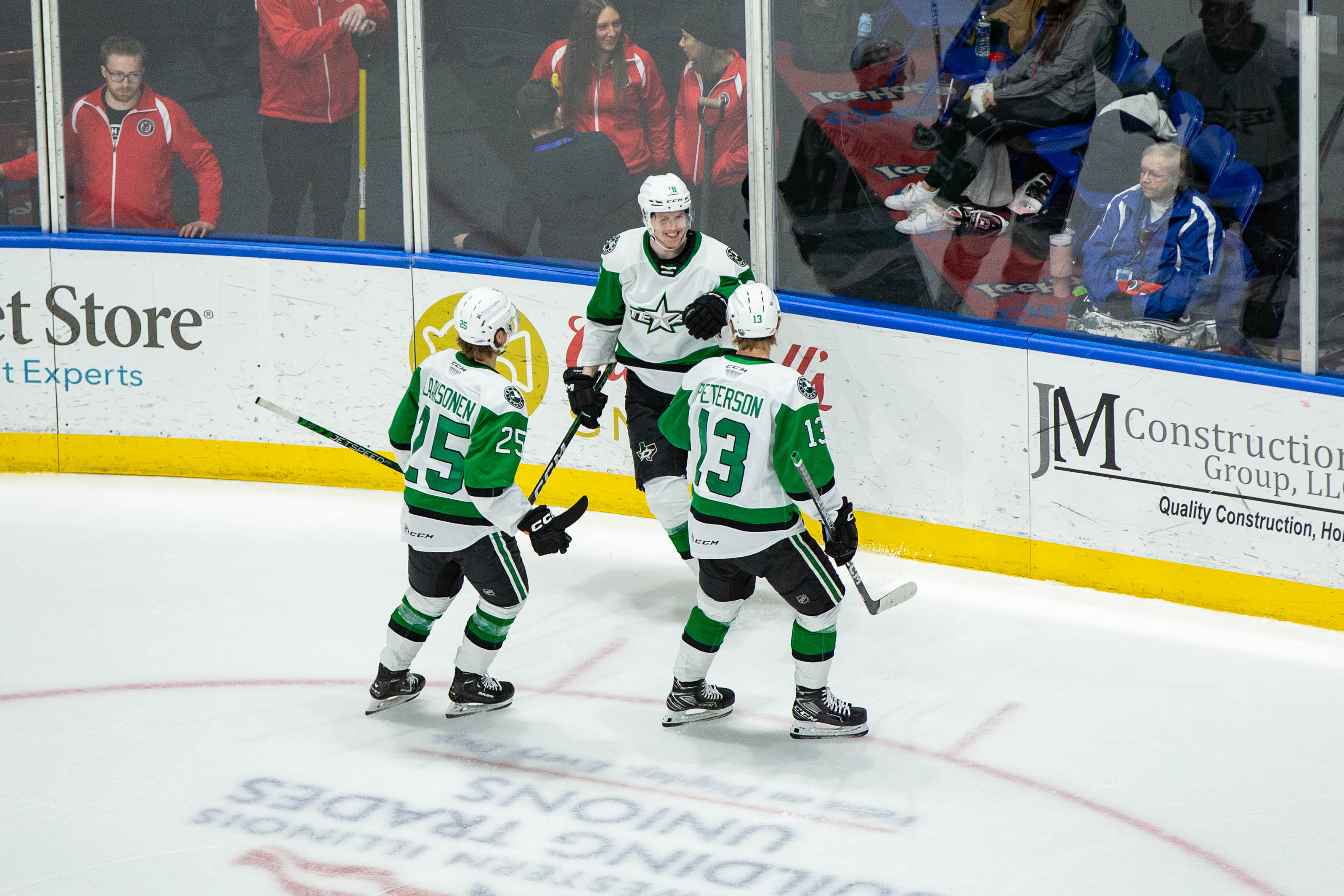 Stars Shine Against IceHogs in Rockford
Feb 22, 2023
ROCKFORD, Illinois – The Texas Stars, American Hockey League affiliate of the NHL's Dallas Stars, came out on top 5-3 against the Rockford IceHogs Wednesday night at the BMO Center.
The IceHogs cracked the score column first 1:49 into the opening frame when David Gust buried a shot from the slot past Remi Poirier after receiving a pass out of the corner from Luke Philp. Jacob Peterson tied the game 1-1 at 9:59 when he cleaned up a rebound in near the slot shot by Oskari Laaksonen. Texas claimed its first lead of the night at 15:39 when a shot from the left point by Michael Karow banked off Riley Tufte's skate before sliding behind Arvid Soderblom to make it 2-1.
In the second period, Michael Teply tied the game 2-2 at 5:29 when his shot from the high slot glanced off a Stars' player and past Poirier.
In his first game back from a two-game stint with Dallas in the NHL, Fredrik Karlstrom broke the tie and made it 3-2 Texas 10:11 into the third period when he beat Soderblom from the slot with a wrist shot. Riley Barber then made it 4-2 with 4:36 left to play by firing his team-leading 23rd goal of the season over the glove of Soderblom from the top of the left circle. After Gust answered to cut the deficit back to one with 2:03 remaining, Tanner Kero iced the game by scoring an empty-net goal with 35 seconds left that sealed the 5-3 victory.
In goal for the Stars, Poirier improved to 2-0-1 on the season after making 19 saves on 22 shots. Soderblom came down with the loss for the IceHogs after surrendering five goals on 31 shots against.
Up next, Texas returns home to host the Bakersfield Condors at 7:00 p.m. Friday and Saturday at the H-E-B Center at Cedar Park.
Photo Credit: Brad Repplinger / Rockford IceHogs
| Game Info | Shots | Goaltenders | 3 Stars (Ubeo Business Services) |
| --- | --- | --- | --- |
| Boxscore | TEX: 31 | W: Poirier (TEX) | 1: Peterson (TEX) |
| Photo | RFD: 22 | L: Soderblom (RFD) | 2: Gust (RFD) |
| Video | | | 3: Karlstrom (TEX) |
Back to All