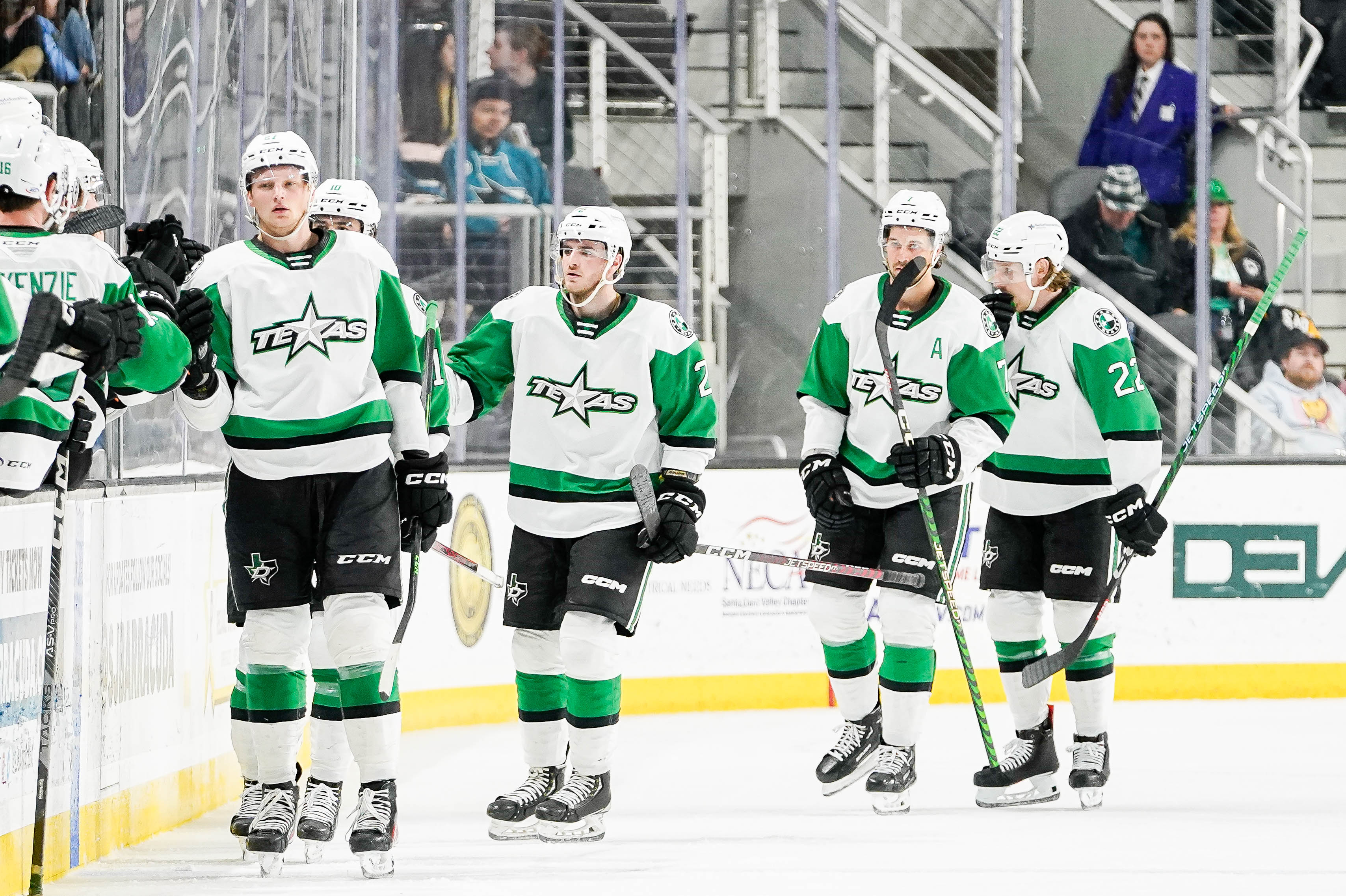 Stars Score Six to Tackle San Jose
Mar 17, 2023
SAN JOSE, California – The Texas Stars, American Hockey League affiliate of the NHL's Dallas Stars, snapped a two-game skid with a 6-2 win over the San Jose Barracuda Friday night at Tech CU Arena.
Curtis McKenzie broke the scoreless tie with 18 seconds left in the first period when he fired at one-timer behind Strauss Mann following a pass by Rhett Gardner on an odd-man rush.
The second period saw the Barracuda even the score when Daniel Gushchin tipped a shot by Martin Kaut at the point past Remi Poirier to tie the game 1-1 at 10:16. Then at 12:58, Riley Tufte tipped in a shot by Gardner to help the Stars reclaim the lead. San Jose tied the game back up at 2-2 when Jeffrey Viel shoveled in a rebound on his backhand with 51 seconds left in the middle stanza.
Riley Damiani broke the tie a third time 45 seconds into the final period to make it 3-2 when he beat Mann with a wrist shot into the top-left corner. Tufte then scored his second goal to give Texas its first two-goal lead by beating a Barracuda defensemen to the front of the net where he slid the puck through Mann's legs. After Matej Blumel made it 5-2 by scoring on a rebound with 4:41 remaining, McKenzie buried an empty-net goal with three minutes remaining to secure a 6-2 victory for Texas.
In goal for the Stars, Remi Poirier improved to 5-3-1 by making 32 saves on 34 shots. For the Barracuda, Mann was handed the loss after making 41 stops on 46 shots.
The Stars take on the Barracuda again Saturday night at 8:00 p.m. CT in the two-game series finale at Tech CU Arena.
Photo Credit: Andreea Cardani/SJ Barracuda
| Game Info | Shots | Goaltenders | 3 Stars (Ubeo Business Services) |
| --- | --- | --- | --- |
| Boxscore | TEX: 47 | W: Poirier (TEX) | 1: Tufte (TEX) |
| Photo | SJ: 34 | L: Mann (SJ) | 2: Kniazev (SJ) |
| Video | | | 3: Gushchin (SJ) |
Back to All