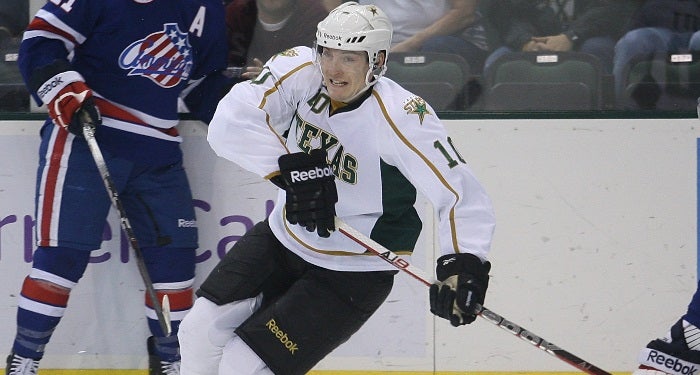 Stars Rocket Past Americans 6-2
Dec 17, 2011
Cedar Park, TX - The Texas Stars (12-13-0-1, 25 points) defeated the Rochester Americans (11-12-4-1, 27 points) 6-2 in front of 5,754 fans at Cedar Park Center on Saturday night. Stars' center Ryan Garbutt scored two goals and added two assists to lead Texas to a win. The Stars scored six unanswered goals, including four in the second period, improving to 5-7-0-1 at Cedar Park Center this season. The Stars also netted two shorthanded goals in the win. Defenseman Brenden Dillon notched a goal and an assist for Texas. Brad Lukowich, Francis Wathier and Mike Hedden also scored for the Stars, who received goals from five different skaters. Texas goalie Jimmy Spratt (1-0-0) stopped 14 shots in his first AHL goaltending appearance. Two Rochester skaters registered multi-point nights. Defenseman T.J. Brennan and right wing Evan Rankin each had a goal and an assist. Rochester goalie Drew MacIntyre (4-8-1) stopped 21 of 27 shots as the Americans fell to 2-8-4-0 on the road. The Stars travel to San Antonio on Sunday to take on the Rampage at 3:30 p.m.

The Americans started the scoring early in the first period. Defenseman T.J. Brennan fired a shot from the blue line at 3:11 to gain the 1-0 lead. Right wing Evan Rankin and defenseman Alex Biega each registered an assist on the early play. Rochester struck again 30 seconds later at 3:41 to jump out to a 2-0 lead. Rankin put in his sixth goal of the season with help from Brennan and center Phil Varone. Texas lit the lamp with 5:39 remaining in the first period. Defenseman Brenden Dillon notched a shorthanded goal to cut into the Americans' lead 2-1. Centers Travis Morin and Ryan Garbutt each added an assist on Dillon's second goal of the year.

The Stars tied the game 2-2 early in the second period. Defenseman Brad Lukowich netted his first goal of the year at 3:58. Garbutt and left wing Matt Fraser both set up the game-tying goal. Texas claimed a 3-2 lead at 8:43, as Garbutt slapped his third goal of the season past MacIntyre. Forwards Luke Gazdic and Mathieu Tousignant each provided an assist. The Stars broke out a 4-2 lead as left wing Francis Wathier buried a shot in the back of the net to score the team's second shorthanded goal of the night. Dillon added the assist with 4:11 left in the second period. The scoring continued as Texas pushed its lead to 5-2 with 2:41 left in the period. Left wing Mike Hedden scored on a breakaway, registering his third goal of the year unassisted.
Texas extended its lead at 16:04 of the third period with a goal from Garbutt. His second of the night was set up by center Travis Morin and defenseman Dan Spang for the 6-2 final.

Texas rounds out its weekend with a 3:30 p.m. game in San Antonio on Sunday, December 18th. The Stars travel to Houston on Wednesday, December 21st to take on the Aeros at 7:05 p.m. Texas returns home on Tuesday, December 27th for a 7:30 p.m. faceoff against San Antonio. Tuesday is an HEB night. Fans are encouraged to bring any HEB non-perishable food item to the game and receive $5 off their ticket price.

Individual tickets for all games are on sale now. Tickets are available online at www.TexasStarsHockey.com or by calling 512.GO.STARS (467.8277).

2011-12 season seat packages are on sale now. For more information on Texas Stars season tickets call (512) GO-STARS (467-8277) or visit www.TexasStarsHockey.com. Anyone interested in purchasing season tickets, suites, group tickets or mini-plans may call the Texas Stars front office.
Back to All