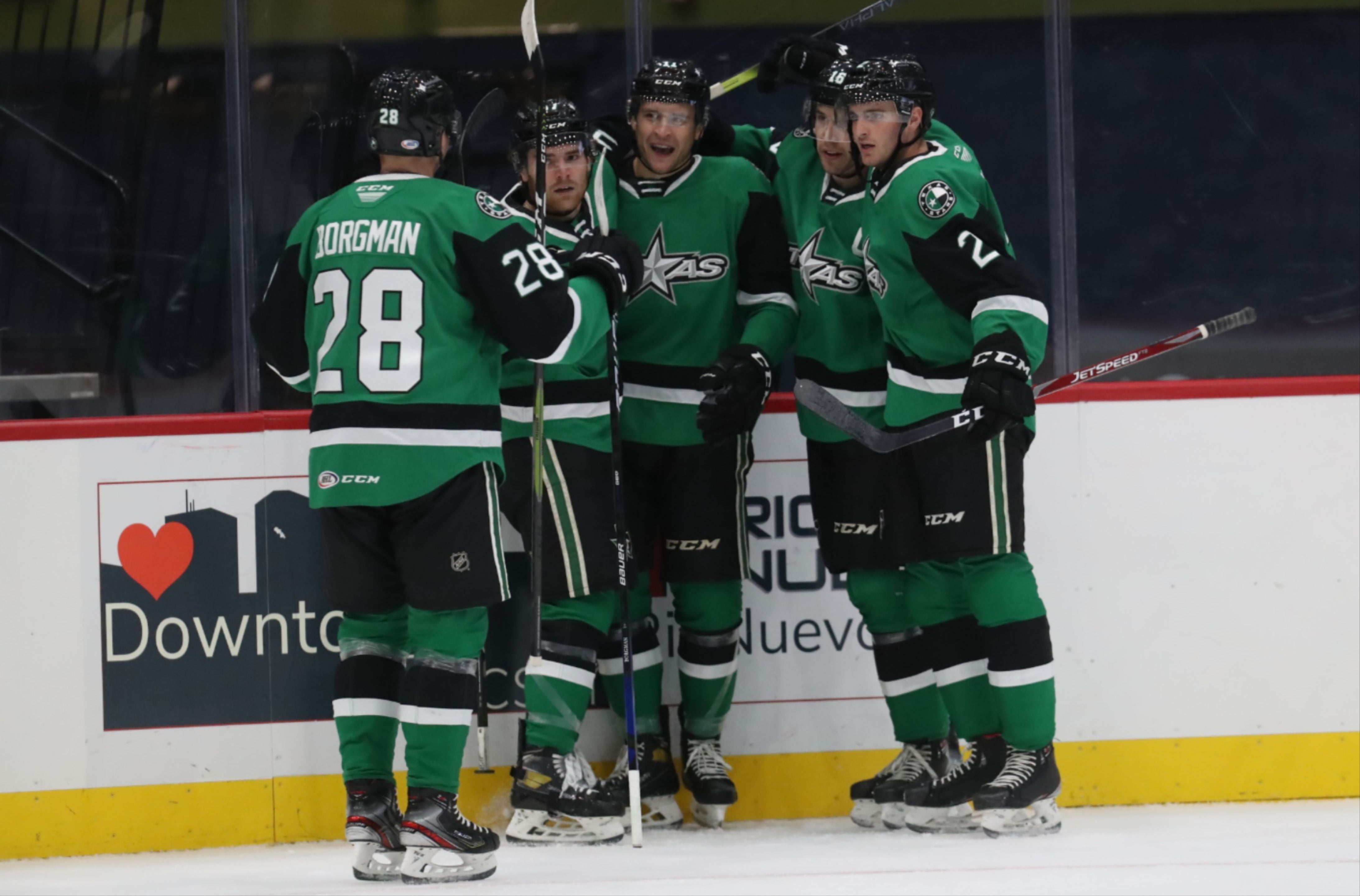 Stars Offense Shines in 6-2 Win Over Tucson
Oct 24, 2021
TUCSON, Arizona – The Texas Stars, American Hockey League affiliate of the NHL's Dallas Stars, shined offensively in a 6-2 win over the Tucson Roadrunners on Sunday. Joel L'Esperance scored twice while Jake Oettinger stopped 36 of 38 shots.
In the first period, the Stars went on their first power play of the night after Janis Moser sent the puck into the seats. Riley Damiani threw a shot on net from the left circle that rebounded out to the right circle to Jordan Kawaguchi. Kawaguchi then found Curtis McKenzie on a back-door pass, who tapped it home to put the Stars up by one. Just five minutes later, Joel L'Esperance would collect his first of the night. L'Esperance received a pass to the slot from linemate, Josh Melnick, to increase the lead to two.
In the second frame, the Roadrunners struck twice in the first six minutes of the period to tie the game at two. But the Stars offense continued to produce. Fredrik Karlstrom beat two Tucson defenders in a foot race and made a fancy stick move to get all alone in front of the goaltender. Karlstrom deked left to right to beat Ivan Prosvetov high stick-side for his first AHL goal. Less than two minutes later, L'Esperance struck again for his second goal of the night to make the score 4-2.
In the final stanza, Oettinger stood tall on two more power play opportunities for Tucson. The Roadrunners made their final offensive pushes by adding an extra skater; however, the Stars spoiled those chances by snagging two empty-net goals coming from Melnick and Tufte.
Oettinger made 36 saves on 38 shots while Prosvetov made 20 saves on 24 shots.
Photo Credit: Tucson Roadrunners
| Game Info | Shots | Goaltenders | 3 Stars (Xerox Business Solutions Southwest) |
| --- | --- | --- | --- |
| Boxscore | TEX: 24 | W: Oettinger (TEX) | 1: Joel L'Esperance (TEX) |
| Photo | OPP: 38 | L: Prosvetov (TUC) | 2: Curtis McKenzie (TEX) |
| Video | | | 3: Riley Damiani (TEX) |
Back to All