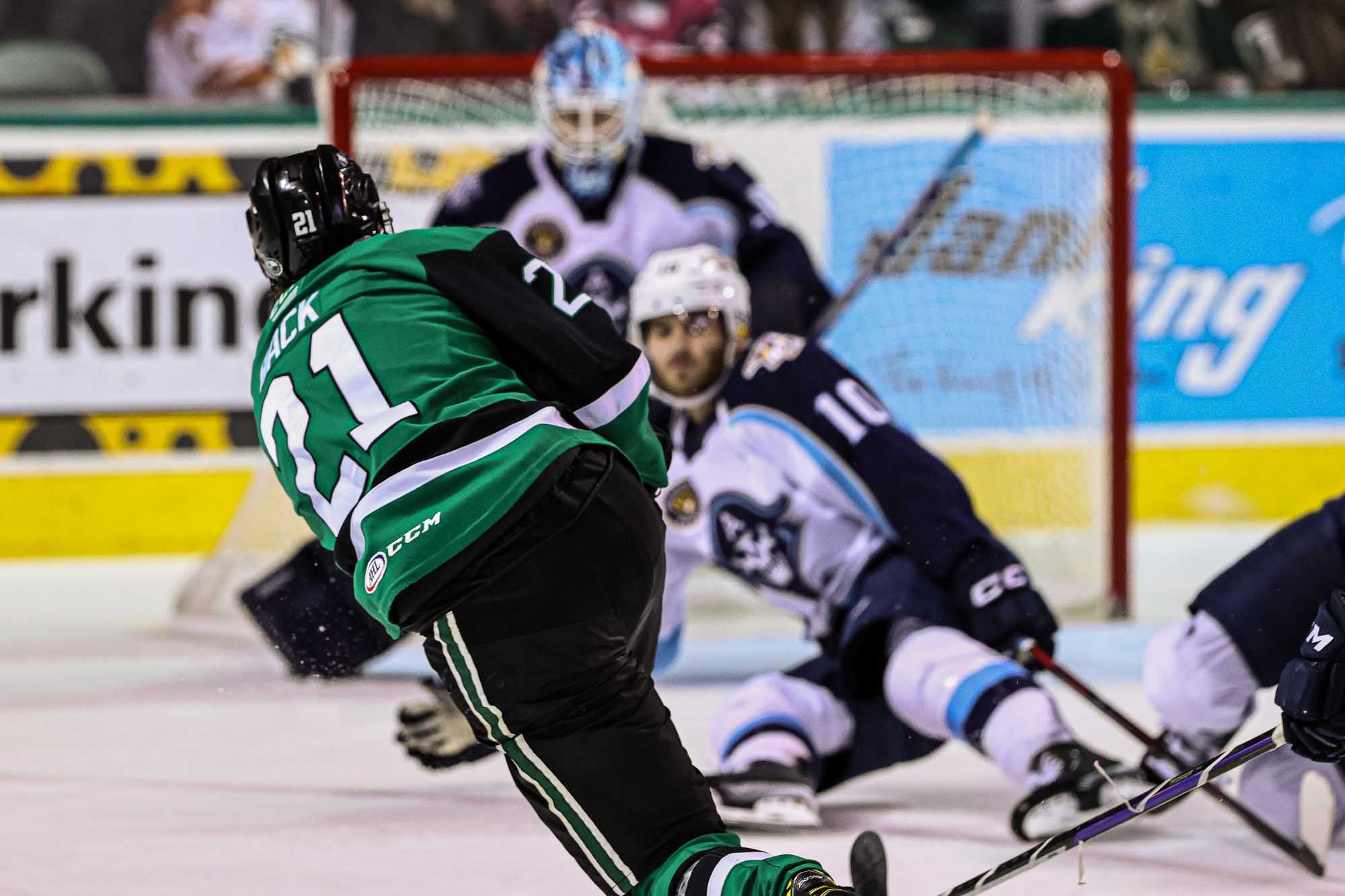 Stars Force Game Five as Bäck Scores Double-Overtime Winner
May 19, 2023
CEDAR PARK, Texas – The Texas Stars, American Hockey League affiliate of the NHL's Dallas Stars, forced a Game Five in the Central Division Finals with a 4-3 double-overtime victory over the Milwaukee Admirals in Cedar Park. Oskar Bäck scored the game-winner at 15:10 of double overtime to cap the Stars second-longest game in franchise history.
Friday night's game at the H-E-B Center at Cedar Park was 2:28 shy of breaking the record, which was set April 22, 2018 at Ontario where Texas prevailed 5-4 at 17:38 of double overtime on a goal by Samuel Laberge.
Milwaukee scored the game's first goal when Michael McCarron unleashed a slap shot past Matt Murray after receiving a drop pass from Austin Rueschhoff 6:13 into the opening period. Luke Evangelista then made it 2-0 Admirals when he fired a wrist shot past Murray on a rush at the 8:02 mark. Alexander Petrovic put the Stars in the score column when he picked up a rebound near the slot and beat Yaroslav Askarov to cut the deficit to 2-1 at the 16:30 mark.
The Stars scored with 1:27 left to play in the middle period on a power play when Curtis McKenzie redirected in a pass from Mavrik Bourque to tie the game 2-2. Texas claimed its first lead of the night 24 seconds later as Nick Caamano cleaned up a rebound fired by Riley Tufte that made it 3-2.
In the third period, Rueschhoff tied the game 3-3 with 6:47 left in regulation when he capitalized on an errant shot that sailed wide bounced off the dasher to the front of the net. Rueschhoff's goal was enough to force overtime Friday night in Game Four of the Central Division Finals.
An extra session and then some eventually saw Oskar Bäck score the game-winning goal with 4:50 to spare in the second overtime. It forced a decisive fifth game in the best-of-five series.
Earning the win in goal for Texas was Murray, who improved to 5-2 this postseason after making 42 saves on 45 shots in his seventh consecutive start of the playoffs. Askarov came down with the loss after surrendering his fourth goal of the night on his 33rd shot faced.
A series-clinching Game Five at the H-E-B Center at Cedar Park is set for Sunday at 7:00 p.m. Tickets can be purchased by visiting TexasStars.com.
Photo Credit: Andy Nietupski / Texas Stars
Game Info
Shots
Goaltenders
3 Stars (Ubeo Business Services)
Boxscore
TEX: 33
W: Murray (TEX)
1: B

ä

ck (TEX)
Photo
MIL: 45
L: Askarov (MIL)
2: Rueschhoff (MIL)
Video
3: Barber (TEX)
Back to All