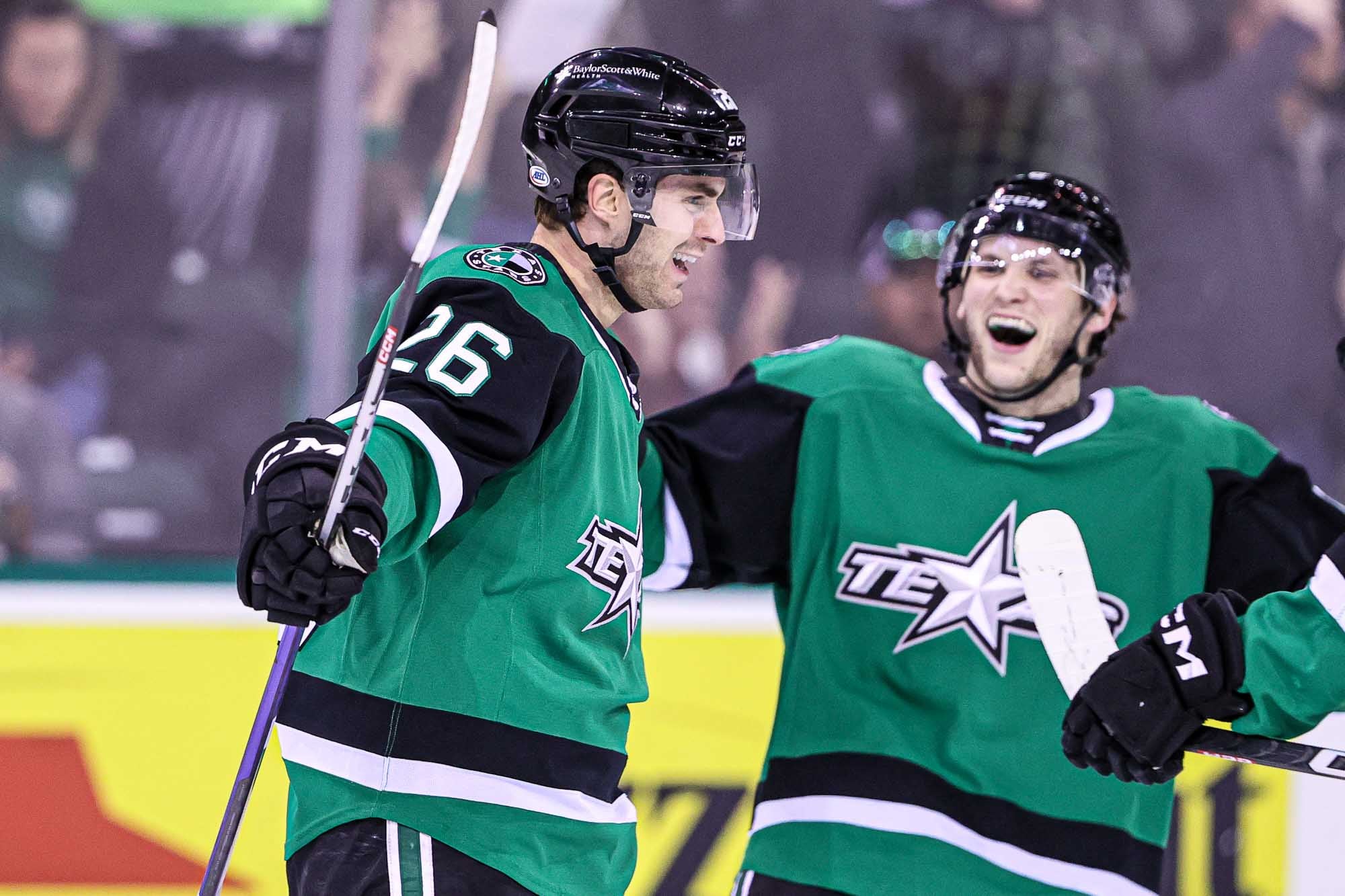 Stars Dominate Firebirds and Creep Closer to Playoff Berth
Mar 22, 2023
CEDAR PARK, Texas – The Texas Stars, American Hockey League affiliate of the NHL's Dallas Stars, completed a two-game series sweep of the Coachella Valley Firebirds with a 6-1 victory Wednesday night at the H-E-B Center at Cedar Park.
Tanner Kero tapped in a rebound shot initially by Ben Gleason near the top of the zone to put Texas on top 1-0 at 10:29 of the first period. Then with 2.2 seconds left in the frame, Marian Studenic tipped a pass across the slot to Scott Reedy, who snapped a wrist shot under the right arm of Chris Driedger to make it 2-0 before the buzzer.
The Stars ran away with Wednesday's contest during the second stanza, scoring another pair of unanswered goals to take a 4-0 lead. Michael Karow struck first, scoring his first goal of the season five minutes in from the left point. Scoring the Stars' fourth goal, Kero pounced on a saucer pass across the slot from Antonio Stranges with 5:58 remaining in the period.
The final period saw Reedy score his second goal of the game and fourth of the series to extend the Stars lead to 5-0 just over four minutes into the final period. Then with 4:57 left to play, Riley Tufte was slashed on a breakaway and awarded a penalty shot. Tufte rang his shot off the top-left corner crossbar and in to make it 6-0 roughly a minute before Jeremy McKenna spoiled Matt Murray's shutout bid with a goal to make it 6-1.
Earning the win in goal for a second straight night, Murray improved to 16-9-5 while stopping 16 of the 17 shots he faced. Driedger came down with the loss after he surrendered six goals on 38 shots.
The Stars have an opportunity to clinch a playoff berth when they take on the Chicago Wolves Saturday at the H-E-B Center at Cedar Park at 7:00 p.m.
Photo Credit: Andy Nietupski / Texas Stars
| Game Info | Shots | Goaltenders | 3 Stars (Ubeo Business Services) |
| --- | --- | --- | --- |
| Boxscore | TEX: 38 | W: Murray (TEX) | 1: Reedy (TEX) |
| Photo | CV: 17 | L: Driedger (CV) | 2: Kero (TEX) |
| Video | | | 3: Karow (TEX) |
Back to All