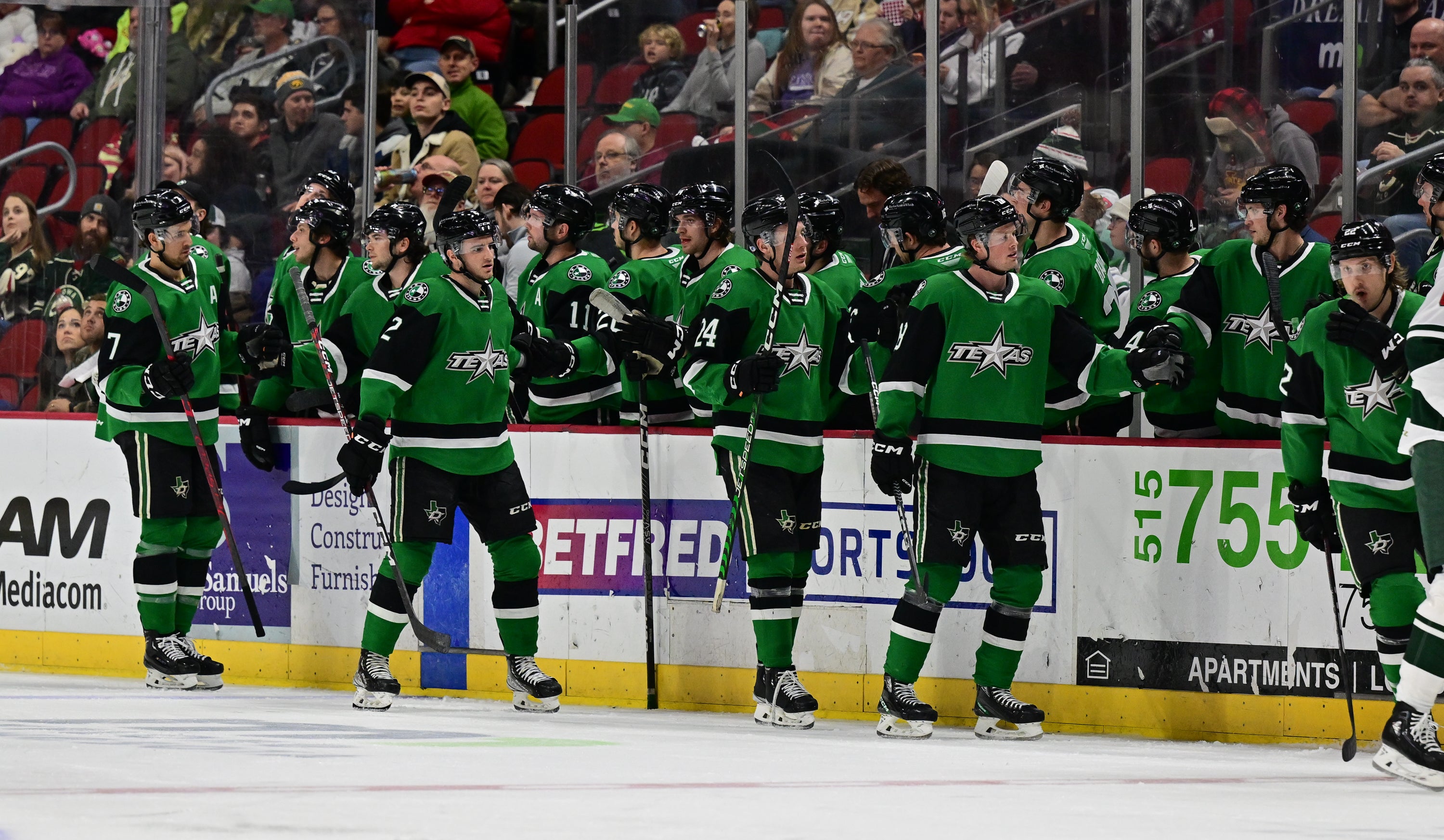 Stars Claim Sixth Straight Win in Iowa
Dec 16, 2022
DES MOINES, Iowa – The Texas Stars, American Hockey League affiliate of the NHL's Dallas Stars, extended their season-high win streak to six games with a 4-2 victory over the Iowa Wild Friday Night at Wells Fargo Arena.
The first period saw the Stars and Wild skate to a scoreless tie as each of the Central Division foes fired eight shots on goal in the first 20 minutes of play.
In the middle frame, Texas claimed a 3-0 lead with a trio of goals scored by Rhett Gardner, Oskar Back and Fredrik Karlstrom. Scoring first for the Stars, Gardner ripped a shot past Wild netminder Zane McIntyre's blocker at 5:41. Then, Back cleaned up a rebound near the left side at 15:33 for his first goal of the season that made it 2-0. Roughly a minute and a half later at the 17:01 mark, Karlstrom tipped in a Ryan Shea shot from the point to extend the Stars' lead to 3-0. Carrying the three-goal lead into the second intermission, Texas outshot Iowa 9-7 in the second period to take a 17-15 advantage in shots on goal after 40 minutes of action.
The Stars made it 4-0 early in the third frame when Marian Studenic scored the Stars' AHL-leading seventh short-handed goal of the season on a breakaway 3:56 into the period. Iowa salvaged a pair of goals with Kevin Conley and Mike O'Leary scoring in the waning minutes to stave off a potential shutout before ultimately falling by a final score of 4-2 to the Stars.
In goal for the first time in three games, Anton Khudobin improved to 9-3-2 on the season in the win where he made 27 saves on 29 shots. For Iowa, McIntyre stopped 16 of 20 shots.
Saturday night marks the rematch and two-game series finale between Texas and Iowa in Des Moines as well as the end to Texas' current three-game road trip. Face-off at Wells Fargo Arena is scheduled for 6:00 p.m. CT.
Photo Credit: Tim Garland / Iowa Wild
| Game Info | Shots | Goaltenders | 3 Stars (Xerox Business Solutions Southwest) |
| --- | --- | --- | --- |
| Boxscore | TEX: 20 | W: Khudobin (TEX) | 1: Studenic (TEX) |
| Photo | IA: 29 | L: McIntyre (IA) | 2: Karlstrom (TEX) |
| Video | | | 3: Khudobin (TEX) |
Back to All