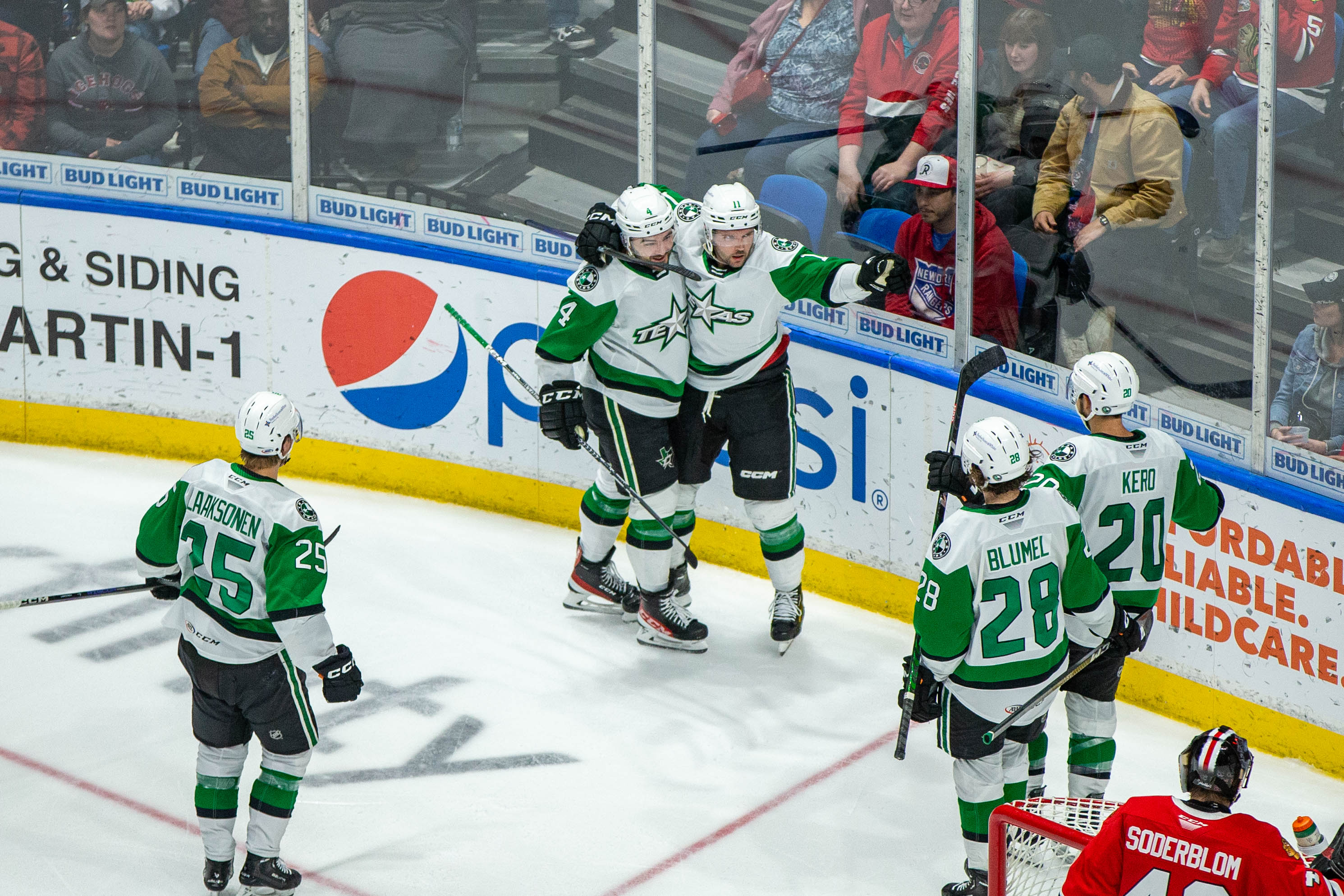 Stars Claim Game Two in Rockford to Extend Series Lead
Apr 30, 2023
ROCKFORD, Illinois – The Texas Stars, American Hockey League affiliate of the NHL's Dallas Stars, claimed a 4-1 win over the Rockford IceHogs to extend their series lead to 2-0 in the Central Division Semifinals Sunday at the BMO Center.
Stars captain Curtis McKenzie fired the game's first goal past Arvid Soderblom 8:08 into the contest near the slot after receiving a drop pass from Oskar Back.
In the second period, Riley Barber picked up a feed from Tanner Kero and beat Soderblom on the far side with a shot from the left dot for his first goal of the series at 11:39.
Rockford closed the gap to 2-1 in the third with a shot near the right dasher by Joey Anderson that snuck by Matt Murray at 5:54. Barber later scored his second of the night to extend the Texas lead back to a pair with 3:28 left to play. Then with 27 seconds left in regulation, Kero iced the game by burying an empty-net goal to cap an eventual 4-1 win in Game Two that gave Texas a 2-0 lead in the series.
In goal for Texas, Murray turned aside 26 of the 27 shots he faced. For the IceHogs, Soderblom came down with the loss after allowing three goals on 28 shots against.
The best-of-five series now shifts to Cedar Park for Game Three on Wednesday at 7:00 p.m. followed by Game Four and Five, if necessary next Friday and Saturday. Tickets for Game Three are available at TexasStars.com/tickets.
Photo Credit: Brad Repplinger / Rockford IceHogs
| Game Info | Shots | Goaltenders | 3 Stars (Ubeo Business Services) |
| --- | --- | --- | --- |
| Boxscore | TEX: 29 | W: Murray (TEX) | 1: Barber (TEX) |
| Photo | RFD: 27 | L: Soderblom (RFD) | 2: Kero (TEX) |
| Video | | | 3: Murray (TEX) |
Back to All