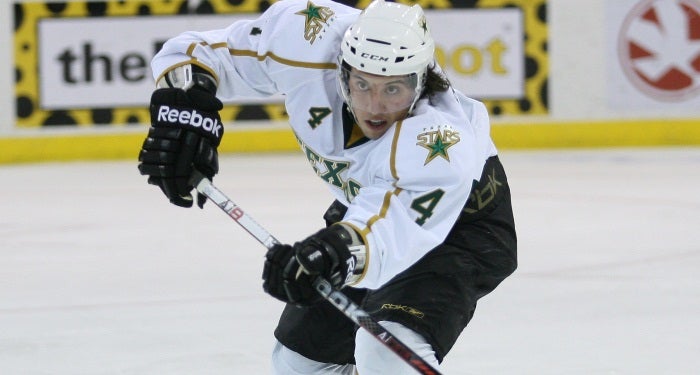 Sellout Crowd Sees Texas Outlast San Antonio 3-2 in Overtime
Dec 27, 2011
Cedar Park, TX - The Texas Stars (14-14-0-1, 29 points) defeated the San Antonio Rampage (14-14-2-0, 30 points) 3-2 in overtime in front of a sellout crowd of 6,863 fans at the Cedar Park Center on Tuesday night. Texas right wing Colton Sceviour scored the game-winning goal 2:40 into overtime to lift the Stars past San Antonio. Left wing Matt Fraser netted the first two goals, as the Stars rallied from a one-goal deficit heading into the third period. Texas goalie Tyler Beskorowany (6-8-0) stopped 24 shots as the Stars improved to 6-7-0-1 at home. Rampage left wing Eric Selleck and center James Wright each scored for San Antonio as they fell to 6-6-2-0 on the road. San Antonio goalie Dov Grumet-Morris (4-2-0) stopped 31 shots as Texas outshot San Antonio 34 to 26. Texas travels to Abbotsford for a pair of games on December 29th and 30th at 9:00 p.m.

San Antonio grabbed a 1-0 lead with a goal from left wing Eric Selleck. Selleck notched his second goal of the season at 14:39 of the first period. Forwards Wacey Rabbit and Scott Timmins each assisted on the play. Texas answered with 1:06 to go in the period, as left wing Matt Fraser found the back of the net to tie the game 1-1. Defenseman Brad Lukowich and left wing Colton Sceviour helped set up Fraser's 15th goal of the year.

The Rampage struck again at 8:21 of the second period. Center James Wright slipped the puck past Beskorowany to give San Antonio a 2-1 lead. Defensemen Nolan Yonkman and Michael Caruso each supplied an assist on Wright's second goal of the year.

Texas tied the game again at 9:14 of the third period. Matt Fraser notched his second goal of the night to even the score 2-2. Forwards Francis Wathier and Travis Morin each had an assist on the play.

Stars' winger Colton Sceviour scored the game-winning goal at 2:40 of overtime on a wraparound. Left wing Mike Hedden and defenseman Dan Spang each provided an assist on Sceviour's fourth goal of the season and a 3-2 Stars win.

The Stars will head to Abbotsford for a pair of games on December 29 and 30. The team will play in San Antonio on January 6, prior to returning home on Saturday, January 7 to host Rockford at 7:00 p.m. The first 2,500 fans to the game will receive a Texas Stars team calendar, compliments of A+ Federal Credit Union. On Saturday night, fans may purchase the State Farm Family four-pack, which includes four tickets, four hot dogs and four sodas starting at $48.

Individual tickets for all games are on sale now. Tickets are available online at www.TexasStarsHockey.com or by calling 512.GO.STARS (467.8277).

2011-12 season seat packages are on sale now. For more information on Texas Stars season tickets call (512) GO-STARS (467-8277) or visit www.TexasStarsHockey.com. Anyone interested in purchasing season tickets, suites, group tickets or mini-plans may call the Texas Stars front office.
Back to All