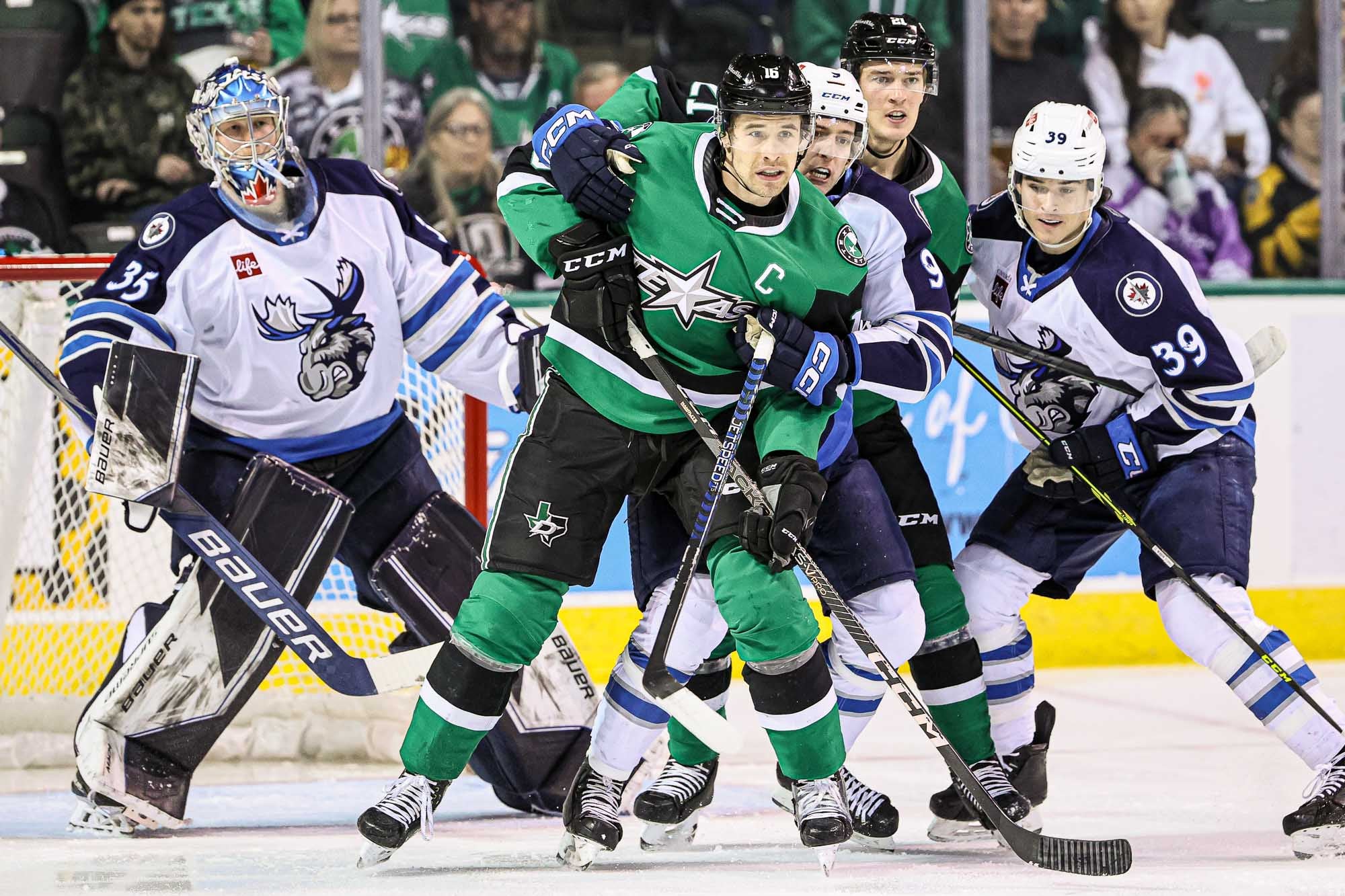 Moose Outlast Stars in High-Scoring Affair
Apr 11, 2023
CEDAR PARK, Texas – The Texas Stars, American Hockey League affiliate of the NHL's Dallas Stars, were defeated 7-5 by the Manitoba Moose Tuesday night at the H-E-B Center at Cedar Park.
Moose forward Jeff Malott fired in the game's first goal past the blocker of Matt Murray and in from the right circle at 7:55. Manitoba then took a 2-0 lead with 2:55 left in the period when Ashton Sautner beat Murray with a shot through traffic from the point.
In the second period, Marian Studenic closed the gap to 2-1 at 4:47 after he received a feed for a breakaway from Antonio Stranges and beat Oskari Salminen on his backhand. Then with 7:26 elapsed, Jansen Harkins slapped a one-timer fed by Malott from the left dot across the slot to the right dot to make it 3-1. The Stars made it a one-goal game again at 10:48 when Mavrik Bourque capitalized on a power play to make it 3-2 by scoring his seventh goal in the last four games. Texas tied the game with 4:45 left to play in the middle stanza when Riley Barber tapped in a backdoor pass from Oskar Back behind Salminen to make it 3-3.
The Stars took their first lead 2:11 into the third when Bourque fought off a Moose defender behind the net before sliding the puck to Riley Damiani, who directed it through the legs of Salminen for his 12th goal of the season. At the 4:27 mark, Cole Maier evened the score again when he found the top-right corner with a wrist shot near the slot to make it 4-4. After Barber broke the tie a second time for Texas a minute and 39 seconds later to make it 5-4, Leon Gawanke tied it back up 5-5 at 9:23 when his shot from the right point glanced off a defender and in. Harkins scored the eventual game-winning goal for Manitoba with an extra attacker during a delayed penalty with 3:26 remaining in regulation. Gawanke later iced the game and made it 7-5 by burying an empty-net goal with 49.1 seconds to spare.
In goal for the Moose, Salminen picked up the win by making 33 saves on 38 shots. For the Stars, Murray came down with the loss after making 26 stops on 32 shots.
The Stars and Moose clash again in the two-game series finale Wednesday at 7:00 p.m. at the H-E-B Center at Cedar Park.
Photo Credit: Andy Nietupski / Texas Stars
| Game Info | Shots | Goaltenders | 3 Stars (Ubeo Business Services) |
| --- | --- | --- | --- |
| Boxscore | TEX: 38 | W: Salminen (MB) | 1: Harkins (MB) |
| Photo | MB: 33 | L: Murray (TEX) | 2: Barber (TEX) |
| Video | | | 3: Malott (MB) |
Back to All