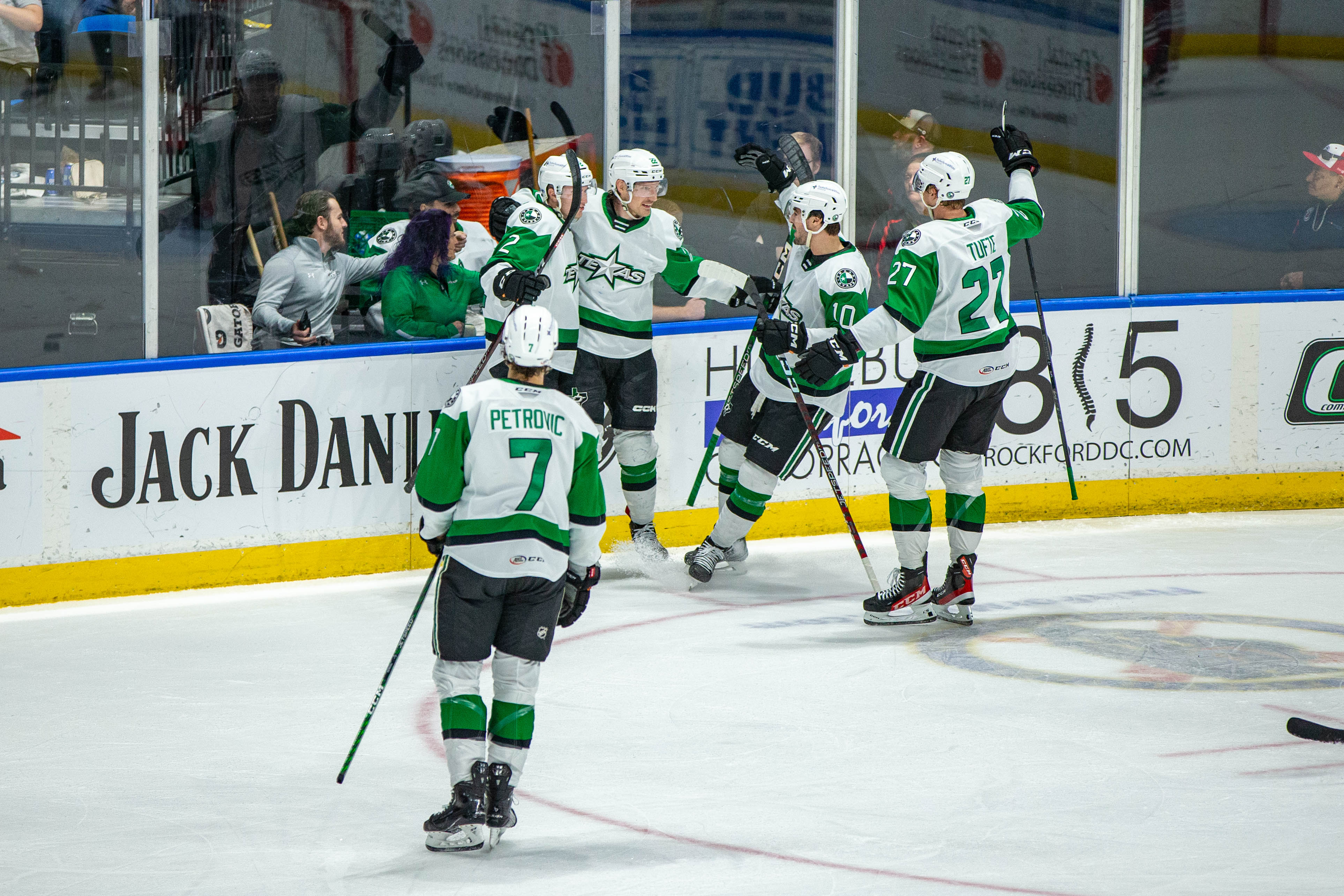 Late Tiebreaker Helps Stars Win Game One in Rockford
Apr 28, 2023
ROCKFORD, Illinois – The Texas Stars, American Hockey League affiliate of the NHL's Dallas Stars, defeated the Rockford IceHogs 5-3 in Game One of a best-of-five divisional semifinal series Friday night at the BMO Center.
Scoring began when Rhett Gardner ripped a quick shot near the right dot past Arvid Soderblom 12:33 into the contest after scooping up a drop pass from Nick Caamano. With two seconds to spare in the first, Rockford's Joey Anderson tipped in a shot from the point by Alex Vlasic to tie the game on the power play following a clean face-off win by Luke Philp.
The IceHogs claimed their first lead 1:16 into the second period when a wrap-around attempt by Buddy Robinson turned into an assist to D.J. Busdeker. Marian Studenic then tied the game 2-2 by burying the puck behind Soderblom after he misplayed it behind his net with 5:27 remaining in the frame.
In the third period, Bobby Lynch helped the IceHogs reclaim a 3-2 lead at 2:57 when he capitalized on a rebound near the right side of the goal. Scott Reedy tied the game back up 3-3 at 7:16 after he skated down into the slot where he beat Soderblom glove-side on the power play. With 3:38 left in regulation, Caamano tapped in a backdoor feed from Mavrik Bourque to make it 4-3. Studenic then iced the game by scoring on an empty net with a minute remaining to seal a 5-3 victory for Texas.
Earning the win in goal for the Stars, Matt Murray made 25 saves on 28 shots while Soderblom came down with the loss after surrendering four goals on 39 shots.
The Stars and IceHogs are back in action for Game Two in the best-of-five series Sunday at 4:00 p.m. at the BMO Center in Rockford. Sunday will mark the final game of the series in Illinois before it shifts to Cedar Park for Game Three on Wednesday at 7:00 p.m. followed by Game Four and Five, if necessary next Friday and Saturday. Tickets for Game Three are available at TexasStars.com/tickets.
Photo Credit: Brad Repplinger / Rockford IceHogs
| Game Info | Shots | Goaltenders | 3 Stars (Ubeo Business Services) |
| --- | --- | --- | --- |
| Boxscore | TEX: 40 | W: Murray (TEX) | 1: Studenic (TEX) |
| Photo | RFD: 28 | L: Soderblom (RFD) | 2: Caamano (TEX) |
| Video | | | 3: Vlasic (RFD) |
Back to All