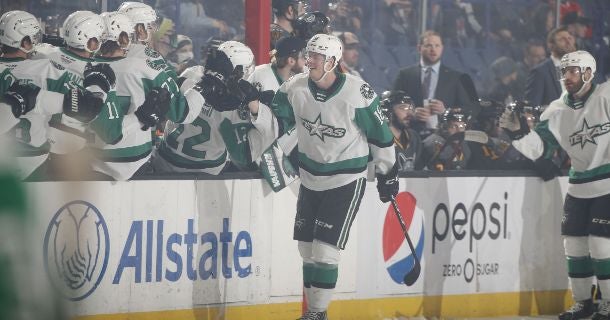 Late Short-Handed Goal Sends Stars to Fifth Straight Win
Apr 3, 2022
ROSEMONT, IL – The Texas Stars, American Hockey League affiliate of the NHL's Dallas Stars, saw a 3-0 lead disappear Sunday at Allstate Arena, but a late short-handed goal from Ty Dellandrea sent the Stars past the Chicago Wolves 5-3 for their fifth consecutive win.
The Stars jumped out to a 3-0 first period lead, thanks in part to a late major penalty on Chicago's Josh Leivo that gave Texas a five-minute power play. Fredrik Karlstom buried a rebound from a bounce off of the back wall to give the Stars a 1-0 lead at 11:19. It was Texas' fourth straight game scoring the first goal.
Then during a 5-on-3 power play, Riley Damiani scored on a rebound after Joel L'Esperance clanked a shot off the post to give Texas a 2-0 cushion. 22 seconds later on that same five-minute power play, Oskar Back found a loose puck sitting in the crease and shoveled it into the net to make it 3-0 after 20 minutes.
C.J. Smith scored twice in the second period to bring the Wolves back to within one. His first goal came 3:21 into the stanza when he fooled Matt Jurusik with a shot that banked in off the Texas goaltender. Smith then beat the buzzer on a 5-on-3 Wolves power play with a backhander that went into the top of the net with just over two seconds left in the period.
Stefan Noesen completed the Wolves' comeback with his league-leading 38th goal in the final four minutes of regulation, and Chicago quickly went on their fourth power play of the third period with 3:10 left in the game. During that penalty kill, Dellandrea intercepted the puck at center ice and raced back the other way on a 2-on-0 rush. The second-year forward snapped the short-handed goal through the legs of Jack LaFontaine for his sixth game-winning goal of the season with 2:15 remaining.
Joe Cecconi completed the scoring with an empty-net goal after blocking a shot in the final minute, as the Stars finished their only three-game weekend of the season with three victories.
The Stars and Wolves meet again Wednesday at 11:00 a.m., before Texas returns home to host the Iowa Wild Saturday at 7:00 p.m. and Sunday at 5:00 p.m. at the H-E-B Center at Cedar Park.
Photo Credit: Chicago Wolves
| Game Info | Shots | Goaltenders | 3 Stars (Xerox Business Solutions Southwest) |
| --- | --- | --- | --- |
| Boxscore | TEX: 33 | W: Jurusik (TEX) | 1: Matt Jurusik (TEX) |
| Photo | OPP: 37 | L: LaFontaine (CHI) | 2: Stefan Noesen (CHI) |
| Video | | | 3: Oskar Back (TEX) |
Back to All