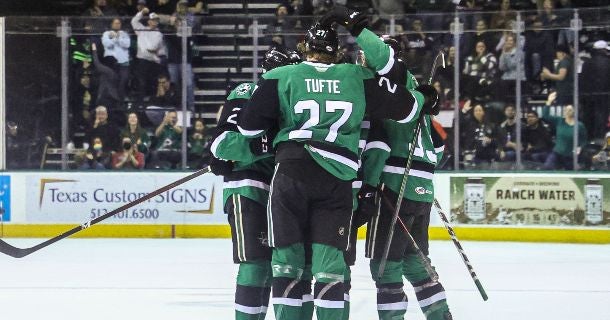 Dellandrea's Hat Trick Highlights Stars' Shootout Win
Mar 25, 2022
CEDAR PARK, TX – The Texas Stars, American Hockey League affiliate of the NHL's Dallas Stars, won a back-and-forth 6-5 thriller in a shootout over the Milwaukee Admirals Friday at the H-E-B Center at Cedar Park, thanks in part to the first pro hat trick from Ty Dellandrea.
Milwaukee scored first when Mitch McLain caught a pass while skating up the right wing and fired the shot over Adam Scheel during a delayed penalty 5:52 into the game. The Stars answered on a late penalty kill when Dellandrea beat Connor Ingram on a short-handed breakaway. Less than a minute later, Egor Afanasyev capitalized on a Texas turnover and put the Admirals back in front 2-1 with 3:54 remaining in the frame.
Anthony Louis tied the game just 2:18 into the second period when his wrist shot fooled Ingram and went into the top of the net. The Admirals, however, had a response again as Mathieu Olivier snuck in behind the Texas defense and tucked a shot past Scheel to make it 3-2.
Dellandrea scored his second of the game to make it 3-3 on another breakaway with 5:53 left in the period, and Louis scored his second of the night 47 seconds later on a goal-mouth scramble to give the Stars the lead. Less than two minutes later, Dellandrea completed his first career hat trick on a shot from the right circle that gave Texas a power play goal and a 5-3 lead heading into the second intermission.
The Admirals clawed back to tie the game in the third period to force overtime. Tommy Novak snapped a quick shot from between the face-off circles to make it 5-4. Later during a Milwaukee power play, Novak sent a shot to the net that was tipped in by former Texas captain Cole Schneider to force overtime.
After a scoreless extra period, Scheel stopped both Admirals shooters, and the Stars got goals from Louis and Tanner Kero to seal the 6-5 win.
The Stars and Admirals face-off again Saturday at 7:00 p.m. at the H-E-B Center at Cedar Park. Tickets are available at www.texasstars.com/tickets.
Photo Credit: Andy Nietupski
| Game Info | Shots | Goaltenders | 3 Stars (Xerox Business Solutions Southwest) |
| --- | --- | --- | --- |
| Boxscore | TEX: 30 | W: Scheel (TEX) | 1: Ty Dellandrea (TEX) |
| Photo | OPP: 28 | L: Ingram (MIL) | 2: Tanner Kero (TEX) |
| Video | | | 3: Anthony Louis (TEX) |
Back to All