Bob Jones Named Assistant Coach of Texas Stars
Jul 3, 2018
FRISCO, Texas - Dallas Stars Assistant General Manager and Texas Stars General Manager Scott White announced today that the club has appointed Bob Jones as Assistant Coach of the Texas Stars, Dallas' top development affiliate in the American Hockey League (AHL). Jones replaces Karl Taylor, who was named the head coach of Milwaukee Admirals (AHL) on June 29.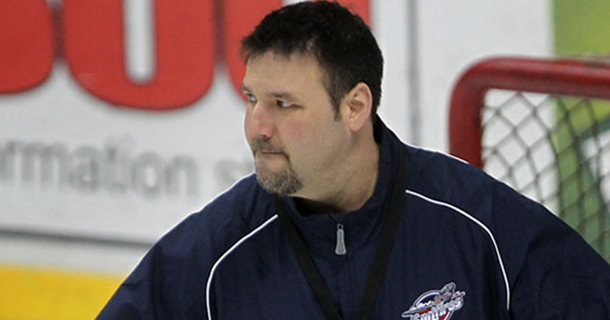 Jones, 48, spent the last three seasons as head coach of the Oshawa Generals of the Ontario Hockey League (OHL). Over that span, he amassed a 103-85-16 record and qualified for the OHL Playoffs in all three campaigns with a 7-14 postseason record. Prior to his time in Oshawa, Jones spent eight seasons behind the bench for the Windsor Spitfires. In his time with the Spitfires, the club won back-to-back OHL championships (2008-09, 2009-10) and qualified for the postseason every year. He served as an associate coach for seven seasons (2007-10, 2011-15) and was the team's head coach for the 2010-11 campaign. In his lone campaign as head coach in 2010-11, Jones compiled a 39-23-6 regular-season record and helped the Spitfires reach the third round of the 2011 OHL Playoffs.

"Bob has been very successful in junior hockey for two decades and we are pleased to welcome him to the Dallas Stars organization," White said. "He has over 21 seasons of coaching experience and his wealth of knowledge and ability to develop young players will be a tremendous asset to our organization."

He joins Texas Stars Head Coach Derek Laxdal and his staff in Cedar Park, Texas. During the 2017-18 season, the Texas Stars won the AHL's Western Conference and made the franchise's third Calder Cup Finals appearance since the team's inaugural campaign in 2009-10.

Jones also has served in numerous coaching capacities across the OHL including as an assistant coach for the Sudbury Wolves (2004-07), an associate coach for Toronto St. Michael's Majors (2000-01, 2002-04), an assistant coach for the Brampton Battalion (1999-00) and the Sault Ste. Marie Greyhounds (1995-99).

The native of Sault Ste. Marie, Ontario was originally drafted by the Detroit Red Wings in the ninth round (179th overall) of the 1989 NHL Draft and played six seasons of professional hockey with the Adirondack Red Wings (AHL), San Diego Gulls (IHL), Fort Wayne Komets (IHL), Muskegon Fury (CoHL) and the Saginaw Wheels (CoHL). Prior to turning pro, Jones played five seasons of junior hockey for Sault Ste. Marie (OHL).
Back to All