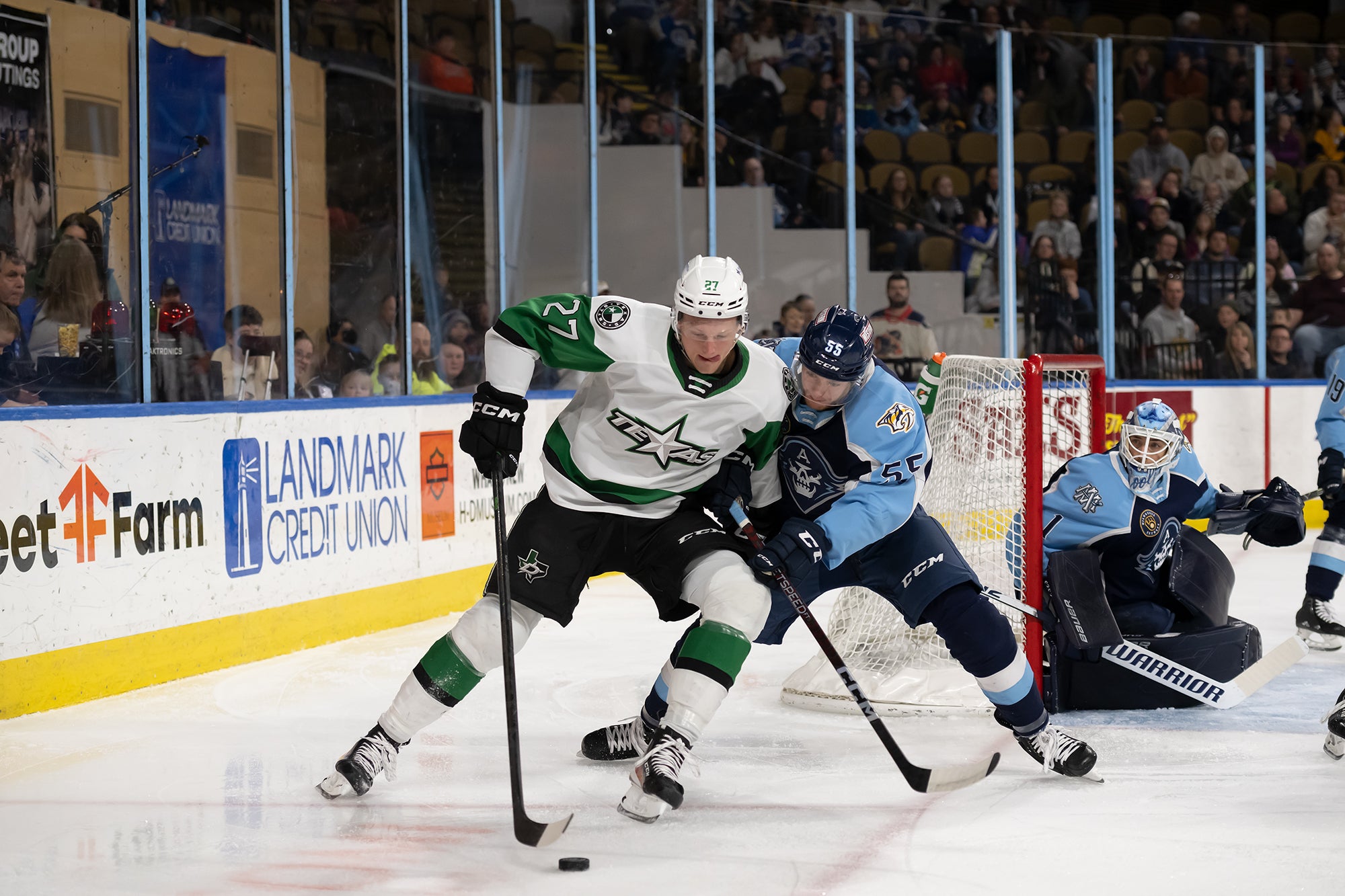 Blumel Blasts Overtime Winner for Stars in Milwaukee
Feb 19, 2023
MILWAUKEE, Wisconsin – The Texas Stars, American Hockey League affiliate of the NHL's Dallas Stars, prevailed 3-2 in overtime against the Milwaukee Admirals thanks to a goal in the extra session by Matej Blumel Sunday at UW-Milwaukee Panther Arena.
The Admirals scored the first goal of the game at 10:36 of the first period when Kiefer Sherwood tapped in a pass across the slot by Zach Sanford to beat Remi Poirier and make it 1-0.
Riley Damiani tied the game for the Stars 16:17 into the second period when he intercepted a pass in the Admirals' zone before sliding it past Devin Cooley on a breakaway to even it 1-1.
Milwaukee reclaimed the lead 5:55 into the third period when Michael McCarron tipped in a shot from the left point by Keaton Thompson. Tanner Kero then evened the score 2-2 after cleaning up a rebound shot by Mavrik Bourque at 9:10. Kero's 12th goal of the season eventually forced overtime in Milwaukee.
Blumel was the hero of overtime for the Stars Sunday afternoon in Milwaukee. His 16th marker of the season came unassisted with 33 seconds left on a slap shot he ripped from the top of the left circle that snuck under the left arm of Cooley.
Earning his first career AHL win, Poirier made 33 saves on 35 shots to improve to 1-0-1 this season. Coming down with the loss was Cooley after he surrendered three goals on a season-high 49 shots on goal by the Stars.
Texas will be back in Rockford for their next action. The regular-season finale between the Stars and IceHogs is scheduled for 7:00 p.m. Wednesday at the BMO Center.
Photo Credit: Milwaukee Admirals
| Game Info | Shots | Goaltenders | 3 Stars (Ubeo Business Services) |
| --- | --- | --- | --- |
| Boxscore | TEX: 49 | W: Poirier (TEX) | 1: Cooley (MIL) |
| Photo | MIL: 35 | L: Cooley (MIL) | 2: Sherwood (MIL) |
| Video | | | 3: Poirier (TEX) |
Back to All