Stars Soar Over IceHogs with Four-Goal Third Period
Nov 16, 2018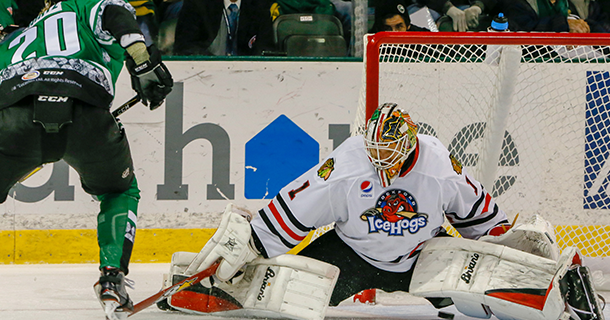 CEDAR PARK, Texas – The Texas Stars, American Hockey League affiliate of the NHL's Dallas Stars, rolled over the Rockford IceHogs in a dominant 5-1 victory tonight at H-E-B Center at Cedar Park. Texas outshot Rockford 41-16 in the game culminating in four third period tallies.
The Stars dominated the first two periods of the game and notched the first goal during a first period 4-on-4. Denis Gurianov came through center ice and stole the puck away from the IceHogs who were caught in transition. Roope Hintz broke to the back side of the net and Gurianov slipped it through the defense to his tape. The center outlasted Collin Delia in net before slipping it between his legs 6:25 into the first period.
Delia needed to be stellar early as Texas peppered him with 27 shots in the first two periods. That also included a pair of shorthanded opportunities that the netminder steered away from the net. Delia eventually made 36 saves on the Stars but took the loss. Thanks to his fortitude in the contest, the IceHogs managed to tie the game in the final two minutes of the second period from Jordan Schroeder.
After the break, the Stars needed only 15 seconds to tally the game-winning goal. Taylor Fedun net his first of the season on a long, lofted shot that made its way through traffic to make it 2-1 Stars. Travis Morin then capitalized on a rebound at the left side of the net on the power play. After Delia made a group of saves, Morin tallied the rebound for his second goal of the season. The goal on the man advantage pushed Morin's point streak to five games and gave the Stars a power play goal in each of the last six outings.
Stars Goaltender Landon Bow was not tested much made some great saves in the game to earn his sixth win of the season with 14 saves. The Texas offense was more than enough as Sam Laberge and Colton Hargrove added additional goals in the final nine minutes of the game.
Texas' improves to 7-6-1-1 this season and evened the season series with Rockford a one game a-piece. The Stars next travel to San Antonio to face the Rampage, beginning a three-in-three next Friday night at the AT&T Center.
3 Stars presented by Dahill Office Technology Corporation
Travis Morin (TEX)
Roope Hintz (TEX)
Taylor Fedun (TEX)
Back to All