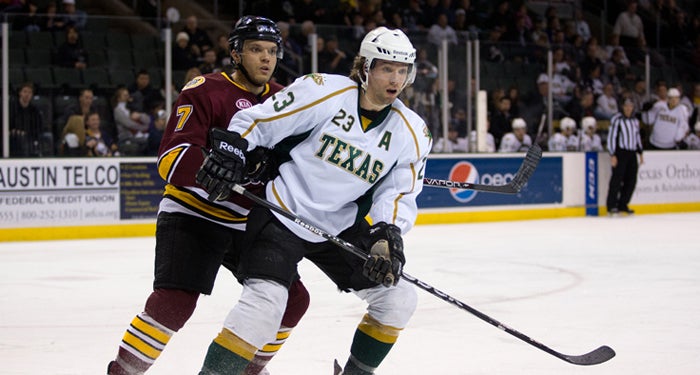 Wolves Survive Stars Surge 4-3
Mar 5, 2013
Morin Tallies Three Points, Texas Comeback Bid Falls Short

CEDAR PARK, TX – Travis Morin notched a goal and two assists and Matt Fraser scored his AHL-leading 14th power play goal, but the Chicago Wolves defeated the Texas Stars 4-3 Tuesday night at Cedar Park Center.

Chicago capitalized on their second shot of the contest at 6:04 to take a 1-0 lead. Jim Vandermeer took a Steve Pinizzotto cross-slot pass and bounced a wrister off the body of scrambling Texas starting goaltender Jack Campbell and into the mesh to open the scoring. The Stars answered back when Travis Morin used a mid-air redirection of a Matt Fraser wrist shot to beat Wolves netminder Matt Climie. The tally at 14:20 was Morin's fifth of the year and leveled the contest at one.

Chicago scored a power play goal after an early second period Francis Wathier cross-checking penalty to move back in front at 2:27. Bill Sweatt redirected an errant one-timer from Andrew Ebbett past Campbell to grab a 2-1 edge. Tomas Vincour responded to level the game at two just 56 seconds later with helpers from Doug Jones and Morin. The puck found Vincour's stick as he skated solo down the right side of the attacking zone and he wired a wrister that beat Climie's blocker. The Wolves then proceeded to seize a 4-2 lead and chase Campbell from the game with two-goals in 91 seconds. Guillaume Desbiens set up Darren Archibald for a goal on a two-on-one rush at 5:32 and then Michael Davies scored on a breakaway at 6:53. Davies used a nifty backhand to lift the puck over Campbell's shoulder, sparking Coach Willie Desjardins to bring goaltender Cristopher Nilstorp into the fray. With no further scoring in the frame, Chicago headed to the locker room with a two-goal cushion and outshot Texas 14-6 in the session.

Fraser continued his red-hot stretch with a power play tally at 5:03 of the final period, his fifth goal in his last four games and his league-leading 14th power play strike. Colton Sceviour forced the puck out of a crowd near the crease and Fraser used a great effort to backhand it from an incredibly sharp angle into the open net before Climie could recover, closing the gap to 4-3. Morin notched another assist on the goal to record his third point of the night. Nilstorp made some key saves to keep the Stars within striking distance, including an enormous stoning of Desbien on a shorthanded breakaway. Texas outshot the visitors 12-6 in the final session, but Climie made all the necessary stops down the stretch and the Wolves held on to earn a 4-3 road victory.

Chicago starter Matt Climie stopped 23-of-26 Stars shots to take home the win. Texas starter Jack Campbell turned away 11-of-15 Wolves shots in the first 26:53 of play and was tagged with the loss. Cristopher Nilstorp came on in relief and was outstanding, denying all 14 Chicago shots he faced over the final 32:15. The Wolves outshot the Stars 29-26 and both squads were 1-for-4 with the man advantage.

The Stars continue their five-game home stand on Friday, March 8th when they battle against their division rivals the San Antonio Rampage for the first time in 41 days for a 7:00 p.m. faceoff at Cedar Park Center. Friday's game is another Texas Lottery Lucky Row Night, a $3 Beer Night and the Stars Team Poster Giveaway including a post-game autograph session with the entire team. Pro-rated full and partial 2012-13 season seat packages are on sale now. For more information on Texas Stars season tickets call (512) GO-STARS (467-8277) or visit www.TexasStarsHockey.com.
Back to All