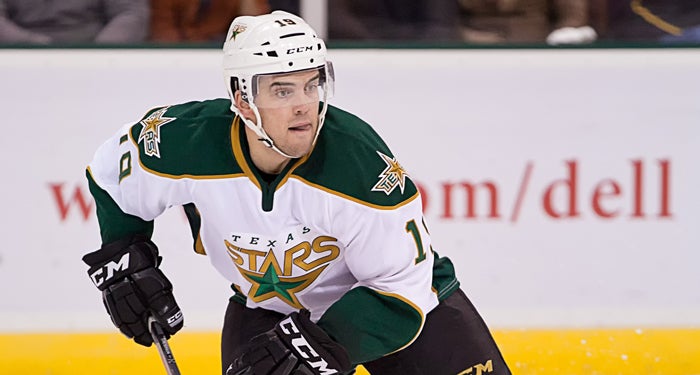 Toby Petersen Named 2012-13 IOA/American Specialty AHL Man of the Year
Apr 11, 2013
Texas Stars Forward Now in Running for AHL's Yanick Dubre Memorial Award

CEDAR PARK, TX – The Texas Stars are proud to announce that Toby Petersen has been named the team's winner of the IOA/American Specialty AHL Man of the Year award for his outstanding contributions to the Texas community during the 2012-13 season.

Petersen, 34, is an alternate captain for the Stars and a board member for the Texas Stars Foundation. Committed to charity work through his hockey career, the Bloomington, Minn., native has continued his outstanding efforts for community outreach, particularly in the area of juvenile diabetes, in Central Texas this season, making him a deserving recipient for this award.

Petersen and his wife, Alexa, joined the Texas Stars Foundation as board members at the start of the 2012-13 season. At the time of their selection to the board, Petersen said, "My wife and I are honored to be associated with the Texas Stars Foundation and its board of directors. Helping people in need and giving back to the community has always played an important part of our lives and we hope our efforts with the Stars Foundation will make a big impact in the greater Austin area."

Petersen has proven to be an invaluable partner to the Foundation, particularly as a liaison between the staff and the locker room. He helps coordinate the players for Foundation events and appearances, makes sure all details are distributed and keeps everyone organized. Petersen and his teammates have participated in the Foundation's signature events this year, including Casino Night, Bowling with the Stars and the Texas Stars Foundation Golf Classic. They have also assisted the Foundation's fundraising efforts through participating in three jersey-off-your-back silent auctions and spearheading the team's Movember efforts. So far this season, the Foundation has raised more than $170,000, much of it thanks to the efforts of Petersen and the rest of the team.

In addition to his behind-the-scenes work as a board member, Petersen serves as a public face for the Foundation. He filmed a video promoting the Foundation's fundraising efforts, which is played at Texas Stars home games. He also participates in check presentations and other Foundation appearances.

As one of two Texas Stars players with diabetes, Petersen immediately became involved with working with diabetic groups in Central Texas this season. A long-time supporter of the Juvenile Diabetes Research Foundation (JDRF), he continued his efforts to promote diabetes research and awareness, particularly as it relates to children facing the disease.

In the fall, Petersen attended a Foundation appearance at Ronald Reagan Elementary school in Leander, Texas, along with teammate and fellow diabetic Taylor Vause. He spoke to students about being healthy and having a disease but still being able to play sports and live your life. At the end of the assembly, Petersen and Vause met with students at the school who also suffer from diabetes.

Then in April, Petersen met with a group of children and their families from Camp Bluebonnet Children's Diabetic Camp of Central Texas after a Texas Stars game. Petersen gave advice to the young diabetics, answered questions about managing blood sugar levels and shared the troubles he encountered growing up as he learned to manage the disease.

In addition to his place as a role model for young diabetics in the area, the veteran Petersen has also served as a mentor to his rookie teammate Vause. In an article published on 100 Degree Hockey and TheAHL.com earlier this season, Vause told reporter Stephen Meserve, "To have Toby as a mentor, it's been great moving up to pro. We feed off each other where we've got tricks that work for us and see if they work for the other person."

Because of Petersen's strong ties to JDRF, the Texas Stars and Texas Stars Foundation have been working on plans for future fundraising efforts for this season and beyond.

In addition to speaking to the children from Ronald Reagan Elementary School and Camp Bluebonnet about living and playing sports with diabetes, Petersen attended other community appearances on behalf of the Texas Stars Foundation.

In January, Petersen visited Live Oak Elementary in Austin, Texas as part of the school's WATCH D.O.G.S. (Dads of Great Students) program. WATCH D.O.G.S is a K-12 program that invites fathers, grandfathers, uncles and other father figures to volunteer one day at the student's school during the school year. Petersen met with students and their families to encourage fathers to be involved in their children's lives and schools.

Petersen joined several other members of the Texas Stars in a visit to Dell Children's Medical Center of Central Texas in December. The players visited with young hospital patients, signing autographs and playing games to help spread holiday cheer.

Petersen and his wife Alexa also helped bring happiness to another local family during the holidays. The Texas Stars players, wives and girlfriends adopted the family of a woman who had recently passed away from cancer. The Petersens purchased and wrapped gifts for the father and three children, helping alleviate the financial burden of the holidays for the father and bringing some much-needed joy to the entire family.

A native of Bloomington, Minn., Petersen has made a conscious effort throughout his professional hockey career to be involved in local community service organizations where he has played. He has been doing extensive charity work for many years, particularly with the Juvenile Diabetes Research Foundation (JDRF). Diagnosed with type 1 diabetes at age six, Petersen first started fundraising for JDRF in 1999 in Colorado Springs with his teammates at Colorado College. He has continued those efforts throughout his thirteen year pro career, which spans more than 900 pro games, including nearly 400 in the National Hockey League.

Petersen spent most of the last four years with the NHL's Dallas Stars, where he served as JDRF's Celebrity Ambassador Spokesperson for the greater Dallas region, participating in a variety of events, including fundraisers and visiting schools to create more education and awareness. During the 2007-08 season, while playing for the AHL's Iowa Stars, Petersen was selected as the team's Humanitarian Award, for his outstanding contributions in the local community.
Petersen is now one of 30 finalists for the AHL's 2012-13 Yanick Dupre Memorial Award, honoring the overall IOA/American Specialty AHL Man of the Year. The league award is named after the former Hershey Bears forward and AHL All-Star who died in 1997 following a 16-month battle with leukemia. The winner of the Yanick Dupre Memorial Award will be announced by the American Hockey League on Apr. 18.

The Texas Stars will continue their five-game road trip on Thursday, April 11th as they travel to Charlotte for a 6:00 p.m. CT faceoff with the Checkers at Time Warner Cable Arena. The Stars next home game is on Friday, April 19th against the Houston Aeros at 7:30 p.m. Friday's game at Cedar Park Center is a $3 Beer Night and another Texas Lottery Lucky Section Night, where fans can win scratch off tickets from the Texas Lottery when the first Stars player scores a goal. 2013-14 Season Tickets are now on sale. Put your deposit for 2013-14 season tickets and receive priority for both Texas Stars 2013 Calder Cup playoff tickets and 2013-14 season seat selection. For more information on Texas Stars season tickets call (512) GO-STARS (467-8277) or visit www.TexasStarsHockey.com.
Back to All