Gurianov, McKenna Power Stars to 4-0 Shutout Win
Sep 30, 2017
Three Stars:
1. Gurainov (TEX)
2. Dowling (TEX)
3. Flynn (TEX)
Shots:
Stars - 28
Rampage - 19
Goaltenders:
W - McKenna
L - Husso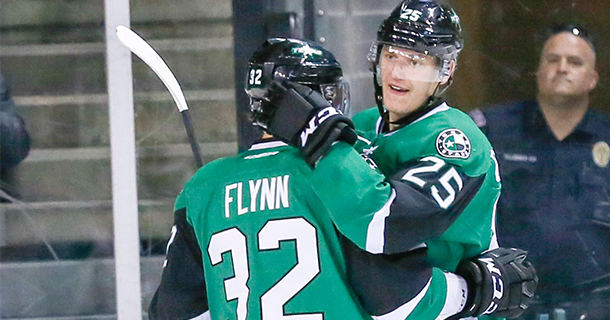 CEDAR PARK, Texas - Denis Gurianov tallied a three-point night and Mike McKenna was perfect in a 19-save performance to lead the Texas Stars to a 4-0 shutout of the rival San Antonio Rampage on Saturday night at H-E-B Center.
"It's great, said McKenna. "The team played really well so that made things easy especially early in the game."
Gurianov scored a power-play goal just eight minutes into the game and added two assists. Brian Flynn (0-2=2) and Justin Dowling (1-1=2) each recorded a multi-point game for Texas. Dowling, Cole Ully and Brent Regner also scored.
"I felt good you know," said Gurianov. "We won game today. Guys had a lot of energy. We got many shots. We socred four goals. It was good."
Carrying a 2-0 lead into the third, Gurianov setup Dowling on an odd-man rush for a one-timer goal at 3:42 to swing all the momentum in favor of Texas. McKenna turned aside all 11 shots he faced in the third to preserve his shutout. The Stars outshot the Rampage, 28-19, in the game overall.
Ville Husso suffered the loss with 24 saves for San Antonio. The Stars and Rampage split their two-game set in the preseason. Texas will host the Chicago Wolves on Friday at 7:30 p.m. CST to open the 2017-18 regular season.
After Gurianov stuffed home a rebound goal on the power play in the first to open the scoring, Cole Ully extended the Texas lead to two on a rebound goal after following up Max French's breakaway chance at 9:26 of the second.
Regner snapped home a one-time goal from the left circle off Gurianov's centering feed with just under seven minutes to play in the game.
Texas finished 2-for-5 on the power play. San Antonio went 0-for-6.
Back to All