Stars Take Down Moose in 4-3 Win
Jan 18, 2017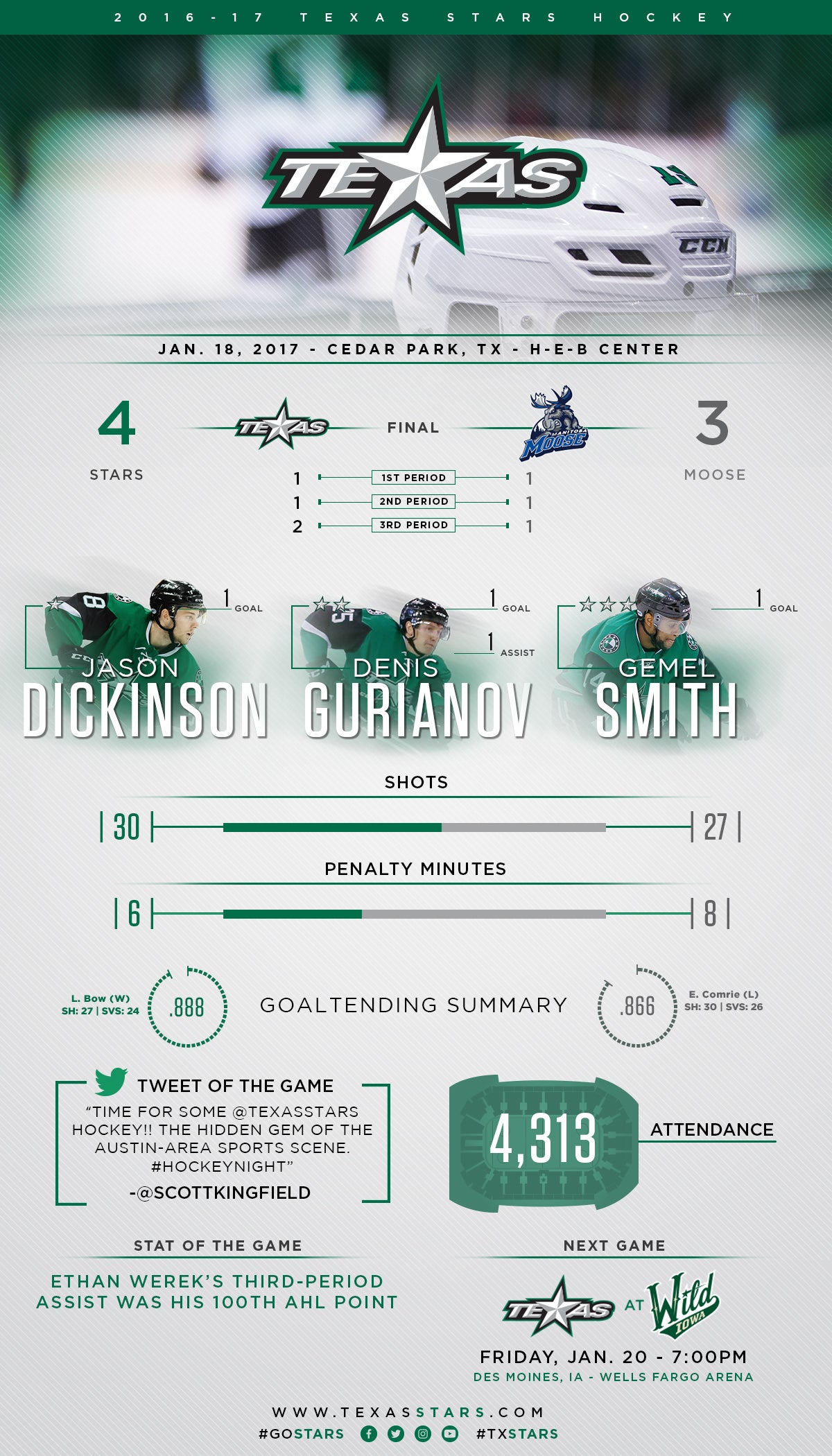 Boxscore
Photos
Postgame Video

Shots:
Stars - 30
Moose - 27
---
Gurianov Scores Game-Winner for Second Straight Game
CEDAR PARK, Texas -- Forward Denis Gurianov scored his second game-winning goal of the week to lift the Texas Stars to a 4-3 victory over the Manitoba Moose at H-E-B Center on Wednesday night.
Gurianov went five-hole as he back-handed his sixth goal of the season past Moose netminder Eric Comrie 12:57 into the final period of play. It was the same move he used to beat Team Sweden at the World Junior Championships on Jan. 5.
"It's lucky, you know?" said Gurianov. "I wanted to score in five-hole because it was big speed and a nice move in the five-hole."
The first period of play saw the Stars (19-15-1-2) and the Moose (15-18-3-2) trade goals and the two teams would remain tied up until the third.
Manitoba forward Quinton Howden opened up scoring on a short-handed breakaway with 10:33 remaining i the first, but Texas forward Gemel Smith would even the score less than two minutes later as he tapped in a rebound in front of Comrie with two seconds remaining on a Stars power play.
Forward Brendan Lemieux scored a power-play goal for the visiting team as he deflected a shot pack Stars' rookie goaltender Landon Bow to give the Moose their second lead of the night. Three minutes later, at the 15:42 mark of the third, AHL All-Star selection Julius Honka found the back of the net after he blasted a one-timer from the top of the slot to even the score at 2-2.
Jason Dickinson then gave the home team their first lead of the night off of a centering pass from Ethan Werek, who tallied his 100th Career AHL Point in the process, with seven minutes remaining in the game. Gurianov then added to the lead before Manitoba forward Kyle Connor scored during a 6-on-5 when the Moose pulled their goalie to gain an extra attacker.
"It was just kind of a sleepy game all around, but those are the games you want to get the two points out of, and we hung on and got it," said Head Coach Derek Laxdal. "We didn't give up a lot of scoring chances, I bet you maybe under 10. Of our guys defensively, we bent, we didn't break. We did some good things and I thought the last 30 minutes we found a little bit of energy. We played at the level we're capable of paying at."
Bow earned his sixth win of the season, stopping 24 of 27 shots while Comrie stopped 26 of 30 to take the loss.
.
---
Three Stars:
1. Dickinson (TEX)
2. Gurianov (TEX)
3. Smith (TEX)
Goaltenders:
W - Bow
L - Comrie

Photo Credit: Andy Nietupski/Texas Stars
Back to All