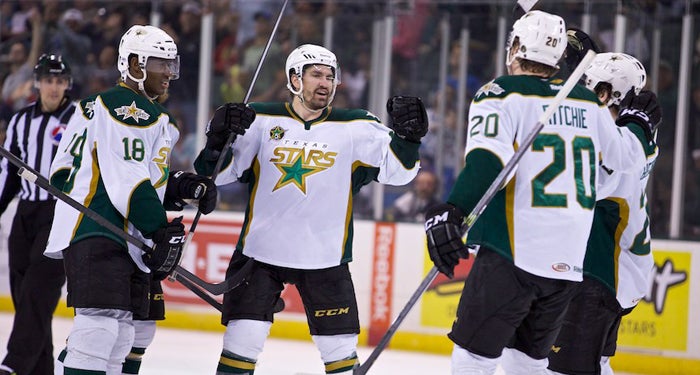 Stars Pummel Bulldogs, Set New Franchise Record Win Streak
Mar 29, 2014
Hubert Labrie recorded a Gordie Howe hat trick and Travis Morin reached the 80-point mark on the season as the Texas Stars crushed the Hamilton Bulldogs 6-1 Saturday night in front of 5,982 fans at Cedar Park Center. It was the Stars' seventh straight victory, which set a new franchise record.

The Stars got on the board early in the first when rookie Curtis McKenzie hammered home the rebound from a Derek Hulak shot to put Texas ahead 1-0. Patrik Nemeth doubled the Stars' lead on a delayed penalty when he unleashed a one-timer off a seeing-eye cross-ice pass from rookie Brendan Ranford. The Stars dominated the period, leading the Bulldogs in shots 20-3.

Rookie Matej Stransky struck on a two-man advantage just over two minutes into the second period to make it 3-0 Texas after he collected the rebound from McKenzie's shot and fired the puck in from a bad angle, beating Hamilton goalie Dustin Tokarski. Travis Morin was also credited with an assist on the Stransky power play goal, his second assist of the night and his league-leading 80th point of the season. The Bulldogs cut into the Stars' lead when Christian Thomas finished off a two-on-one down low to make it 3-1. Defenseman Hubert Labrie answered three minutes later with a blistering one-timer from the blue line through traffic and past Tokarski to put the Stars ahead 4-1.

Trailing by three late in the third period, and with Jamie Oleksiak in the penalty box for a tripping minor, Hamilton pulled Tokarski to set up a six-on-four advantage. However, Ranford capitalized with a shorthanded empty netter, scoring from his own defensive zone hash mark. Labrie had the lone assist on the goal and, with a fight earlier in the period, completed a Gordie Howe hat trick (goal, assist and fight in one game). Mike Hedden put the game away with 38 seconds left in regulation when he took off on a breakaway and slid the puck through Tokarski's five-hole to seal the 6-1 Texas victory.

Cristopher Nilstorp (24-12-4) stopped 24-of-25 shots faced and earned his 24th victory of the year in goal for Texas. Hamilton goalie Dustin Tokarski (19-15-2) had 31 saves on 36 shots and was saddled with his 15th loss of the season. The Stars outshot the Bulldogs 37-25 and went 1-for-3 on the power play. Hamilton was 0-for-5 with the man-advantage.

NOTE: The win was Texas' seventh in a row, breaking the franchise record for longest winning streak.

The Stars will continue their home stand as they face the Lake Erie Monsters on Friday, April 4th for a 7:30 p.m. face off at Cedar Park Center. Friday's game is Mike Modano night, including a pre-game ceremony and Signature Edition Rally Towel giveaway. It is also Toby Petersen Mini-Bobblehead night, as well as a $3 Beer and $4 Robert Mondavi Private Selection Wine Night. Pro-rated full and partial 2013-14 Texas Stars Season Tickets are on sale now. For more information on Texas Stars season tickets call (512) GO-STARS (467-8277) or visit www.TexasStarsHockey.com.
Back to All