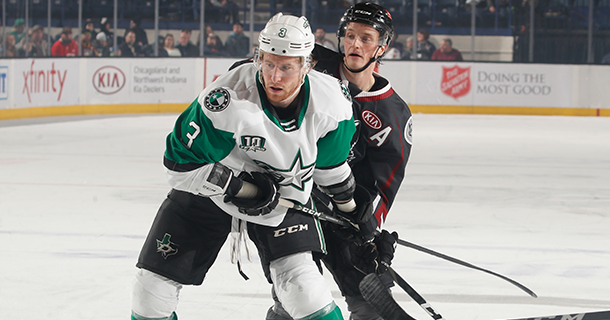 Stars Fall 4-2 to Wolves to End Road Trip
Feb 24, 2019
Dahill Office Technology Corporation Three Stars:
1. Daniel Carr (CHI)
2. Curtis McKenzie (CHI)
3. Oscar Dansk (CHI)
Shots:
Stars - 40
Wolves - 29
Goaltenders:
W - Oscar Dansk (CHI)
L - Landon Bow (TEX)
ROSEMONT, Illinois – The Texas Stars, American Hockey League affiliate of the NHL's Dallas Stars, failed to overcome a three-goal deficit tonight against the Chicago Wolves and were defeated 4-2 at Allstate Arena. In his return to the Texas lineup, forward Joel L'Esperance scored two goals and is currently tied for the league lead with 29 goals.
In the first period, Texas sent 15 shots on goal and kept pace with the Wolves. However, Chicago came out of the period with the advantage, scoring the opening goal 6:33 into the game. Keegan Kolesar notched the goal on a pass from Curtis McKenzie from behind the net to score his 11th goal of the year.
After the intermission, Chicago extended the advantage with goals from Daniel Carr and Zach Whitecloud. Carr scored his 29th goal of the season to begin a three-point night on the power play. Carr added a pair of assists against the Wolves to earn a league leading 69 points (29-40=69) this year. Whitecloud added to the lead two minutes later, walking into the slot before sending his sixth goal into the net.
The goal ended the night of Landon Bow who made nine saves in 24 minutes of work. Philippe Desrosiers entered into his eighth game across the Stars last nine contests and finished the game with 16 saves.in relief.
The Stars countered with their first of two goals on the power play six minutes into the third period. L'Esperance was led past the defense by a seam pass from Erik Condra before breaking in front of Oscar Dansk. A backhanded shot over the netminder's shoulder ended his shutout bid to cut the Chicago lead to just two.
Minutes later, the Stars ended up in penalty trouble. Beginning a penalty kill, Texas was then called again for hooking, sending Chicago's 5-on-3 power play onto the ice. Following a timeout by the Wolves, Dylan Coghlan launched his tenth of the season into the net on a one-timer from Carr.
The Stars pushed the pace late in the game and eventually notched another power play goal with less than 40 seconds remaining. Again Condra found L'Esperance open in the left circle for a one-timer blast to pull within two goals. Texas ended the night 2-for-5 on the power play while Chicago opened up with a 2-for-4 finish on the man advantage. The Stars also fired 40 shots on net as Dansk earned the victory with 38 saves.
Photo Credit: Chicago Wolves
Back to All