Rampage Continue Hot Trend to Top Stars
Nov 23, 2018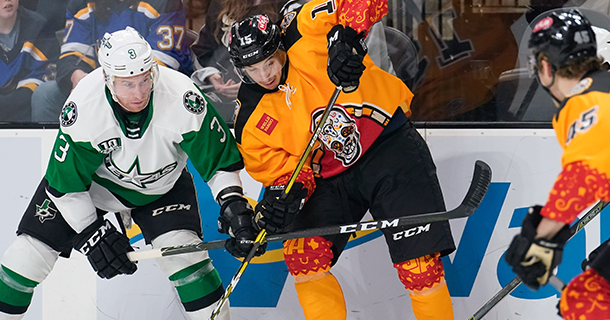 SAN ANTONIO, Texas – The Texas Stars, American Hockey League affiliate of the NHL's Dallas Stars, and San Antonio Rampage began a three-in-three weekend tonight with the Rampage coming out in a 4-1 decision at the AT&T Center. San Antonio has now won four straight games while the Stars are now 2-1-0-0 against the Rampage this season.
San Antonio opened the scoring during the first period, netting the first goal nearly 13 minutes into the game. The net was empty for the Rampage with a delayed penalty on the way for the Stars and San Antonio turned it into an offensive chance. Ryan Olsen walked into the top of the right circle and fired a shot just inside the post for his fourth of the season.
The Stars generated some valiant chances both in the first and second period with considerable power play time. Despite the team's effort, the Stars failed to score a goal on the man advantage for the first time in six games. San Antonio took their penalty kill momentum and turned it into a goal five minutes into the second period. Charlie Sampair net his second of the season to push San Antonio ahead 2-0.
In the third period, a Rampage power play pushed the advantage to 3-0. Austin Poganski glided into the left wing circle, shooting his second of the season into the net at 10:46. The Rampage power play finished the game 1-for-5.
Texas continued to push, pulling goaltender Philippe Desrosiers from the crease with more than five minutes to play in the game. Justin Dowling let his fourth of the season fly from the right circle and tucked it under the pads of Rampage netminder Jordan Binnington. Texas' goal with five minutes to play spoiled the shutout for Binnington and gave the Stars life in the final minutes. Desrosiers finished his night with 20 saves on 23 shots in his first start of the season.
After several attempts to find the empty net, Jakub Jerabek finally found the open cage in the final nine seconds to finish the game. Texas won the shot battle 28-24 but were held to just one goal for the first time in six games.
The Stars and Rampage face off again tomorrow night at the H-E-B Center at Cedar Park to continue their three-in-three battle.
3 Stars presented by Dahill Office Technology Corporation
C. Sampair (SA)
R. Olsen (SA)
J. Binnington (SA)
The Texas Stars are the primary development affiliate of the NHL's Dallas Stars, will return to the H-E-B Center on Saturday, Nov. 24 at 7:00 p.m. for Teddy Bear Toss against the San Antonio Rampage.
Back to All