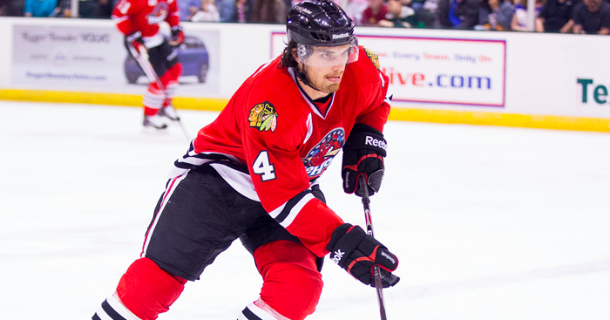 Players to Watch in 2015-16: Stephen Johns
Aug 21, 2015
When Dallas Stars General Manager Jim Nill made a trade with the Chicago Blackhawks on July 10, 2015, all eyes were focused on Patrick Sharp. The NHL veteran joined the Dallas Stars boasting a resume with three Stanley Cups and four seasons of 30 or more goals. But the championship pedigree of Sharp wasn't the only important piece of the trade.

Another was a 23-year-old defenseman named Stephen Johns.

"A big part of the trade was the Stephen Johns kid," said Nill after the trade. "He played for Rockford against [the Texas Stars] in the playoffs and pretty well manhandled us. He's a big, strong, physical kid. He skates well."

Johns also put the finishing touch on the Conference Quarterfinal series between the Stars and Rockford IceHogs when he scored the overtime-winner in Game 3 of the series to eliminate Texas from the Calder Cup Playoffs. The 2010 second-round pick of Chicago led all AHL rookies and tied for the league lead overall with a plus-30 rating this past season.

Nill wasn't shy about praising the potential of the young defenseman.

"He's 6-foot-4, 220 pounds. He can skate. He plays the game hard. We've got a lot of skill in our lineup and we don't have a lot of that presence. We have Patrik Nemeth, a big man. We have Jamie Oleksiak. They're all young guys. You need to have some of that size and different dimension in the back end and I think he brings that. The other thing that I love about the young man is he's a leader on and off the ice. He's very respected. He works in the community. He's a character guy through and through and you can't have enough of those guys in your organization."

The Wampum, Pa. native played 162 games over a four-year career at the University of Notre Dame from 2010-2014 prior to turning pro. Johns competed twice internationally for Team USA in the World Junior Championships. He is known as a natural defensive defenseman.

"It's a confidence thing. You gain that confidence and settle on your role and you can just take off," Johns added after the trade. "In college, I didn't really understand my role. This past year, my coaches told me what they wanted and what they expected. I'm definitely a shutdown defenseman on the ice late in games, play a physical style and try to be intimidating."

Last year, Johns added a touch of offense to his game with 21 points (four goals, 17 assists) in 51 contests. Eleven of those points came in the final 18 games of the regular season, and he added seven more points in eight playoff games for the IceHogs.

"I've known Stephen since he was 17 years of age," said Nill back in July. "I saw him when the U.S. Under-18 team [was] in Ann Arbor and at the World Juniors. I saw him play at Notre Dame all four years back in my Detroit days scouting, so I've seen him for a long time. I was able to watch him in the American League and watched him play [the Texas Stars] in the playoffs, and I thought he was the best player on the ice. We're excited about his potential and think he's going to be a good fit for us down the road."

Johns joins a young defensive group both in the NHL and the AHL competing for ice time in Dallas. John Klingberg, Patrik Nemeth, Jamie Oleksiak and Jyrki Jokipakka are all expected to hold a spot on the NHL roster. Julius Honka, Esa Lindell, Mattias Backman and now Johns are right on the doorstep trying to plead their case to earn a spot. If he starts the season in Cedar Park, Johns could be the first call-up on the blue line should Dallas need someone in a pinch, but Nill made it clear he expects the young defenseman to compete for an NHL roster spot in training camp come September.

"We want these young players to come in and make it hard on us," Nill said. "Make us make decisions on who the best players are."

"Personally, I think I'm ready but it's not up to me," Johns said. "I'm going to do the best that I can, play the best hockey I can, and try to impress them."

At 6-foot-4 and 220 pounds, a defensive-minded Stephen Johns was a secondary piece to the Dallas Stars' biggest move of the offseason. In time, he could turn out to bring the biggest piece. That makes him a player to watch in 2015-16.
Back to All