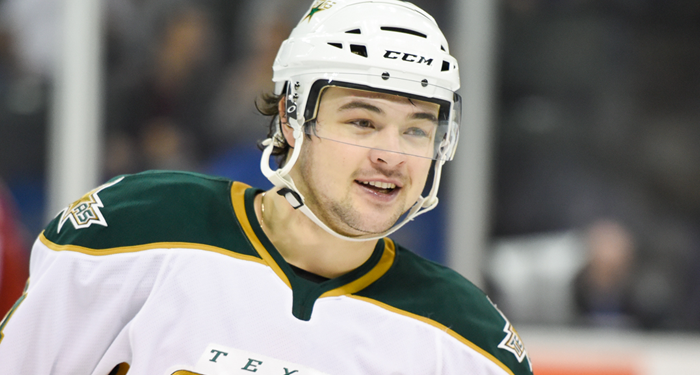 Players to Watch in 2015-16: Devin Shore
Jul 2, 2015
Texas Stars fans should get used to hearing the name Devin Shore.

After his third season at the University of Maine ended, Shore joined the Texas Stars and appeared in each of the team's final 19 games of the 2014-15 campaign. The rookie center chipped in four goals and two assists for six points over the brief stretch.

At the end of the regular season, head coach Derek Laxdal simply stated, "Love him. He's a player."

In early March of 2015, Shore's entrance to the world of professional hockey was a 72-hour emotional rush. On a Sunday evening, he saw his season end at the University of Maine in a heartbreaking, 3-2 overtime loss. Tuesday, he signed an entry-level agreement with the NHL's Dallas Stars and flew to Austin that night – a trip of more than 2,100 miles. Wednesday morning he joined the Texas Stars on an amateur tryout agreement, met with the coaching staff and made his AHL debut that night at Cedar Park Center. The Stars topped the Lake Erie Monsters in a 6-4 win.

"It was a ton of fun. I had a blast out there," said Shore after the game. "Everyone can play. It just goes to show it takes a lot of hard work to play in this league, and it was just a blast to be able to play professional hockey. To get the win in my first game, it was a lot of fun."
He recorded his first career point with an assist on St. Patrick's Day against Lake Erie, forcing a turnover in the defensive zone to create a two-man breakaway. Two games later in Milwaukee, the Dallas Stars 2012 second-round pick buried his first career goal to give Texas a 2-1 lead, which they never relinquished in a 4-2 road win.

"I love it here," said Shore summing up his introductory stint in Cedar Park. "The first thing I noticed is how nice the rink is. The weather is unbelievable. All the people here are great. The time I spend here I just wanted to be a sponge. I wanted to soak in everything I possibly could and take in as much information and learn as much as I could because that will do nothing but pay off at camp next season."

As the Ajax, Ontario, native continued to adjust to the professional leg of his hockey career, the on-ice responsibility increased. Despite just a handful of practices and games under his belt, the Stars coaching staff quickly began using Shore for defensive zone faceoffs, power play and penalty kill scenarios, late-game situations and regular overtime shifts. On April 3, 2015, just the 12th game of his career, Shore snapped a crucial shootout goal in round four at Milwaukee to extend the game, setting up Justin Dowling's shootout-winner and putting Texas on the doorstep of clinching a playoff spot in a 3-2 win.

After settling into a full-time role on the team, the offensive flashes continued for Shore. He scored his four goals during the regular season, and added his first career playoff goal in Game 3 of the team's opening round series against Rockford.
"He skates well. He's got a good head on his shoulders. He is physical," added Laxdal. "He reads the game really well. That's part of the hockey IQ. I'm a big believer if you can't think the game it is hard to play it. He comes to the
rink and he's got passion. He's smiling all the time. He's real pleasant to be around, and he is a great teammate. I think he is going to be a special player."

With players like Travis Morin, Justin Dowling, Radek Faksa and Jason Dickinson already in the Dallas Stars pipeline, Shore's name adds to a deep core of centers that can provide an impact at the AHL level – an advantageous benefit for the Texas Stars to have. Based on his response to the immediate responsibilities placed on him in his first 19 games of pro hockey, plus three playoff games, Devin Shore will be a player to watch for the Texas Stars in 2015-16.

"This stint here the last couple months was really big for both my confidence and my development. It's awesome to know what I'm getting into going into my first real pro camp next fall, so just to get an advancement in what I'm going to be in for I think is really important."
Back to All