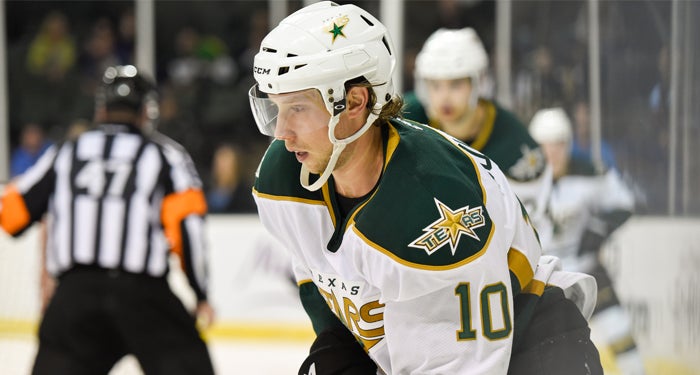 Player to Watch in 2015-16: Justin Dowling
Jun 25, 2015
Justin Dowling is coming off the most productive season of his AHL career.
Despite playing nine fewer games this past season than in 2013-14, the Texas Stars' center doubled his production in goals (24) and finished with 50 points overall, both career highs.
An undrafted forward coming out of junior hockey in 2011, Dowling is preparing for an important fourth season in a Texas sweater. The Cochrane, Alberta native must balance his continuing pursuit of graduating to the NHL level in Dallas while also transitioning into being one of the more experienced players on the Texas Stars roster. He will set an important example to the influx of young centers to Cedar Park this season like Jason Dickinson, Devin Shore, plus Radek Faksa returning from an injury-shortened 2014-15.
"I like my skill. I like my speed and my skating. I like how I think the game," said Dowling after the season. "It's just the little things… That's kind of what separates the NHL from minor-leaguers. I think if I just add an extra element hopefully I'll be able to make a jump."
The 2014-15 season was year one of a two-year entry level agreement with Dallas. He started fast with 17 points in the first 20 games of the season for Texas, including an overtime-winning goal on October 24th hosting Oklahoma City and a three-point night (one goal, two assists) on December 3rd against Utica. It was one of 11 multi-point games Dowling registered this season.
While his pace naturally slowed after that point, as soon as the calendar hit February 2015 he heated up once again in the second half of the season. Dowling tallied 27 points in his final 31 games of 2014-15 with 13 goals and 14 assists. He scored a hat trick on February 20th at Rochester to lead the Stars to a 5-2 win, and in March established a five-game point streak as part of a run of points in seven of eight contests.
"After Christmas we kind of took off and we had a great second half and I think that happened for a lot of guys personally," added Dowling.
He saved his best for last when Texas made their push to lock up a Calder Cup Playoff spot in April. He scored the shootout-winning goal in round five at Milwaukee on April 3rd and tallied a pair of goals the next night against Chicago, which included a highlight-reel strike that was one of the AHL's best from the 2014-15 campaign. All of that was part of a three-game stretch where he scored four goals and two assists to earn AHL Player of the Week honors. His month of April was a catalyst for Texas going 8-1-0-0 to close out the 2014-15 regular season. He notched seven goals and two assists in those nine games.
Summarizing the 2014-15 season for the Stars he said, "It was a little bit of an adjustment with a new coaching staff and stuff but that's always going to happen. The coaches came in and did a great job and then, like I said, in the second half we played really well."
Over his first three years with the Texas Stars, Dowling's offensive production has increased each season. The expectation for his fourth campaign makes him a player to watch in 2015-16.
Back to All