Dallas Stars Make Free Agent Moves
Jun 30, 2018
The surge of NHL free agency has come and gone, and the Dallas Stars have re-signed most of their restricted free agents, which means most of the names that will appear in NHL training camp are set. Here's a list of some names to keep an eye on of players that could trickle down to the AHL at some point and be involved in the 2018-19 season for Texas.

Michael Mersch:
Mersch, 25, recorded a new career-high with a team-leading 49 points (21-28=49) in 65 regular-season games with the Ontario Reign of the American Hockey League (AHL) in 2017-18. The forward also paced the team in goals (21) and power play goals (10), and finished tied for second in assists (28), establishing new career highs in each category. Mersch finished the campaign tied for 14th in the AHL and first on Ontario with five game-winning goals, while his 10 power play goals shared 15th in the League. Additionally, he shared second on the Reign in goals (1), assists (2) and points (1-2=3) in four postseason contests during the 2018 Calder Cup Playoffs.
Joel Hanley:
Hanley, 27, split the 2017-18 campaign between the Arizona Coyotes and the Tucson Roadrunners of the American Hockey League (AHL). The defenseman appeared in five NHL regular-season contests with Arizona, posting two shots on goal, one hit and four blocked shots. Hanley spent the majority of the season with Tucson, registering 20 points (2-18=20) in 52 regular-season AHL games. He finished the season tied for fifth in the AHL with a team-leading +30 plus/minus, while he ranked third among Tucson defensemen in points (20) and assists (18). The defenseman also skated in nine postseason contests during the 2018 Calder Cup Playoffs, recording four assists (0-4=4) and a +2 rating.
Erik Condra:
Condra, 31, registered 25 points (9-16=25) in 48 regular-season American Hockey League (AHL) games with the Syracuse Crunch in 2017-18. Condra finished the season ranked third among team forwards with 57 penalty minutes, while he was tied for seventh among all team skaters with three game-winning goals. He also skated in seven games in the Calder Cup Playoffs, sharing third on the team with five assists (0-5=5) and adding a +2 rating.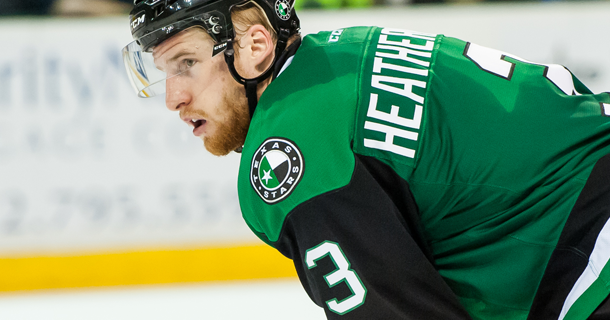 Dillon Heatherington:
Heatherington, 23, split the 2017-18 campaign between Dallas and the Texas Stars (AHL). He appeared in six regular-season NHL games with Dallas, notching one point (0-1=1) and 26 penalty minutes. The blueliner made his NHL debut on Jan. 18 against Columbus, logging two penalty minutes. He also appeared in 55 regular-season games with Texas and registered 17 points (3-14=17) and 47 penalty minutes, while finishing third among team defensemen and seventh among all club skaters with a +6 plus/minus rating. Heatherington also skated in 21 games during the 2018 Calder Cup Playoffs and tallied three assists (0-3=3) with 18 penalty minutes.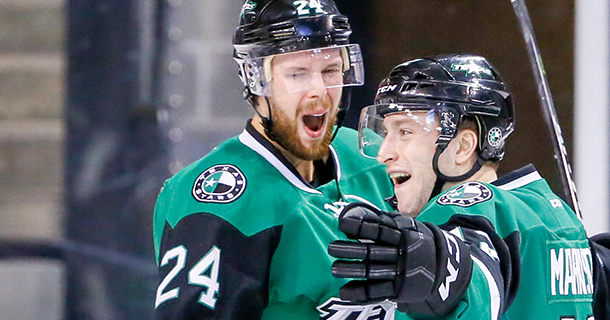 Reece Scarlett:
Scarlett, 25, split the 2017-18 season with the Texas Stars and the Springfield Thunderbirds of the American Hockey League (AHL). In 57 total contests, the blueliner recorded nine points (2-7=9) and 68 penalty minutes. He began the campaign with Springfield and amassed two points (1-1=2) and 22 penalty minutes over 13 games. After being acquired by Texas, he posted seven points (1-6=7) and 46 penalty minutes in 44 games. Scarlett skated in 22 games and recorded three assists (0-3=3) in the 2018 Calder Cup Playoffs, sharing third among club defensemen in postseason assists (3) and plus/minus rating (+3).
INCOMING ROOKIES FOR 2018-19
Colton Point:
Point, 20, spent the 2017-18 season with Colgate University of the Eastern College Athletic Conference (ECAC). The netminder appeared in 33 games, posting a 16-12-5 record with a .944 save percentage, a 1.74 goals against average and six shutouts. His .944 SV% was the best in school history and ranked first among all NCAA goaltenders, tying the mark for the ninth-best all-time SV% in NCAA men's hockey history. Point earned numerous accolades for his record-breaking 2017-18 campaign including being named CCM/AHCA Second Team All-American, Top 10 Hobey Baker Award Finalist, Mike Richter Award Finalist, ECAC Hockey Player of the Year Finalist and ECAC Hockey Goaltender of the Year Finalist. Additionally, he was selected as the 2017-18 Colgate Student-Athlete of the Year.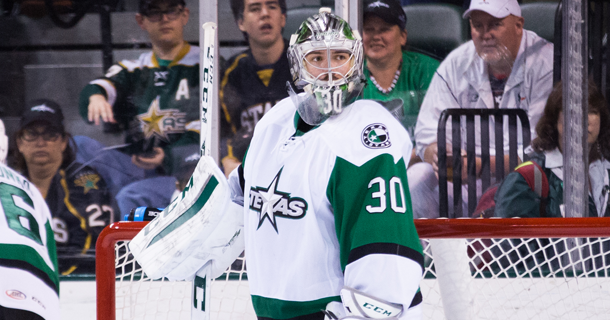 Phil Desrosiers:
Desrosiers, 22, split the 2017-18 season between the Texas Stars (AHL) and the Idaho Steelheads (ECHL). In two AHL games with Texas, he posted a 1-0-0 mark with a .962 SV% and a 0.86 GAA. The netminder posted a 23-9-3 record in 36 ECHL games with Idaho, recording a .913 save percentage, a 2.51 goals against average and two shutouts. Among ECHL goaltenders, he finished the season tied for fifth in wins (23) and eighth in shutouts (2), while ranking ninth in GAA (2.51). He also appeared in 10 postseason contests during the ECHL's Kelly Cup Playoffs, earning a 4-3 record with a .934 SV% and a 2.00 GAA.
Adam Mascherin:
Mascherin, 20, recorded 86 points (40-46=86) in 67 regular-season games during the 2017-18 campaign as a member of the Kitchener Rangers of the Ontario Hockey League (OHL). He ranked first on the club in points (86) and goals (40), and second in assists (46). Among all OHL players, the forward finished the season tied for eighth in goals (40) and ninth in points (86). Mascherin skated in 19 games during the 2018 OHL Playoffs and registered 24 points (9-15=24), ranking third on the team in points (24) and goals (9).
Tony Calderone:
Calderone, 23, appeared in 40 games and served as captain for the University of Michigan in 2017-18, registering 44 points (25-19=44). He ranked first on the club in goals (25), power play goals (7), game-winning goals (4) and shots on goal (132), while finishing second in points (44) and fourth in assists (19). The forward skated in all three of the Wolverines' NCAA tournament games and tallied four points (2-2=4), helping Michigan reach the Frozen Four semifinal vs. Notre Dame.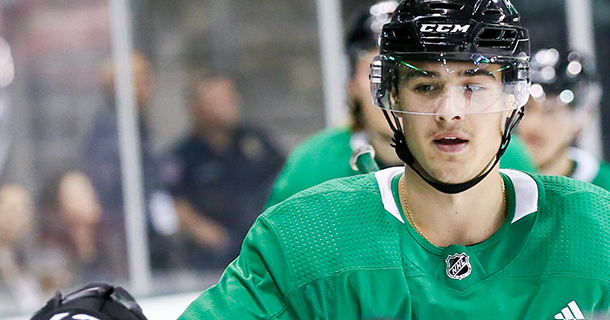 Nick Caamano:
Caamano, 19, just finished off a run to the Memorial Cup Tournament with the Hamilton Bulldogs after piling up 36 points (13-23=36) in 41 games in the Ontario Hockey League. Caamano joined Hamilton after being traded mid-season from the Flint Firebirds where he tallied 21 points in 23 OHL games (12-9=21). The 6-foot-2, 195-pound product of Ancaster, Ontario began the year in training camp with the NHL's Dallas Stars and just finished up a four-year career in the OHL where he recorded 167 points (83-84=167) in 259 contests.
Joel L'Esperance:
L'Esperance, 22, split the 2017-18 campaign between the Texas Stars of the American Hockey League (AHL) and Michigan Tech of the Western Collegiate Hockey Conference (WCHA). The center recorded two points (1-1=2) in nine regular-season AHL contests with Texas. He also appeared in 22 postseason contests with Texas, recording four points (1-3=4) in his first trip to the Calder Cup Playoffs.
John Nyberg:
Nyberg, 21, has been competing in Sweden for the previous four seasons. The 6-foot-3, 190-pound native of Lundy, Sweden has appeared in 101 games over the past two years for Frolunda, tallying 28 points (9-19=28). Nyberg (NIGH-behrg) signed a three-year, entry-level agreement with the Dallas Stars on May 8, 2017. He was selected in the sixth round by Dallas (165th overall) in the 2014 NHL Entry Draft.
Back to All