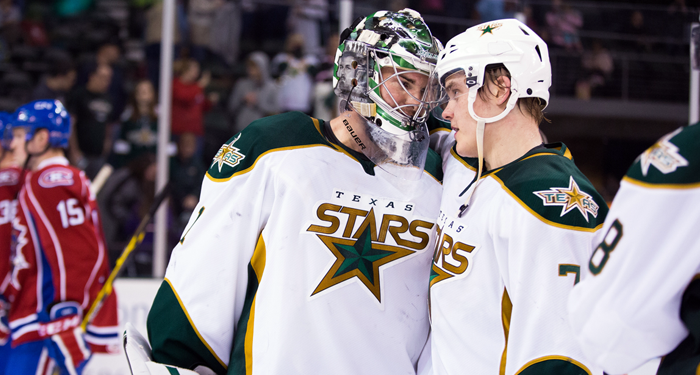 Texas Stars Weekly Update
Apr 13, 2015
CEDAR PARK, Texas – The Texas Stars look to maintain their hold on fifth place in the AHL's Western Conference with three straight matchups against the rival San Antonio Rampage to close out the 2014-15 regular season. Texas clinched a playoff spot last week for the fifth time in six years.

Last week's record: 2-1-0-0
Overall record: 37-22-13-1 (5th, Western Conference. 2nd, West Division)

-- THIS WEEK'S SCHEDULE --

April 14 at 7 p.m., April 17 at 7:30 p.m. at San Antonio Rampage, April 18 at 7 p.m. vs. San Antonio Rampage:
The final round of the I-35 rivalry closes out the AHL regular season with three straight games between the Texas Stars and San Antonio. The Stars are 3-4-1-1 against the Rampage this season, and the two clubs are meeting for the first time since Feb. 10. The Rampage locked up the West Division title last week and currently sit second in the Western Conference. Texas is fifth. San Antonio's Rocco Grimaldi leads all skaters in the series with 10 points (three goals, seven assists) in seven games against Texas this season.

Broadcast Info: TexasStarsHockey.com, Texas Stars Mobile App, and AHLlive.com

-- LAST WEEK'S RESULTS --

April 7 at Iowa Wild, 6-4 Win:
Six different goal scorers and 33 saves by Jack Campbell were enough for the Texas Stars to hold on in a 6-4 win on Tuesday night over the Iowa Wild at Wells Fargo Arena to close out the season series between the two clubs. The win was the 47th in the Stars career of Campbell, who passed Christopher Nilstorp for the team's franchise record, and the Stars passed Oklahoma City to take over fifth place in the AHL's Western Conference. Julius Honka (two assists) and Travis Morin (one goal, one assist) each finished with multi-point games.

April 10 vs. Hamilton Bulldogs, 4-3 Loss:
Two goals by Nick Sorkin and 41 saves from goaltender Mike Condon were the difference as the Texas Stars fell to the Hamilton Bulldogs, 4-3, on Friday night. Along with the Texas (36-22-13-1) loss, the San Antonio Rampage won their game over Grand Rapids to win the West Division Title. Sorkin's second goal held up as the game-winner for his 11th of the season at 12:13 of the third. Texas pulled Jussi Rynnas for the extra attacker late, but Condon weathered the late surge to keep the Bulldogs' playoff hopes alive in the win. Rynnas finished with 32 saves in his first action since suffering an injury on March 15.

April 11 vs. Hamilton Bulldogs, 5-0 Win:
Greg Rallo's two goals and Jack Campbell's 24 saves led the way for the Texas Stars in a 5-0 shutout win over the Hamilton Bulldogs to clinch a spot in the Calder Cup Playoffs on Saturday night. It is the fifth postseason appearance for the Stars in their six-year existence in the AHL. Jack Campbell won his 10th game in his past 13 appearances while earning his second shutout of the season and the sixth overall for Texas. Rallo's two-goal night extended his point streak to a team-high seven games.

-- PRACTICE/TRAVEL SCHEDULE --

Monday: Practice, 10 a.m. CST
Tuesday: Texas Stars at San Antonio Rampage, 7 p.m. CST
Wednesday: Practice, 10 a.m. CST
Thursday: Practice, 10 a.m. CST
Friday: Texas Stars at San Antonio Rampage, 7:30 p.m. CST
Saturday: Texas Stars vs. San Antonio Rampage, 7 p.m. CST
Sunday: Day off

-- NEWS, NOTES AND UPCOMING MILESTONES –

Jack Campbell's 47th win on Tuesday set the Stars franchise record for career goaltending wins. Campbell's run of 12 consecutive appearances also came to a close on Friday vs. Hamilton. In his 12 games the Stars' netminder went 9-3-0 with a 2.67 goal sagainst average and a .927 save percentage. Patrik Nemeth was reassigned from the Dallas Stars on Sunday to join Texas for the end of the regular season and the Calder Cup Playoffs. Maxime Fortunus appeared in his 400th career Texas Stars game on Friday against Hamilton. The Stars are currently two points head of the Oklahoma City Barons for fifth place in the Western Conference.

-- UPCOMING PROMOTIONS --

Saturday's matchup against San Antonio will be Fan Appreciation Night with the Texas Stars. Prizes, autographed items and more will be given away to various lucky seats and rows throughout Cedar Park Center as the Stars thank their fans for their support this season.

A Texas Stars Team Card Set will be given away to fans in attendance on Saturday, courtesy of CTRMA. It will also be a Coke Zero Family Four Pack Night and Texas Lottery Lucky Row Night. Fans can purchase four tickets, four hot dogs, four soft drinks and parking for as low at $15 per person. The first Stars player to score will win free Texas Lottery scratch-off tickets for a lucky row of seats in a section at Cedar Park Center.

After the game, fans can walk or skate on the Cedar Park Center ice. Skate rental will not be available, and no hockey sticks or pucks are permitted on the ice. Fans can get wristbands for ice access at the Texas Stars ticket sales table behind section 121 during the game.

The Texas Stars entered the 2014-15 season as the AHL's defending Calder Cup Champions. Single-game tickets are on sale now for the remainder of the current season, and season ticket package deposits for the 2015-16 campaign are now being accepted. For more information, call (512) GO-STARS (467-8277) or visit TexasStarsHockey.com.
Photo Credit: Christina Shapiro/Texas Stars
Back to All