Stars Penalty Kill Shocks Griffins in 5-4 Win
Mar 8, 2017
---

Smith Tallies First Career Hat Trick for Texas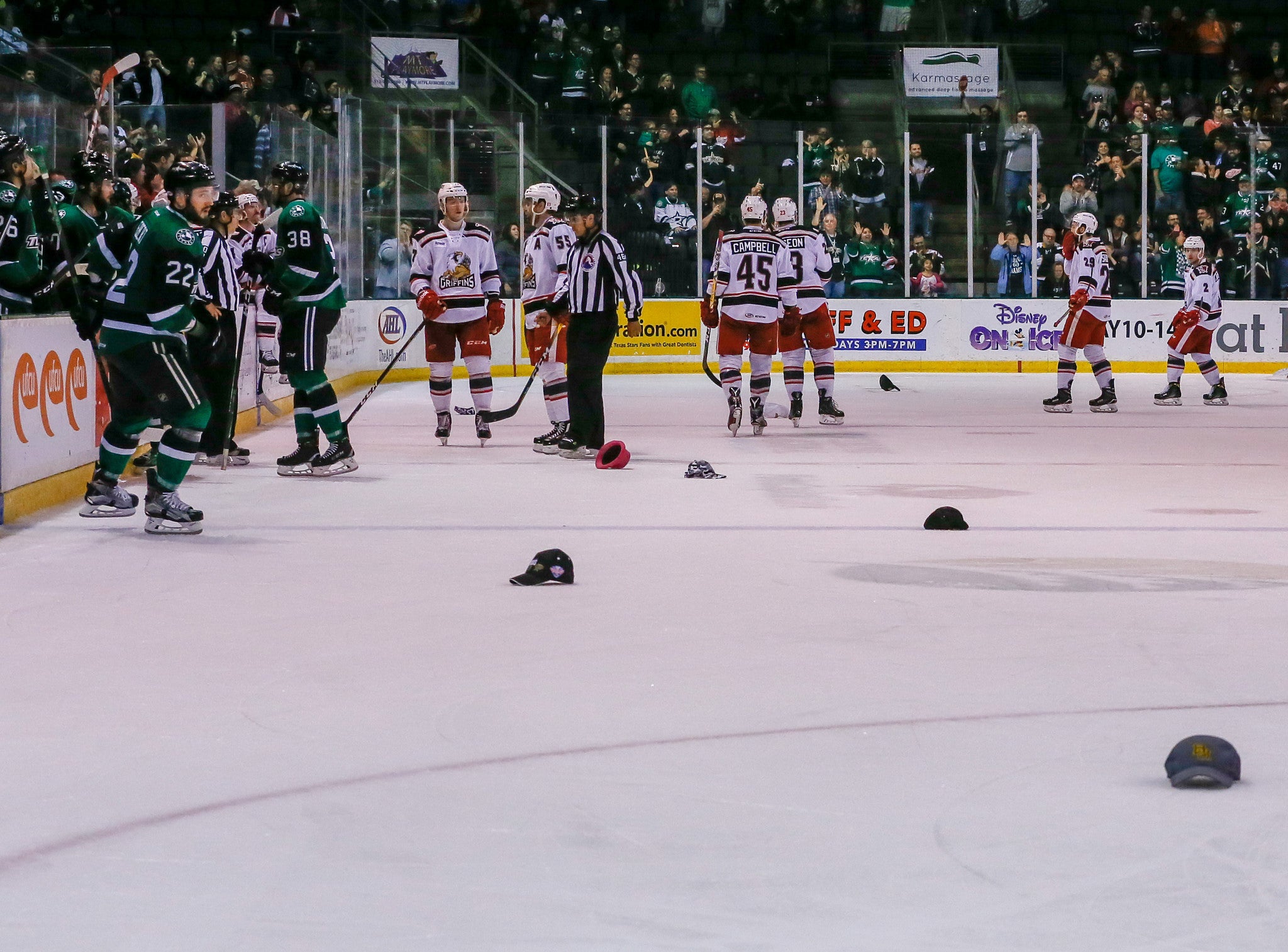 CEDAR PARK, Texas --Forward Gemel Smith's two shorthanded goals and first professional hat trick led the way as the Texas Stars earned a comeback victory over the Grand Rapids Griffins on Wednesday night at H-E-B Center at Cedar Park.
Trailing 4-2 entering the third, the Stars (27-27-1-2) found themselves facing a Grand Rapids (38-17-1-2) team that had won 28 of 30 games when leading after two periods. Then, with no change in score and 5:49 remaining in the game, Stars defenseman Julius Honka took a 2:00 interference penalty.
During the penalty kill, Justin Dowling forced an odd-man rush with Smith, who touched in his own rebound to close the gap to one with 5:02 to play. Less than a minute later, Jason Dickinson set up Smith down the slot on another rush up ice for his third of the night, and 11th of the season, to even the score 4-4.
"We're a fast team," said Smith in regards to the team's offensive prowess on the penalty kill. "We've got speed, and if any pucks get chipped out we're first on it. I [was] skating, just happened to get open and it worked for us."
DeFazio capped off the wild sequence with 3:28 to play by tipping in Mark McNeill's centering pass from the right-wing boards for his 17th of the season and the game-winning goal.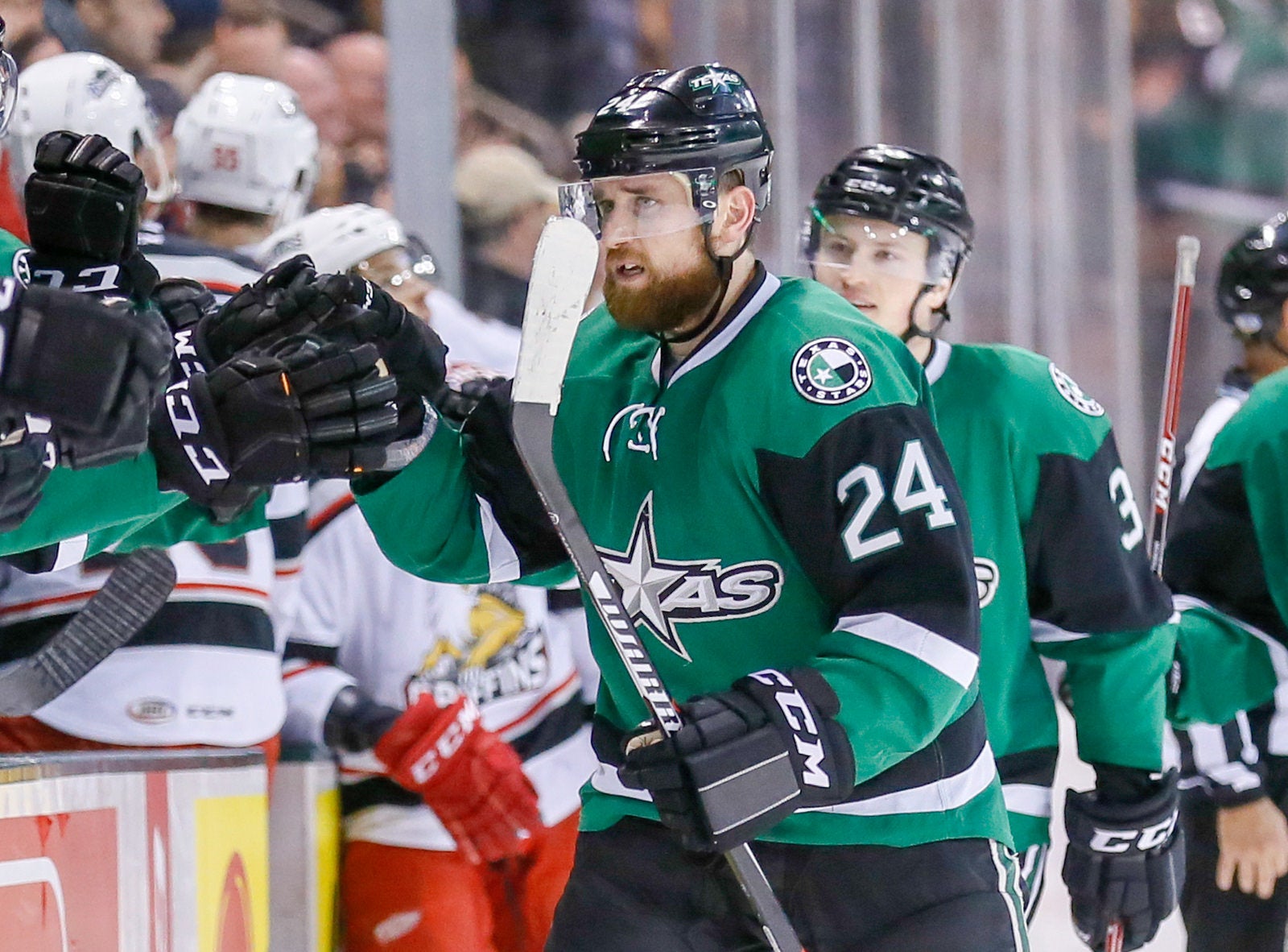 "Well first and foremost, it's my Mom's birthday," said DeFazio. "I had to get a goal for her…It was wild. We haven't really had one of those [wins] this year, and it obviously couldn't have happened at a better time."
Smith's two shorthanded goals in the period give them 13 on the season to tie the franchise record. It was the fourth time in franchise history Texas has scored two shorthanded goals in a hockey game -- three of those games have occurred this season.
"This could be a defining moment in our season," said Stars Head Coach Derek Laxdal. "I like the way we responded. Now, again, the message after the game is 'Remember this feeling, boys'. You've got to build off it. You've got to have that same momentum. You've got to play that same way. You've got to play with that desperation. You've got to play with a sense of urgency."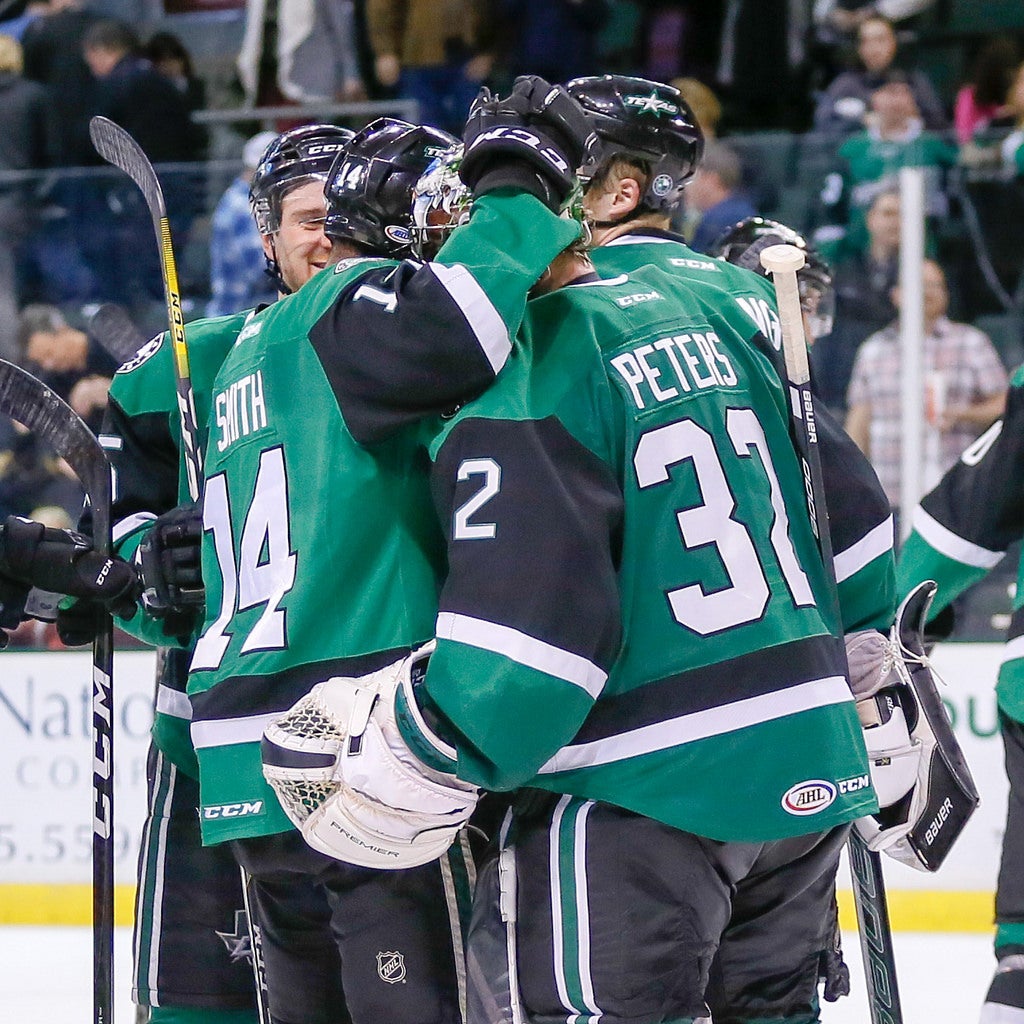 Texas opened up the game's scoring with Travis Morin's team-leading, 20th of the season on a rush down the slot with McNeill at 7:45 of the first. Texas carried the 1-0 lead into the second where the Griffins scored all four of their goals in the game to take the 4-2 lead.
Kyle Criscuolo at 2:58 and Matthew Ford at 4:11 made it a 2-1 advantage for the Griffins. Smith tallied his first of the game on a loose puck in front at 14:18 of the frame, but Ben Street responded 46 seconds later to regain the lead for Grand Rapids. Street also added a power play goal with just over three minutes to play in the second.
Dowling, McNeill and Jason Dickinson all tallied a pair of assists for the Stars in the win. Justin Peters stopped 19 of 23 shots in net for Texas while Eddie Pasquale stopped 17 of 22 in the loss.
Texas was held scoreless on four power play chances. Grand Rapids finished 1-for-3.
The Stars host the Iowa Wild on Friday at 7:30 p.m. CST.
---
Three Stars:
1. Smith (TEX)
2. DeFazio (TEX)
3. Street (GR)
Goaltenders:
W - Peters
L - Pasquale

Photo Credit: Andy Nietupski/Texas Stars
Back to All