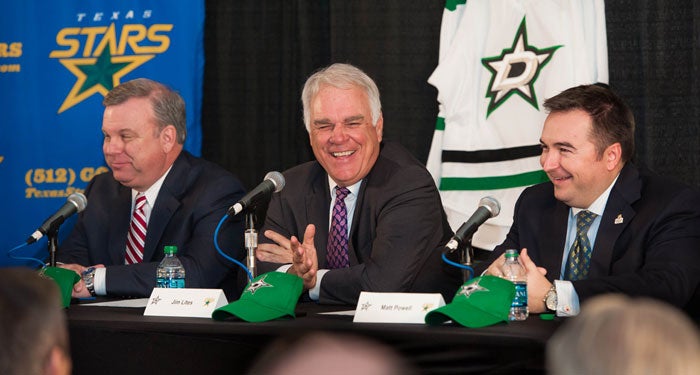 Texas Stars Sale a Win for All Involved
Dec 18, 2014
By Mark Stepneski | Inside Edge on DallasStars.com
The Texas Stars have enjoyed a lot of success in their brief history, but the hope is that even better things are ahead now that they've been sold to Northland Properties, the parent company of the Dallas Stars.
"We are thrilled to be here," Dallas Stars president Jim Lites said at a press conference in Cedar Park Thursday. "It was certainly an agenda item for [Stars owner/Northland president] Tom Gaglardi to get full and complete control of the Texas Stars and the Cedar Park Entertainment Center."
Northland acquired the Texas Stars from Hicks Cedar Park, LLC. The AHL's Board of Governors approved the sale Wednesday. The newly-created Texas Stars, L.P. will operate the city-owned Cedar Park Center. News of the deal, which was in the works for about a year, became public knowledge in August.
Continue reading on DallasStars.com...
Back to All