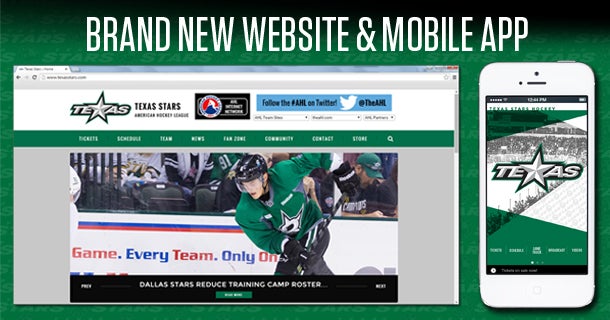 Texas Stars Launch New Website and Mobile Application
Oct 1, 2015
Increased Social Media Interaction Highlights the New Platforms
CEDAR PARK, Texas – The Texas Stars, American Hockey League affiliate of the NHL's Dallas Stars, have launched a brand new website and updated mobile app for iPhone and Android devices to coincide with their new logo and Victory Green color scheme for the upcoming 2015-16 season.
The team worked with carbonhouse to build the new website, which can be accessed at TexasStars.com. The fully mobile-responsive site offers a cleaner look, user-friendly design and a wide range of multimedia content. Fans can also continue to purchase tickets online and buy merchandise through the team's online store, which was also recently relaunched.
The Stars' new mobile app, powered by MobileRoadie, is now available for free through the Google Play Store and iPhone App Store. The new app features an increased connection to the team's social media platforms, allows for push notifications, and continues to allow fans to buy tickets and listen live to every game through their mobile devices.
Both the new website and mobile application are available now. Texas opens preseason play this weekend with home games against the San Antonio Rampage on Friday and Sunday. The 2015-16 regular season begins on Oct. 10 against San Antonio with Opening Night at Cedar Park Center.
The Texas Stars will begin their seventh season at Cedar Park Center on Saturday, Oct. 10. Full season, 24-game and 12-game ticket packages for the 2015-16 campaign are on sale now. For more information, call (512) GO-STARS (467-8277) or visit TexasStars.com.
Back to All