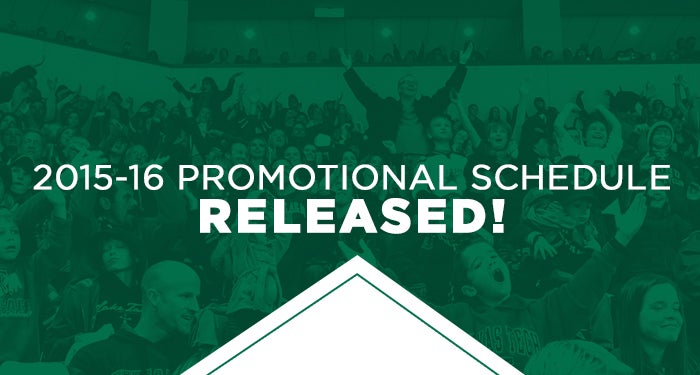 Texas Stars 2015-16 Promotional Schedule Announced
Sep 15, 2015
The Texas Stars, American Hockey League affiliate of the NHL's Dallas Stars, announced today their promotional schedule for the upcoming 2015-16 season.
The season begins October 10th, when the Stars will give away free popcorn to all fans in attendance courtesy of Ryan Sanders Sports Services, the new food and beverage provider at Cedar Park Center.
Brand new giveaway items this season include Stars Touchscreen Gloves courtesy of ISS on Nov. 14, Stars Beach Towels on March 19 and a Stars Reusable Bag for Fan Appreciation Night on April 16. After a two-year hiatus, Fleece Blankets return for two games, with a Victory Green design courtesy of UFCU on Jan. 9 and a Pink in the Rink design courtesy of Cedar Park Regional Medical Center on Feb. 27.
Fans can also collect other returning giveaway favorites featuring the club's new logos and color scheme, including a Stars scarf presented by HealthTronics on Nov. 21, a Stars Knit Cap presented by Samsung on Dec. 12, a Stars Lunch Bag on Jan. 23, a Stars Gym Bag presented by H-E-B on Feb. 13, a Stars Hat presented by G's Dental Studio on Feb. 6 and more.
A full list of giveaway items can be viewed online at TexasStarsHockey.com.
This season's promotional schedule features several new theme nights, starting with Back to the Future Night on Oct. 21, which will feature $19.85 luxury or executive level tickets in honor of the 1980s trilogy. The Stars will kick off Halloween weekend with Super Hero Night on Oct. 30. On Nov. 20, members of the 501st Legion will be on hand and the team will wear Star Wars-themed warm up jerseys, with a silent auction benefiting the Leander ISD Educational Excellence Foundation, for Star Wars Night. Fans can celebrate Elvis' Birthday on Jan. 8, and the Stars will turn back the clock for 80's Night on Jan. 22 and 90's Night on March 4.
The Stars will once again honor the military with three Military Appreciation dates: Military Appreciation night on Nov. 7 and Round Rock Auto Group's Military Appreciation Weekend on April 8 and 9. The November game will feature a Stars Military T-shirt giveaway as well as a Military warm-up jersey and silent auction. In April, the team will wear camouflage game jerseys which can be bid on through a silent auction benefiting the Texas Stars Foundation. The April 9 game includes a Stars Camouflage Hat giveaway courtesy of Round Rock Auto Group.
Pink in the Rink Weekend, presented by Cedar Park Regional Medical Center and benefiting Breast Cancer Resource Centers of Texas, returns on Feb. 26 and 27. The Stars will wear specialty pink-themed jerseys which will be auctioned off to benefit BCRC.
Other returning specialty game nights for the 2015-16 season include Pucks & Paws presented by Raising Cane's (Nov. 1), Teddy Bear Toss Night (Nov. 21), H-E-B Food Drive Night (Dec. 8), Sing for Santa Weekend presented by Samsung (Dec. 11 and 12) and Post-game Autograph Night (March 19).
Fans can take advantage of the Stars' popular weekly specials again this season. Fun Food Fridays will feature $3 specials on domestic draft beer and Pizza Hut slices, plus $4 specials on Robert Mondavi Private Selection wine. Fans can also save $12 off a pair of tickets to every Friday home game with a Texas Stars Two Pack. Every Saturday and Sunday, the Stars will offer Coke Zero Family Four Packs with four tickets, four hot dogs, four soft drinks and parking for as low as $16 a person. Also on Saturdays, Texas Lottery Lucky Row Nights offer fans in one lucky row the chance to win scratch-off tickets when the first Stars player scores a goal.
Winning Wednesdays return for the first seven Wednesday games of the year and H-E-B Nights are back for Monday-Thursday home games. If the Stars win on Winning Wednesday, fans in attendance receive a free ticket to the team's following Wednesday game, while any H-E-B branded, non-perishable food item donated at the box office gets a $5 discount off a ticket purchase for Monday-Thursday games.
In total, Stars fans can take advantage of a variety of promotions and giveaways this season with 18 theme nights, 14 giveaway nights and four specialty jersey auctions. There are 18 scheduled Coke Zero Family Four Pack nights, 16 Texas Lottery Lucky Row nights, 12 H-E-B Nights, eight Fun Food Fridays and seven Winning Wednesdays.
The Texas Stars will begin their seventh season at Cedar Park Center on Saturday, Oct. 10. Full season, 24-game and 12-game ticket packages for the 2015-16 campaign are on sale now. For more information, call (512) GO-STARS (467-8277) or visit TexasStarsHockey.com.
Back to All