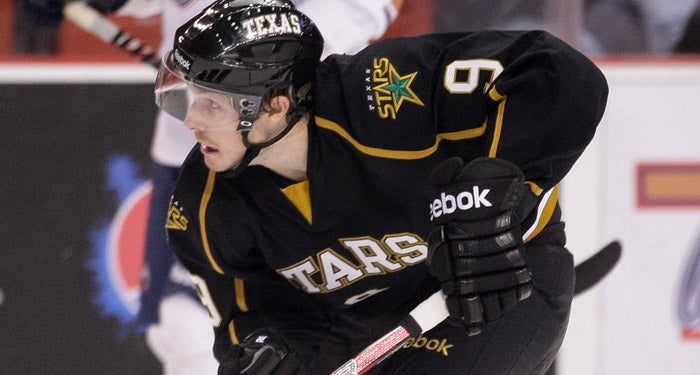 Texas Rookie Austin Smith Named Hobey Baker Finalist
Mar 29, 2012
Texas Stars Host Hamilton on Thursday, March29th at 7:30 p.m.

Cedar Park, TX – Stars prospect and Dallas native Austin Smith, who led the nation in goals with 36 in his senior year at Colgate, was named on Thursday as a top-three finalist for the Hobey Baker Award, which is given to the nation's top player in college hockey. He is joined by Minnesota-Duluth senior Jack Connolly and Maine's Spencer Abbott as top-three finalists.

Signed to an entry-level contract earlier this month by the Dallas Stars, Smith currently plays for the Texas Stars, Dallas' primary development affiliate in the American Hockey League. He has appeared in three games, going scoreless in his professional debut.

"On behalf of the Dallas Stars, we would like to congratulate Austin on being named as a Hobey Baker Award finalist," said Stars General Manager Joe Nieuwendyk. "He had a fantastic senior season and overall college career. We are excited about his future with our organization and will watch his development with great interest."

Smith has racked up the awards this season as he was named ECAC Hockey Player of the Year and was a first team All-ECAC Hockey selection. This past week, Smith was named Player of the Year by College Hockey News, as well as to the publication's First Team, joining the other top-three finalists. He was a two-time ECAC Hockey/Fischer Hockey Player of the Month and a two-time player of the week. Smith also helped Colgate achieve their highest national ranking since 2000 as the Raiders reached No. 7 in the country during its seven-game unbeaten streak in late 2011.

Smith enjoyed a stellar senior campaign, ranking first nationally in goals with 36 and third in points with 57. The Dallas native collected points in all but five games in 2011-12 and had goals in 24 of Colgate's 39 contests. In 10 of the 19 wins by the Raiders this season, he had the game-winner or assisted on the winner.

The senior forward was the first 30-goal scorer in ECAC Hockey since 2001. He registered 16 multi-point games and nine of those were multi-goal games. Smith recorded a +25 ranking overall. His six shorthanded goals overall also leads the nation. He has posted seven power-play goals, five game-winners and two game-tying goals on the season. Smith became only the 10th player in school history to reach 75 goals and 75 assists in a career.

Connolly is second in the nation in points (60) on 20 goals and 40 assists. The senior captain for Minnesota-Duluth led the team to the national title last season and got UMD into the regional final this season. Abbott leads the nation in points with 62. He netted 21 goals and added 41 assists. He leads the nation in points-per-game with over 1.5 points-per-contest. He helped the University of Maine to its first NCAA Tournament appearance since 2007.

The announcement of the Hobey Baker Award winner will take place on April 6 at the Davis Conference Center at MacDill Air Force Base in Tampa, Fla., with the ceremony beginning at 6 p.m. (EDT).

Texas returns home to face the Hamilton Bulldogs on Thursday, March 29th at 7:30 p.m. Thursday's game is a 3-2-1 night, featuring $3 domestic drafts, $2 sodas, and $1 hot dogs. On Saturday, Texas will host Lake Erie at 7:00 p.m. at Cedar Park Center. The first 2,500 fans to the game will receive a Texas Stars hockey puck, compliments of BossyHD. Saturday is also State Farm Family four-pack night with four tickets, four hot dogs and four sodas starting at $48. On Sunday, Texas hosts Puck N Paws day at Cedar Park Center. The team will host Lake Erie at 5:00 p.m. and fans will be permitted to bring their dog to the game, while sitting in a designated pet-friendly section - equipped with water and relief stations. Fans wishing to bring their dog to the game will need to book their tickets in advance and show proof of recent shots / spay-neuter. Those planning on attending need to contact Peter Norosky at [email protected] or call 512-GO-STARS for more information.

Individual tickets for all games are on sale now. Tickets are available online at www.TexasStarsHockey.com or by calling 512.GO.STARS (467.8277). 2012-13 season seat packages are on sale now. For more information on Texas Stars season tickets call (512) GO-STARS (467-8277) or visit www.TexasStarsHockey.com. Anyone interested in purchasing season tickets, suites, group tickets or mini-plans may call the Texas Stars front office.
Back to All