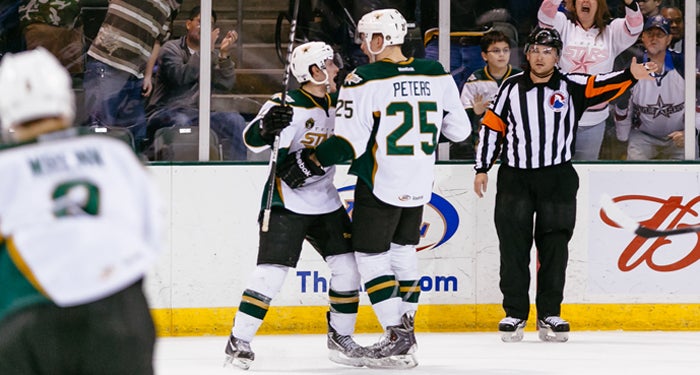 Taylor Peters: Playoffs
Apr 25, 2014
A Rookie Perspective: 2014 Calder Cup Playoffs

Firstly, congratulations to Mo, Scevs, and Mac for their well-deserved league recognition.

With our season drawing to a close, I don't think I could have asked for more out of my first year of playing pro. I've learned a great deal, developed as a player, and played a role on a winning team. In my mind, that matches the criteria for a successful year. From crazy travel delays to interesting interpretations of recipes, I wouldn't change a single thing. But this season isn't over. Far from it. And if my time in Portland taught me anything it's that playoffs are a whole different animal.

It's an awesome thing to experience, the subtle exhilaration that comes at season's end, takes root, and eventually consumes every thought like a toddler before Christmas. The anticipation is palpable, you can feel it in the electrified, persistent buzzing of the crowd wherever you go. This is what we play for; the thrill of victory, the chance to hoist a cup in triumph above our heads. These are the minor hockey dreams coming to life. I think the mystery and magic of playing in spring/summer was most eloquently summed up in a 2012 NHL commercial whose simple message was… "Because it's the Playoffs"

The amazing fans here in Texas are our fuel, you guys help us achieve great things. I'm excited to come out onto that ice and hear the welcoming roar from the Cedar Park faithful.
Back to All