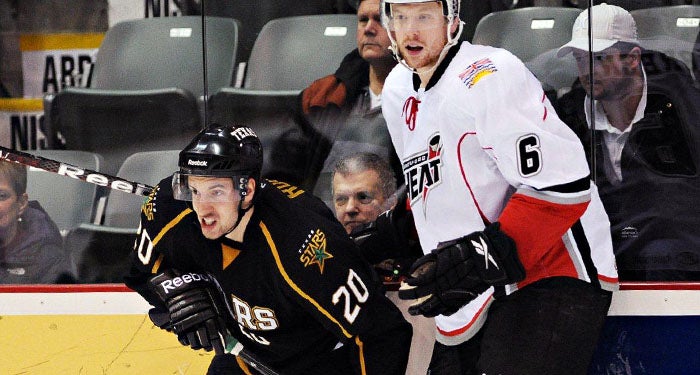 Taylor and Kolanos Lead Heat Past Stars 5-3
Dec 30, 2011
Abbotsford, BC, Canada - The Texas Stars (14-15-0-1, 29 points) were defeated by the Abbotsford Heat (21-9-2-0, 44 points) 5-3 in front of 3,604 fans at the Abbotsford Entertainment and Sports Centre on Thursday night. Heat goalie Danny Taylor made 42 saves and forward Krys Kolanos added three points in the team's third straight win over the Stars this season. Taylor stopped 16 Texas shots in the second period and all 13 in the third period to improve to 11-5-0 on the year. Kolanos scored once and added two assists, as Abbotsford extended its streak to five straight games with a point on home ice. Heat forward Jon Rheault set up three goals, as his team moved to 7-4-0-0 against Texas all-time. Forwards Stephen Schultz, Scott Glennie and Colton Sceviour each scored, as Texas fell to 8-8-0-0 on the road this year. Texas goalie Tyler Beskorowany (6-9-0) stopped 24 shots in the defeat. Texas remains in Abbotsford for a rematch with the Heat on December 30th at 9:00 p.m. (CT).

The Stars struck first for the game's opening goal at 3:59 of the first period. Texas rookie Scott Glennie snapped a wrist shot past goalie Danny Taylor from the right-wing circle, giving the Stars a 1-0 lead. Defensemen Dan Spang had an assist on Glennie's fourth goal of the year. The Heat answered back with a pair of goals in less than five minutes, starting with Quintin Laing's eight goal of the year at 6:56. Forward Krys Kolanos and defenseman Brendan Mikkelson each had an assist on the power-play goal that tied the game 1-1. Kolanos would give Abbotsford a 2-1 lead at 11:35, scoring his 16th goal of the year off a wraparound. Forwards Jon Rheault and Ben Walter both picked up an assist, as the Heat carried a 2-1 lead into the first intermission.

In the second period, the Stars pulled even with the Heat at 4:48 with a goal by Colton Sceviour. Scott Glennie set up Sceviour's fifth goal of the season, tying the game 2-2. Abbotsford countered to regain the lead at 11:42, Akim Aliu scored from behind the Texas net, banking a shot off the skate of Texas goalie Tyler Beskorowany for his first goal of the year and a 3-2 Heat lead. The Stars tied the game for the third time at 14:29, as Stephen Schultz' scored his second goal of the year. Schultz slipped a rebound past Danny Taylor after Matt Fraser's first attempt was blocked. Travis Morin also added an assist on the play, which extended Fraser's scoring streak to ten games. Heat defenseman Chris Breen pushed Abbotsford back in front 4-3 at 15:56 of the second period. Breen lifted a shot from the left point, through traffic and past Beskorowany for his first goal of the year.

In the third period, Heat forward Guillaume Desbiens scored his second goal of the season at 13:22 for the 5-3 Abbotsford lead. Jon Rheault set up the goal, registering his third assist of the night.

The Stars stay in Abbotsford for one more game on December 30. The team will also play in San Antonio on January 6, prior to returning home on Saturday, January 7 to host Rockford at 7:00 p.m. The first 2,500 fans to the game will receive a Texas Stars team calendar, compliments of A+ Federal Credit Union. On Saturday night, fans may purchase the State Farm Family four-pack, which includes four tickets, four hot dogs and four sodas starting at $48.

Individual tickets for all games are on sale now. Tickets are available online at www.TexasStarsHockey.com or by calling 512.GO.STARS (467.8277).

2011-12 season seat packages are on sale now. For more information on Texas Stars season tickets call (512) GO-STARS (467-8277) or visit www.TexasStarsHockey.com. Anyone interested in purchasing season tickets, suites, group tickets or mini-plans may call the Texas Stars front office.
Back to All