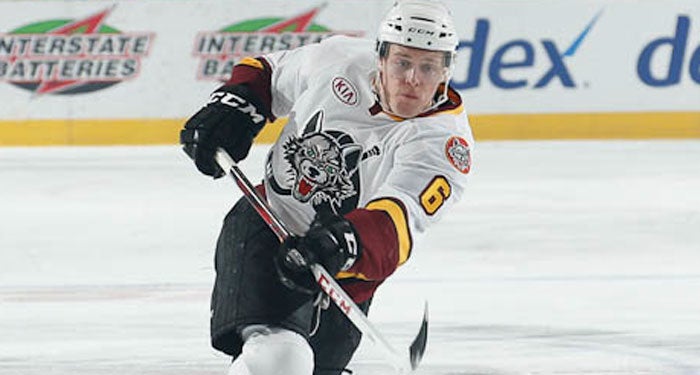 Stars Announce Seven Roster Moves
Apr 2, 2013
Dallas Sends Connauton, Smith & Wathier to Texas
NHL Stars Recall Chiasson, Fraser, Sceviour & Wandell from AHL Stars; Cameron Signs SPC

CEDAR PARK, TX – The Texas Stars, proud American Hockey League affiliate of the Dallas Stars, announced today that Dallas has assigned defenseman Kevin Connauton, left wing Reilly Smith, and left wing Francis Wathier to Texas. Dallas has also recalled right wing Alex Chiasson, left wing Matt Fraser, right wing Colton Sceivour and center Tom Wandell. All the players involved in this individual transaction are listed below. Additionally Texas has released right wing Bretton Cameron from his profession tryout contract (PTO) and has signed him to a standard AHL contract (SPC).

Assigned to Texas Stars (AHL):
Kevin Connauton (Defenseman)
Reilly Smith (Left Wing)
Francis Wathier (Left Wing)

Recalled from Texas Stars (AHL):
Tom Wandell (Center)
Matt Fraser (Left Wing)
Colton Sceviour (Right Wing)
Alex Chiasson (Right Wing)

Cameron, 24, originally signed a PTO with Texason January 26th and made his Stars debut that night against the San Antonio Rampage at Cedar Park Center. The Didsbury, Alberta native was released from his PTO after just one AHL game, but returned to Texas on a second PTO on February 12th. Cameron has played in 17 total games for the Stars this season, registering five points (2 goals, 3 assists), 21 penalty minutes and a plus-two rating. He began the season with the Greenville Road Warriors and posted 25 points (12 goals, 13 assists) and 93 penalty minutes in 43 ECHL games. Currently in his fourth professional season, Cameron has appeared in 19 career AHL games, tallying six points (1 goal, 5 assists) and 23 PIMs. He has posted 100 points (41 goals, 59 assists) and 304 PIMs in 179 career pro games.

The Texas Stars continue their three-game home stand on Friday April 5th against the Oklahoma City Barons for a 7:30 p.m. faceoff at Cedar Park Center. Friday's game against the Barons is another Texas Lottery Lucky Section Night, a $3 Beer Night and the fifth Texas Stars Player Magnet Giveaway. 2013-14 Season Tickets are now on sale. Put your deposit for 2013-14 season tickets and receive priority for both Texas Stars 2013 Calder Cup playoff tickets and 2013-14 season seat selection. For more information on Texas Stars season tickets call (512) GO-STARS (467-8277) or visit www.TexasStarsHockey.com.
Back to All