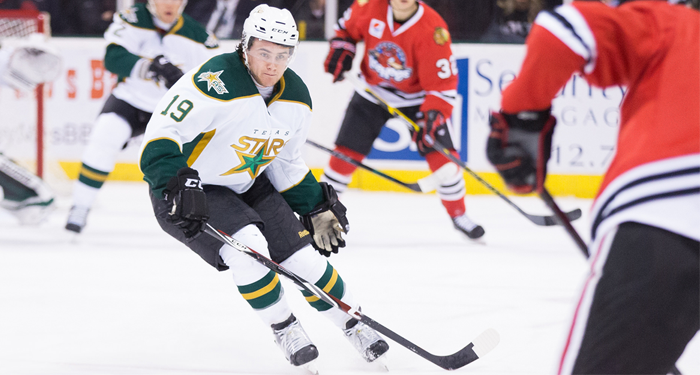 Players to Watch in 2015-16: Brendan Ranford
Jul 23, 2015
The first two years of Brendan Ranford's professional career will be hard to top, but all eyes will be on him as enters his third season in 2015-16.

After scoring 33 points (12 goals, 21 assists) in 65 games as a rookie in 2013-14, Ranford really broke out in the 2014 postseason. He was a spark plug for the Texas Stars, scoring 16 points (eight goals, eight assists) in 21 games en route to a Calder Cup Championship. He finished third on the team in playoff points, set franchise playoff records with a five-game goal streak and six-game point streak, plus showed a knack for big goals with a pair of game-winners. Not a bad rookie run for one's professional hockey career.
The seventh-round pick of the Philadelphia Flyers in 2010 rolled that momentum into his second season and continued improving on his production. Ranford finished second on the Texas Stars in scoring with 51 points (18 goals, 33 assists) in 73 games, and proved himself as a model of consistency over the course of the year. He racked up 10 points in his first 12 games of the season, tallied eight more points over a nine-game stretch in December, started 2015 with 15 points in his first 15 games of the new year, and finished the regular season on a four-game point streak as part of a stretch of eight points in seven games.

"There was a lot of change from [2013-14] with guys coming in and out, and I thought we did well," said Ranford at the end of last season. "We battled hard for making the playoffs. I mean, before the All-Star break we were out of the playoffs and obviously we got to fifth place and we did well. We had a hard working team and we had a good season."

The consistency and increased production for the Edmonton, Alberta, native earned him his first career NHL call-up as he made his debut with the Dallas Stars on February 19, 2015, against the San Jose Sharks.

Said Dallas Stars head coach Lindy Ruff after the debut, "I liked Ranford's game. He showed some composure with the puck."

"The biggest thing for me, I thought, was going up there and seeing how hard it is to play every night and how strong the guys are," added Ranford. "The biggest thing I saw is how strong they are below the goal line and stuff and it was an eye-opener for me and how much it does take to play in the NHL."
After the success he has seen in the AHL through the first two years of his career, Ranford is now looking for the opportunity in 2015-16 to continue driving towards a bigger taste of the NHL.

"It was a good experience for myself and just to move on and work harder. Have a good summer and be ready for next year and push to be that first call-up guy or to be the guy that gets called up like McKenzie was (in 2014-15) and Ritchie and just work hard."

Over the past two seasons Ranford has tallied 84 points in 138 games for the Texas Stars (30 goals, 54 assists). Only Travis Morin, Justin Dowling and Curtis McKenzie have tallied more. With two seasons under his belt and the ability to show consistency in his production offensively, Ranford will be looked at as one of the Texas Stars' top forwards next season as he continues to try and make that push for NHL consideration.

And it is also the reason he will be a player to watch in 2015-16.
Back to All