Players to Watch, 2017-18: Denis Gurianov
By: Brien Rea
Jun 22, 2017
What a difference a year makes.
As 2015 came to an end and 2016 began, Dallas Stars first-round pick Denis Gurianov found himself cut from Russia's World Junior Championship team after he took a bad penalty against Denmark in an exhibition game. The 19-year-old went on to close out his 2015-16 season with just 11 points in the 54 games split between the Kontinental Hockey League and Russia's junior hockey level.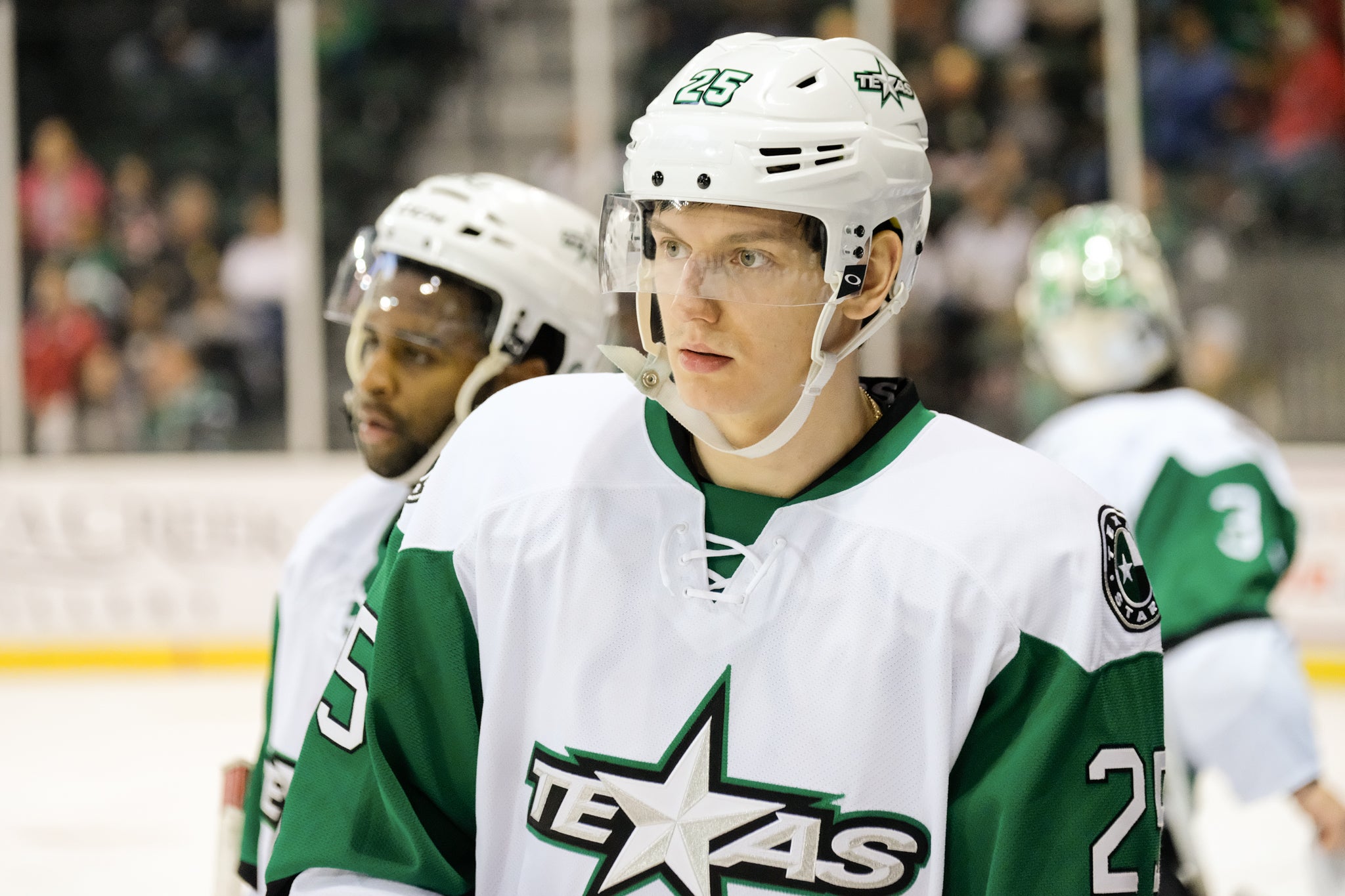 It was hardly what Gurianov had in mind after being selected 12th overall by the Dallas Stars earlier that summer.
However, the slate was wiped clean for the young forward to start the 2016-17 season. Gurianov made the jump across the Pacific Ocean to North America to join the American Hockey League's Texas Stars, but he wasn't just carrying the pressure of being a first-round pick or adjusting to the smaller ice surface used in North America. While most 19-year-olds in the United States are worrying about college applications or moving into a dorm room, Gurianov was restarting his life in a new country with a new culture and a new language.
"It was a big adjustment for him coming over," said Dallas General Manager Jim Nill in an interview with DallasStars.com prior to Gurianov's NHL debut in April.
Gurianov had never signed an apartment lease before. He needed to learn how to pay his bills, how to cook properly, how to balance a personal budget and, to top it all off, how to speak English. The rookie leaned on his teammates when he made the initial transition.
"They're good guys, good teammates," said the rookie after a March practice. "Everybody helps me."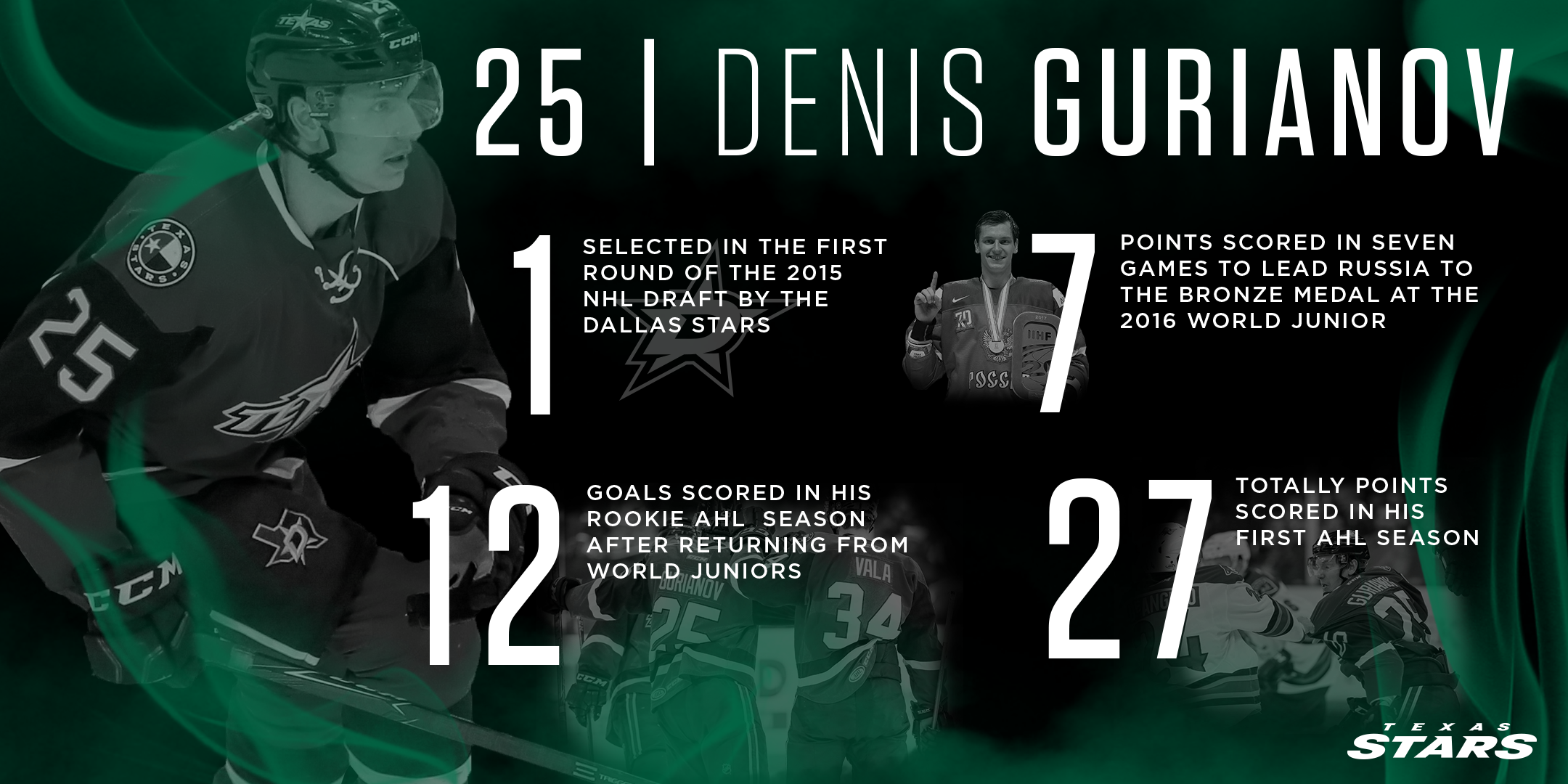 Gurianov lived alone but resided in the same apartment complex as some of his fellow players. He took English lessons over Skype with a teacher based in Dallas while Texas Stars Head Coach Derek Laxdal prepared him to get a Texas driver's license in an effort to lower his insurance costs. As his life off the ice became more comfortable, so did life on the ice.
His point production was steady over the 2016-17 season with 13 points (4-9=13) in the first three months. In December, Gurianov was named to Russia's World Juniors team where he was a dominant force for his native country. He tallied seven points (4-3=7) in seven games, including the game-winning goal that secured Russia the bronze medal.
Not a bad performance for the kid who was cut from the roster the year prior.
"I was so happy because we won the bronze medal. It's great," said Gurianov after returning from World Juniors. "It's good for me, for the national team, for the guys, for coaches, for my family."
"Denny", as his teammates call him, returned from World Juniors in mid-January and tallied 14 points (8-6=14) in the final four months of the AHL season. Eight of the 12 goals he scored in his rookie campaign came after his return. His ice time increased, he killed more penalties and he earned more time on power plays. When March rolled around, the forward was playing top-line minutes with his team's leading scorers.
"He's a big man, big body. His speed is as good as anybody," added Nill. "He gets on pucks. He uses his speed to intercept pucks. You go down there and watch him play, and a lot of times you'll see him get two or three breakaways in a game."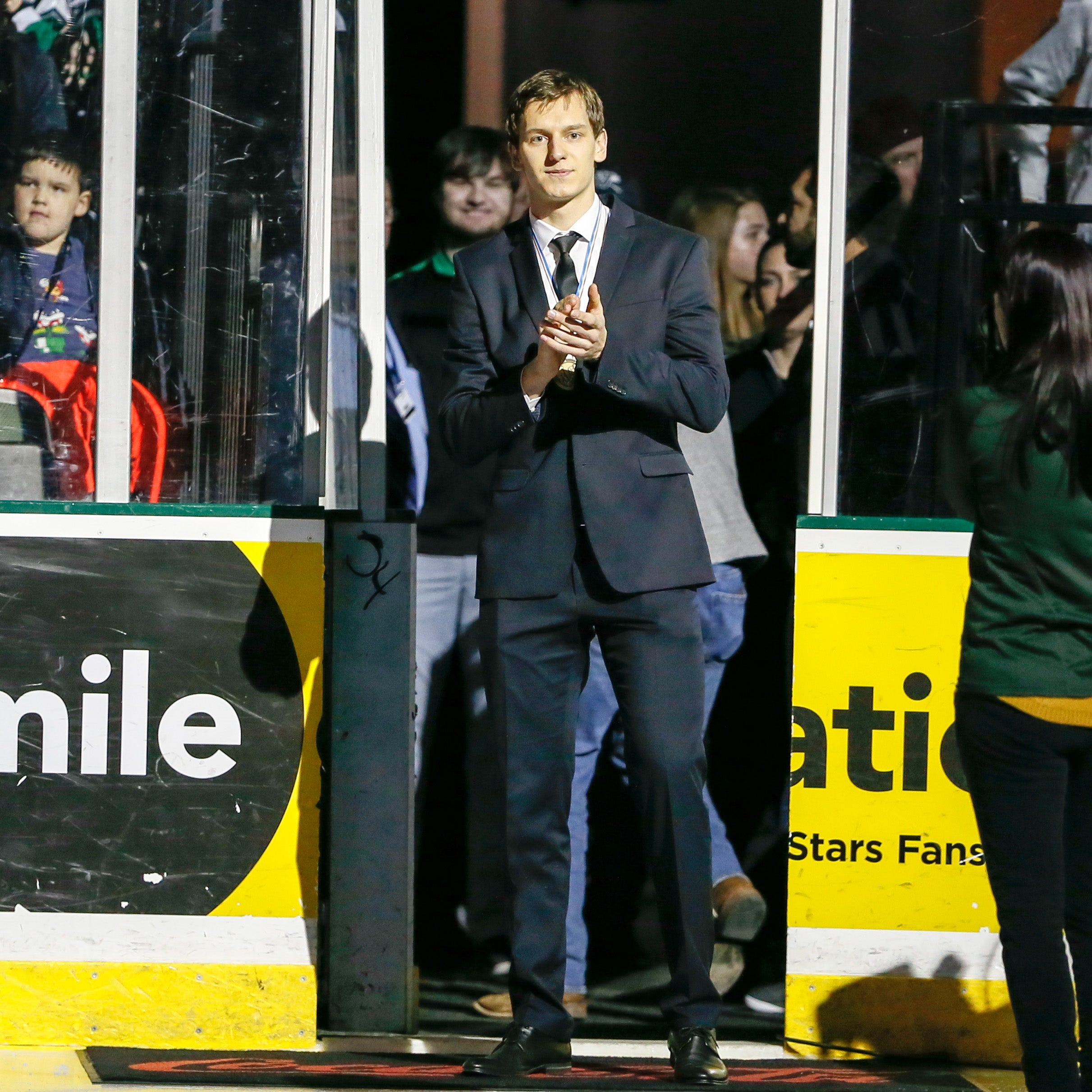 At 6-foot-3 and 200 pounds, Gurianov has filled out his body physically. Despite his size, he can out-skate a lot of players. In his first year in North America, the forward earned 27 points (12-15=27) with the Texas Stars and made his NHL debut on April 8, 2017, when Dallas hosted the Colorado Avalanche in a 4-3 win. He registered 13:06 of ice time on the night.
"I was happy to play and get a chance," Gurianov said of his first NHL appearance. "Nervous, for sure. Of course, first shift I have puck, and it's like, wow."
While Gurianov enjoyed a successful first year in North America on the ice, his best production may have come away from the rink. He moved to a new country, learned a new language and a new way of life. He led his team internationally to a bronze medal and doubled his point production from the prior season, all before his 20th birthday. He also returned from World Juniors with 30 hats for his coaches and teammates, a small "thank you" for assisting him in his transition.
"What a great year," added Nill. "He turned pro and had a good World Juniors. He's really learned the pro game in the American League, and he got a chance to show what he could do in the NHL. That's a pretty good season for him."
He also recorded a perfect score on the driver's test. What a great year, indeed.
Back to All