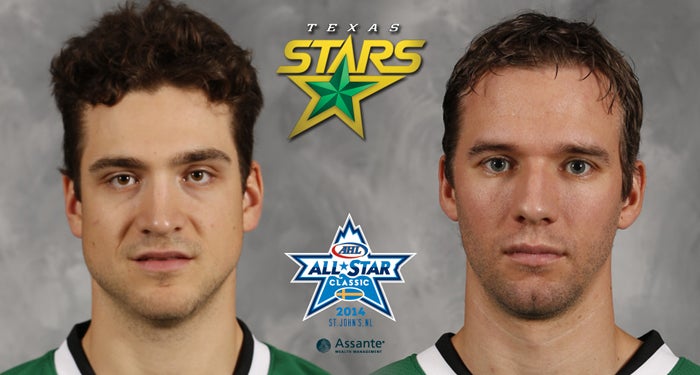 Morin & Sceviour Named to 2014 AHL All-Star Classic Roster
Jan 9, 2014
CEDAR PARK, Texas – The Texas Stars, proud American Hockey League affiliate of the Dallas Stars, announced today center Travis Morin and right wing Colton Sceviour have both been named to the AHL All-Star roster for the 2014 AHL All-Star Classic presented by Assante Wealth Management, scheduled for next month at Mile One Centre in St. John's, N.L.

Morin, 30, currently leads the AHL in points (46) and assists (27), while ranking second in the league in goals (19) in 30 games for Texas this season. The Brooklyn Park, Minnesota native leads the AHL in power play points (22) and power play assists (16). He has played in three NHL games this year with Dallas, bringing his career NHL total to six, all with the Stars. This is the second AHL All-Star Game selection for Morin, who was chosen for the 2011 AHL All-Star Classic, but was unable to participate due to his first career NHL call-up with Dallas.

Sceviour, 24, currently leads the AHL in goals (22), while ranking third in the league in points (37) in 29 AHL games for the Stars this year. The Red Deer, Alberta native is second in the AHL in shots (132) and power play goals (9). He set a new career-high with his 22nd goal of the season on January 3rd at Charlotte and has played in eight NHL games with Dallas this year, scoring three goals, his first three of his NHL career, and adding one assist. Sceviour is the Texas Stars all-time franchise leader in goals (89) and games played (323).

Taking place just prior to the start of the men's Olympic hockey tournament, the 2014 AHL All-Star Classic will see a team of American Hockey League All-Stars face off against Färjestad BK, one of the top professional teams in the Swedish Hockey League, in an internationally televised two-day event including a Skills Competition on Tuesday, Feb. 11 and the All-Star Game on Wednesday, Feb. 12.

The AHL All-Star team comprises 20 players – 12 forwards, six defensemen and two goaltenders – and was selected by a committee of AHL coaches and general managers. The AHL All-Stars will be led in St. John's by Jeff Blashill, head coach of the 2013 Calder Cup champion Grand Rapids Griffins, and Rob Zettler, head coach of the defending Eastern Conference champion Syracuse Crunch.

2014 AHL All-Star Team

Forwards
Brett Connolly, Syracuse Crunch (Tampa Bay)
Brian Gibbons, W-B/Scranton Penguins (Pittsburgh)
Mike Hoffman, Binghamton Senators (Ottawa)
Jason Jaffray, St. John's IceCaps (Winnipeg)
Travis Morin, Texas Stars (Dallas)
Brandon Pirri, Rockford IceHogs (Chicago)
Colton Sceviour, Texas Stars (Dallas)
Colton Sissons, Milwaukee Admirals (Nashville)
Ryan Spooner, Providence Bruins (Boston)
Ben Street, Abbotsford Heat (Calgary)
Ryan Strome, Bridgeport Sound Tigers (N.Y. Islanders)
Linden Vey, Manchester Monarchs (Los Angeles)

Defensemen
Chad Billins, Abbotsford Heat (Calgary)
T.J. Brennan, Toronto Marlies (Toronto)
Cody Goloubef, Springfield Falcons (Columbus)
Alexey Marchenko, Grand Rapids Griffins (Detroit)
Brayden McNabb, Rochester Americans (Buffalo)
Frederic St. Denis, Springfield Falcons (Columbus)

Goaltenders
Jake Allen, Chicago Wolves (St. Louis)
Martin Jones, Manchester Monarchs (Los Angeles)

Of the 20 players named to the AHL All-Star team, 19 have National Hockey League experience, including 14 who have played in the NHL this season. Eight All-Stars are former first- or second-round draft picks in the NHL, and 14 will be participating in the event for the first time.

"More than 850 players have appeared in American Hockey League games this season," said David Andrews, AHL President and Chief Executive Officer. "It is a tremendous achievement for these 20 to have been selected to represent the AHL in this unique showcase event."

Jason Jaffray of the St. John's IceCaps has been named the captain of the 2014 AHL All-Star squad. Each year, captains for the American Hockey League All-Star teams have been selected by the league president in recognition of their outstanding service and leadership to the AHL. Jaffray, a 32-year-old native of Rimbey, Alta., has skated in 525 AHL games over 12 professional seasons with St. John's, Manitoba, Abbotsford, Cleveland, Wilkes-Barre/Scranton and Norfolk. He will be appearing in his third AHL All-Star Classic (2007, 2010).

The 2014 AHL All-Star Classic will mark the first time ever that a Swedish Hockey League team has competed in North America. Founded in 1932 and based in the city of Karlstad, Sweden, Färjestad BK – led by team CEO Håkan Loob – is one of the most successful franchises in all of European hockey, playing in 19 league finals and winning nine Swedish league championships, including four since 2002.

The international telecast of the 2014 AHL All-Star Classic in St. John's will be produced and broadcast live by Sportsnet. In addition to the Skills Competition and All-Star Game, the 2014 AHL All-Star Classic will also include social events as well as the 2014 AHL Hall of Fame Induction and Awards Ceremony.

A limited number of tickets remain available for the 2014 AHL All-Star Classic. They can be purchase in person in person at the Mile One Centre box office (12-5 NT), by phone at 709-576-7657 (9:30-5:30 NT), or online at mileonecentre.com. Tickets for the two-day event are $100 (plus taxes and surcharges) and include admission to both the All-Star Skills Competition on Feb. 11 and the All-Star Game on Feb. 12.

The 2014 AHL All-Star Classic presented by Assante Wealth Management will be the 20th edition of the modern AHL All-Star event, and the first to feature an international opponent. Of the 630 players to take part in the AHL All-Star Classic since the event was reinstated in 1995, more than 93 percent have competed in the National Hockey League, including Patrice Bergeron, Daniel Briere, Ryan Callahan, Zdeno Chara, Jimmy Howard, Niklas Kronwall, Chris Kunitz, Ryan Miller, Zach Parise, Tuukka Rask, Pekka Rinne, Bobby Ryan, Martin St. Louis, Cory Schneider, Patrick Sharp, Jason Spezza and Eric Staal.

TEXAS STARS ALL-STARS

2010 – Ivan Vishnevskiy
2011 – Travis Morin (Francis Wathier)*
2012 – Matt Fraser
2013 – Matt Fraser, Jamie Oleksiak
2014 – Travis Morin, Colton Sceviour

* Francis Wathier represented Texas at the 2011 AHL All-Star Classic, replacing Travis Morin, who was recalled to the NHL's Dallas Stars.

The Texas Stars will host the West Division-leading Abbotsford Heat for a 7:30 p.m. face off on Friday, January 10th at Cedar Park Center. Friday's game against the Heat is a $3 Draft Beer and $4 Robert Mondavi Private Selection Wine Night and is the Stars Cell Phone Dot giveaway. Pro-rated full and partial 2013-14 Texas Stars Season Tickets are on sale now. For more information on Texas Stars season tickets call (512) GO-STARS (467-8277) or visit www.TexasStarsHockey.com.
Back to All