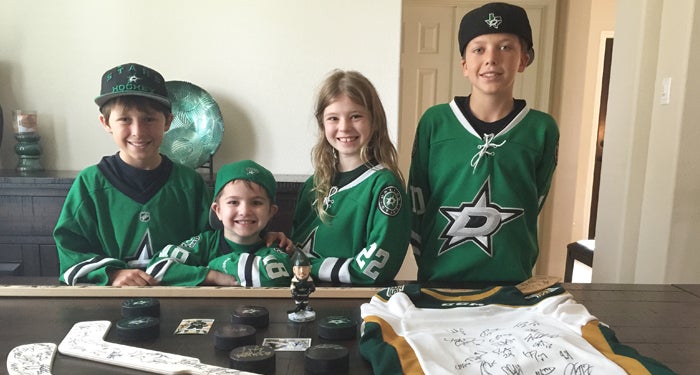 Kids Continue to Support the Fight Against Cancer
Jun 22, 2015
Update 06/26/2015: We are saddened to share the news that Cody Smuk lost his battle with cancer on Thursday. The O'Rourke children will still hold their raffle on Sunday, June 28, and will donate the proceeds to a charity of the Smuk family's choice to support cancer research in Cody's name.
The O'Rourke kids are at it again.

By now, most people, players and fans alike, know the O'Rourkes -- Liam, Nevan, Karis, and Kade -- on sight. They've become an increasingly visible facet in the Texas Stars' warm-ups. Almost as soon as doors open, you can find the kids and their signs at the glass, ready and waiting.

Usually, when the Christmas holiday comes around each year the feeding frenzy begins for children. It can be an opportunity to further stockpile their personal inventory with a new toy, a new phone, a new video game or extra spending money to enjoy.

But back in December 2014, the O'Rourke kids came up with the idea of donating some of their Christmas money to help Cody "Marty" Smuk, a hockey player battling cancer. Smuk resides in Saskatoon, Saskatchewan where he played hockey for the University of Saskatchewan Huskies alongside teammate Derek Hulak. As a rookie forward for the Texas Stars during the 2014-15 season, Hulak skated with a sticker on his helmet dedicated to Smuk to raise awareness and support for his former teammates' life-threatening battle.

The O'Rourke kids immediately took notice.

"Hulak is an amazing guy and what he stands for and how he plays. He's a favorite of the kids," said dad, David O'Rourke. "It was an easy decision for the kids to pool their money and donate it the first time around."
But now they've got an even bigger idea.

Despite a conclusion to the Texas Stars season more than a month ago, the O'Rourke children want to continue their efforts for Smuk. This Sunday, June 28th, the kids will be hosting a raffle of autographed Texas and Dallas Stars items at the Chapparal Ice Hockey Jamboree to continue raising money for Cody and his fight. Three packages, made up mostly of items from the kids' private collection will be raffled off.

"We noticed that it was the things that they liked the most," said David, about the items the kids chose to donate for the raffle.

One package includes a Derek Hulak autographed puck and rookie card, a Jamie Benn autographed puck, four club seats and a post-game player meet and greet, plus other autographed items. A second package includes a Tyler Seguin autographed puck, a 2014-15 team autographed Texas Stars youth jersey, plus other signed items. The third package includes a Trevor Daley autographed puck, a 2014-15 Texas Stars team autographed mini stick, and other autographed items from former Dallas Stars Loui Eriksson and Michael Ryder.

Like any watchful parent, David will be on hand Sunday to keep tabs on things, but understands things will run the same way they always have since his children chose to support Cody back in December. The kids will be the ones running the raffle table.

"This is their gig, their thing to do."
Back to All