Jason Dickinson: The Journey
By: Savannah Hollis
Jun 25, 2017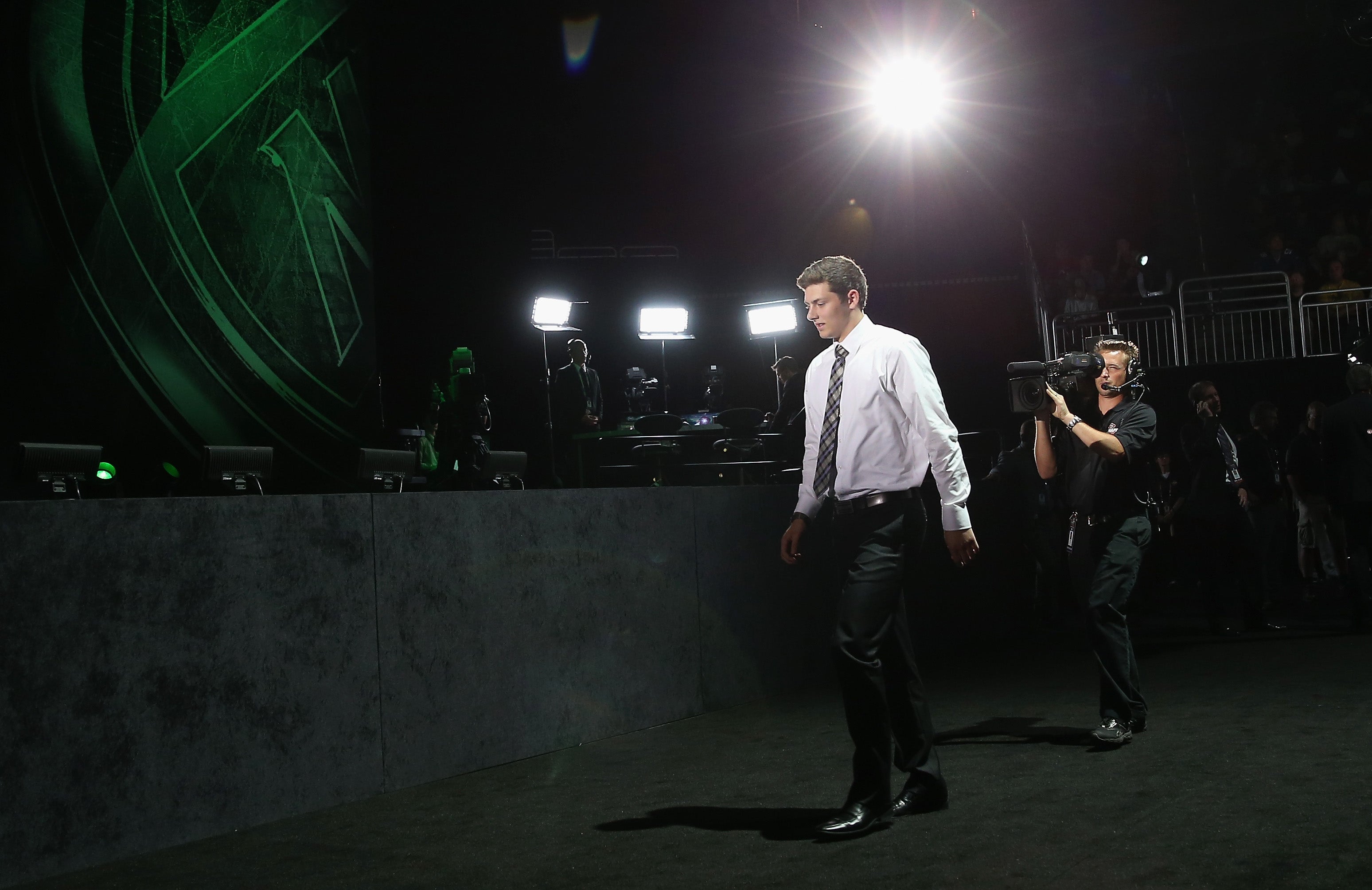 Imagine that the one thing you want most in life is right at your fingertips.
It's close enough to gently brush against the tops of your fingers but just out of your grasp. If you were to just reach forward those last few inches, the one thing you want most in life would finally be yours.
Now, think back to the moment that changed everything. The moment when you realized that your dream could become a reality.
For Texas Stars forward Jason Dickinson, that moment began when he and his family traveled to New York where they anxiously awaited the results of the 2013 NHL Entry Draft, which was being held in Newark, New Jersey.
"When we got to New York, it was just constant nerves and constant excitement," said Dickinson. "It was so hard to sleep. I was so nervous about the whole experience."
To help keep his mind preoccupied in the days leading up to what would be, at the time, the biggest moment of his hockey career, Dickinson spent time exploring the city with the plethora of family members who came to show their support.
"Everybody in my immediate family, and then all of my aunts and uncles on my mom's extended family were able to make it, too, with all of my cousins," said Dickinson. "It was a whole entourage of probably about 30 of us. They all piled into cars and trains and just made their way down."
When Draft Day arrived, Dickinson began preparing for what promised to be a big day. He put on the new suit he had gotten specifically to wear for the draft and for his prom, which occurred one month prior.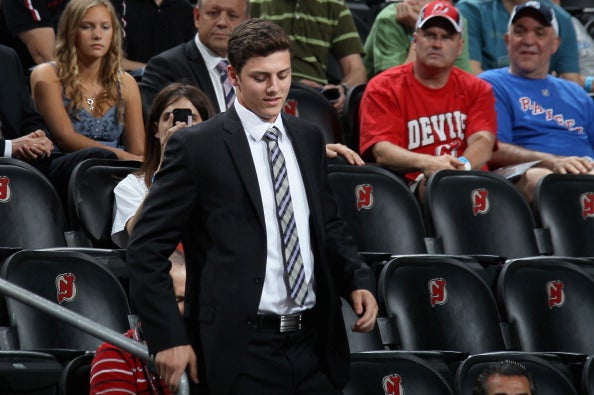 "I was thinking 'what's going to look good at both?'" said Dickinson. "That's how I convinced my parents to get [the suit] for me. I was like 'well, I'm going to wear it for the draft, and I'm going to wear it for prom.' So, that was an easy way to convince them."
Once he was ready, the Dickinson clan headed for the Prudential Center, home of the New Jersey Devils and that year's draft.
As the event began, Dickinson remained hopeful he would go in the first round but also tried to be realistic.
"I didn't think it was a sure thing," said Dickinson. "I had a good feeling that it could be the first round, but I was more confident that it would be early second round."
By the time there were only two picks left in the first, which were held by the Dallas Stars and Chicago Blackhawks respectively, Dickinson had yet to hear his name.
Then, Dallas took the stage, and Mike Modano announced the team's selection.
"The Dallas Stars select, from the Guelph Storm, Jason Dickinson."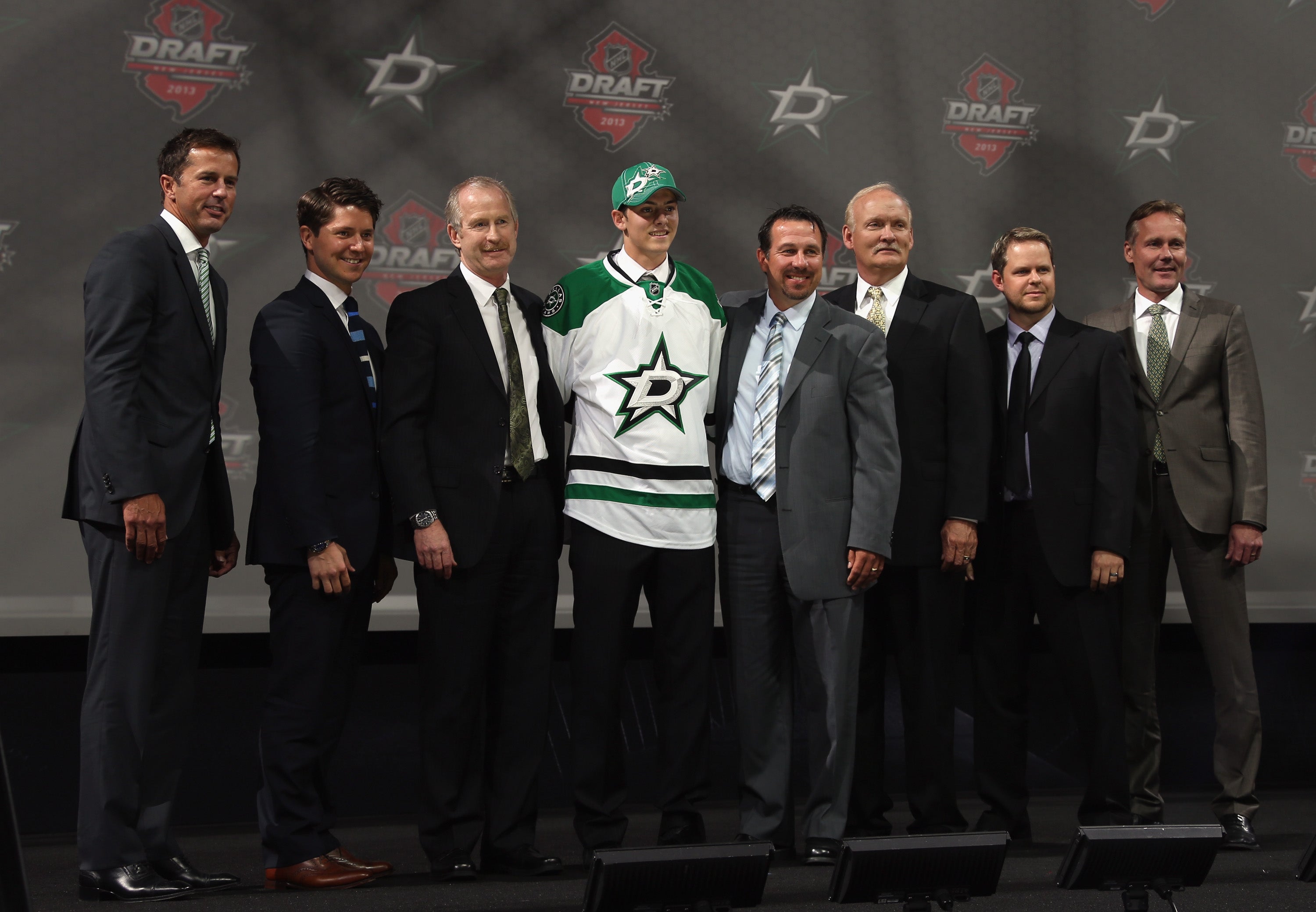 The pick came as a pleasant surprise to the young forward. He and Les Jackson, who was Dallas' Assistant General Manager at the time, only had one meeting prior to the draft when they went to dinner around Christmas.
"It was a little bit of a shock, but it was just pure happiness," said Dickinson. "I couldn't hold back the smile on my face. You can look back at pictures. It was glued on there."
The rest of the day was a whirlwind as Dickinson was guided through all of the draft stations. By the time he finished taking photos, doing interviews, signing autographs and meeting with team personnel, the sixth round of the draft was already underway. To celebrate, he and his family went out to dinner.
Dickinson flew out the next day, where he spent one day at home before traveling to Dallas for the team's annual Development Camp.
His first Development Camp was an opportunity to learn about the organization and to meet the team's personnel. He met the training staff and the equipment staff. He spoke with the coaches and with Dallas Stars General Manager Jim Nill. He created friendships with fellow prospects, and future teammates, Devin Shore and Remi Elie.
Dickinson was also taught the workouts and systems Dallas liked to run during the season.
"It was good," said Dickinson. "I thought it was going to be harder than it was. I thought it was going to be constant, hard workouts and them just grinding us into the ground. But it turned out to be a lot of fun and this great learning experience."
For the next two seasons, Dickinson returned to his junior team, the Ontario Hockey League's Guelph Storm. In Dickinson's first season following the draft, Guelph won the Rogers Cup. He ranked sixth in playoff scoring with 24 points (8-16=24) in 20 games.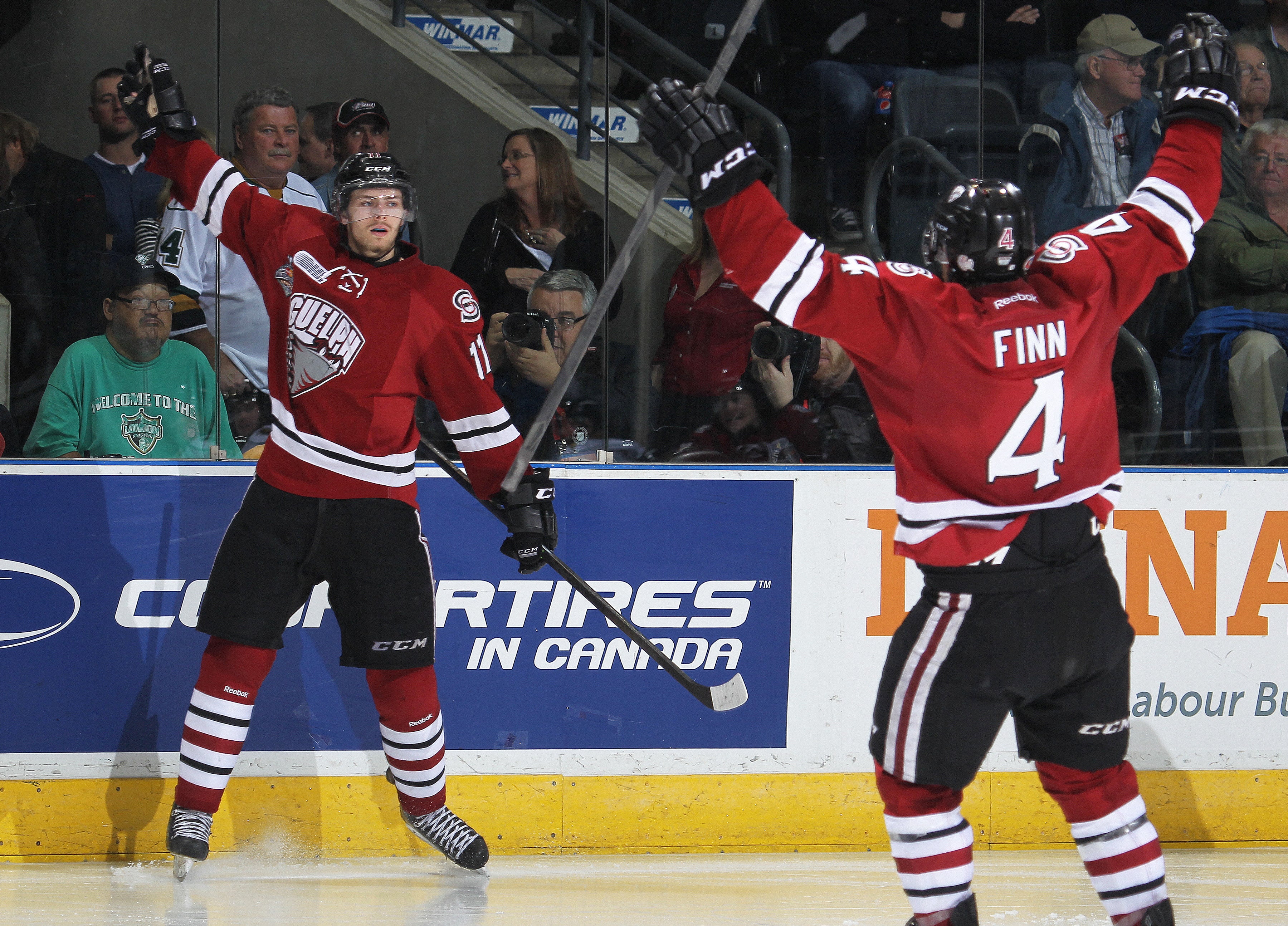 Dallas made sure to keep in touch but also to observe Dickinson's play from a distance the further the team got in the playoffs.
"The first year after the draft was the year that we were really good in Guelph and we went all the way," said Dickinson. "They kind of just sat back, watched and let me do my thing. They didn't want to distract me from what we were doing in Guelph."
After the season ended, Dickinson attended his second development camp with the Stars, where Dallas pointed out his strengths in addition to areas that needed improvement.
"They really talked to me about doing little things and saying 'this is what you're good at, get stronger on your face-offs, be more explosive, be dominate with the puck,'" said Dickinson. "They didn't want to change my game too much, they just wanted to help fine tune it."
Since both Guelph and Dallas enjoyed a fast-paced, high-intensity game, nothing Dallas asked him to work on interfered with Guelph's systems. This allowed Dickinson to visualize how he could fit into Dallas' system once he transitioned from juniors to the pros.
However, there was a feeling out process. Dickinson had been one of the oldest players on Guelph. He was the captain, the go-to guy and a leader. Then, as he joined the AHL's Texas Stars for the 2015-16 season, he was back to being a rookie.
Joining a new team required taking a step backwards. Dickinson had to earn his way back into the lineup and earn the respect of the team. He had to fight for every inch of ice because, in hockey, nothing gets handed to you.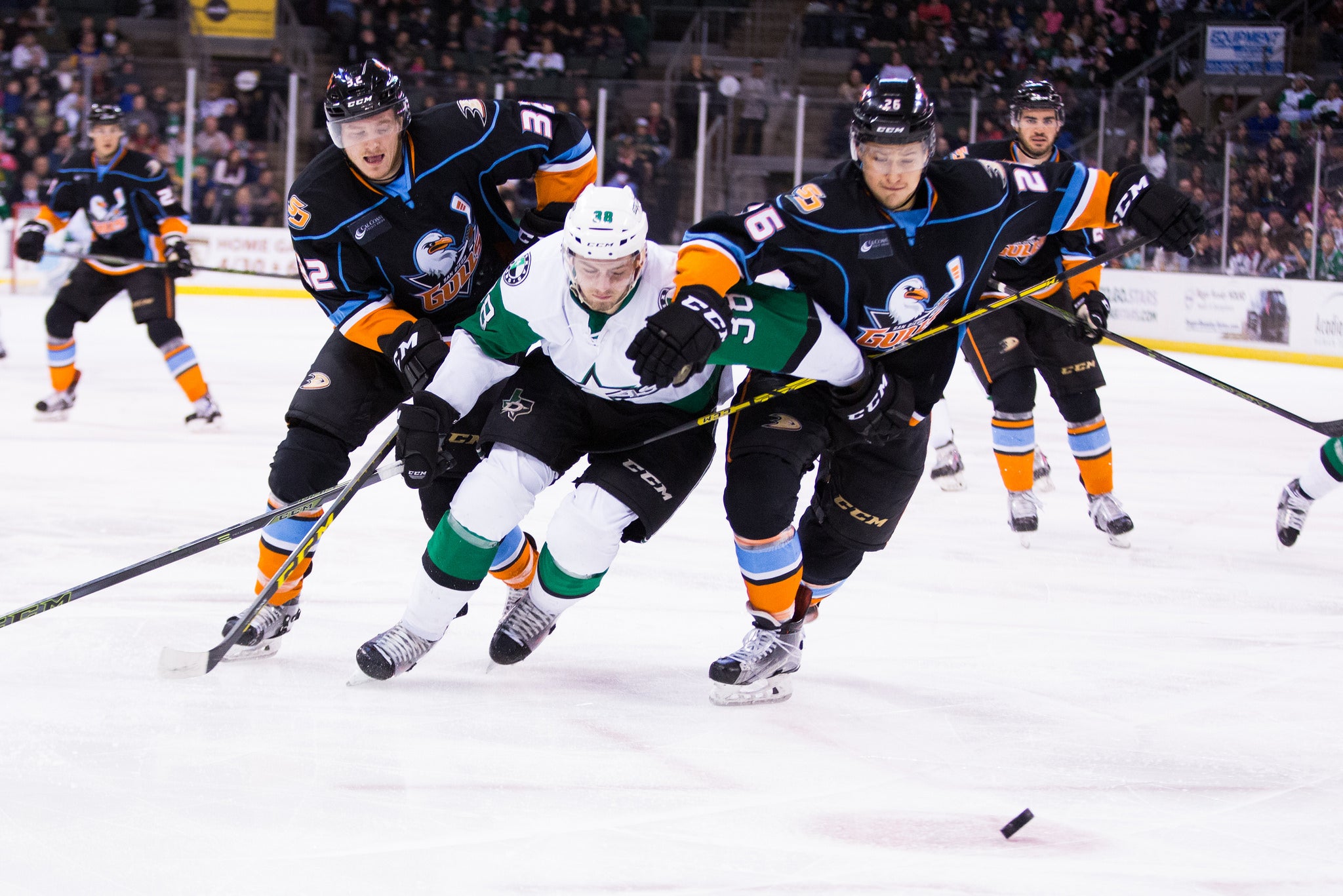 "It was tough to transition with that, but it came rather quickly when I started to figure out how much space there actually was out there," said Dickinson. "Playing with great players in Texas helped. We had a good team that year with a lot of skill. It was great to be around."
That season, Dickinson played alongside Curtis McKenzie and Brett Ritchie – players who would earn a permanent place on Dallas' roster the following year. He also earned his first call up to the NHL on April 7, 2016.
The morning of Dickinson's NHL debut, he awoke to a series of missed calls from Dallas Stars Assistant General Manager Scott White, who also serves as the GM of the Texas Stars. Not knowing if he was going to receive good or bad news, Dickinson immediately called White back.
"The first thing he said was 'Dickie, you've got a flight at 10, can you get on it?'' said Dickinson. "That's when adrenaline kicked in, and nothing was going to stop me."
Dickinson quickly packed his bag and got dressed before rushing outside to await his ride to the airport. He arrived at the airport only to find his flight to Dallas had been delayed. Fortunately, he still made it to American Airlines Center in time.
"As soon as I got to the rink, the guys were extremely welcoming and helpful," said Dickinson. "They were helping me with any questions and confusion I had. The coaching staff helped as well. The nerves hadn't hit yet. I was still just happy to be there."
As warmups began, Dickinson took the ice by himself to complete his solo lap, a tradition where a player making their debut skate a lap by themselves. The arena was starting to fill up, and by the start of the game, his nerves were on full blast.
Fifteen minutes into the first period, Dallas forward Valeri Nichushkin stripped the puck away from Colorado Avalanche netminder Calvin Pickard and directed it right on to Dickinson's stick. He shot. He scored.
"Fortunately enough, I went right to the net, and it was a pretty easy first goal," said Dickinson. "I just had to make sure I hit the net at that point. It was just pure excitement. I couldn't have been happier."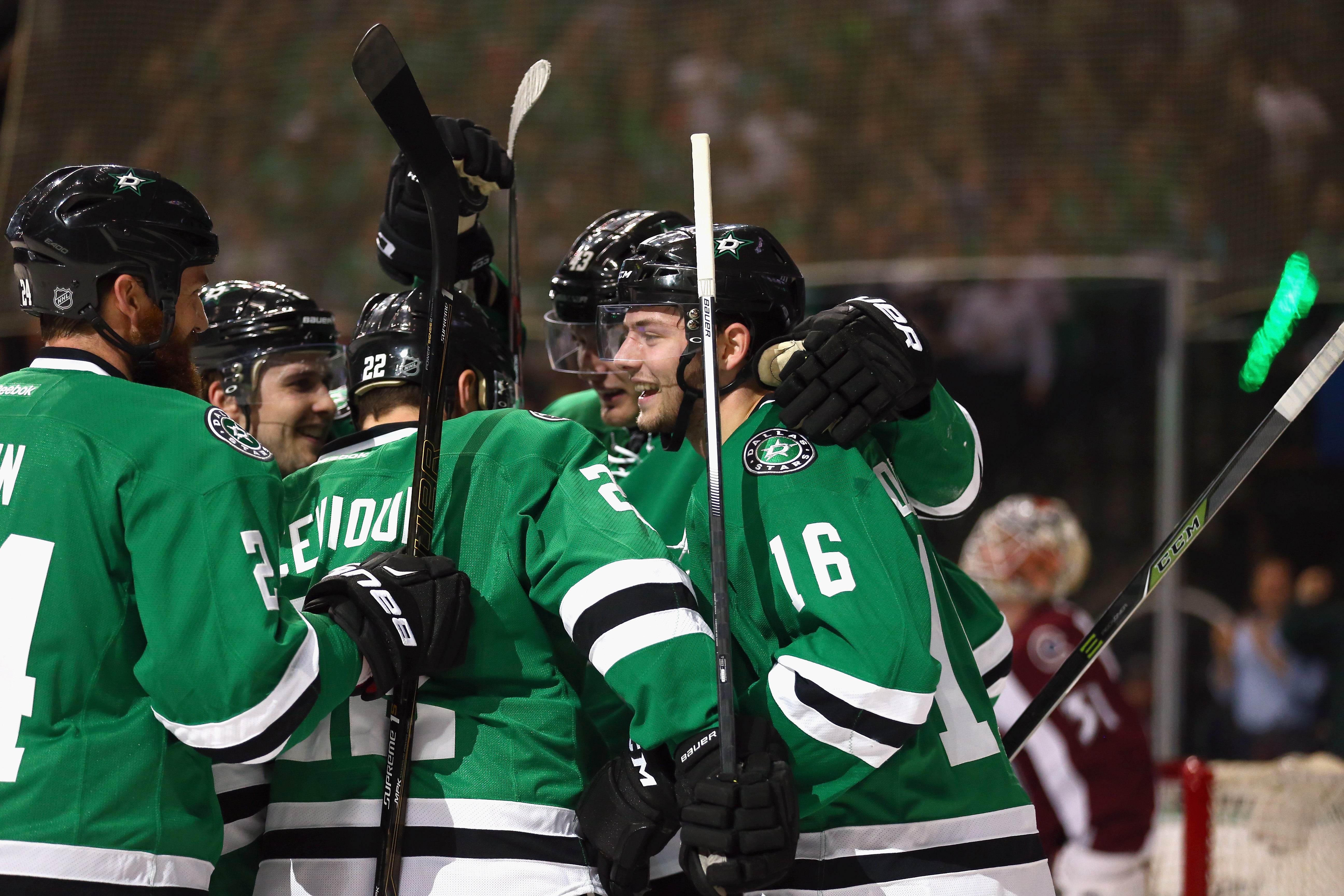 The rookie's first professional season ended with 53 points (22-31=53) in 73 games for Texas and his first goal and first game in the NHL.
Dickinson spent the 2016-17 season back in the AHL, where he was sidelined for the first month due to injury. His point production dipped, adding to the frustration of a disappointing season that saw Texas miss the playoffs for just the second time in franchise history.
"The whole team was disappointed with the way things went," said Dickinson. "But, every staff member down in Austin, they were in our corner. There was so much help."
Dickinson specifically pointed to conversations with Rich Peverley, who oversees the development of Dallas' prospects, as being insightful.
"I think talking to Rich Peverley has been really helpful," said Dickinson. "He's been through it, and he took the hard route. The way he talks about how important face-offs are and how important being on the defensive side and gaining the coach's trust was huge."
Despite the frustrating season, Dickinson earned a few more call-ups to Dallas. He added two goals and 10 games to his NHL career.
Now, with the 2017-18 season approaching, Dickinson is projected to be right on the bubble of making Dallas' roster. Hard work has put him close enough to where his dream of playing in the National Hockey League right at his fingertips.
"It's like Draft Day again," said Dickinson. "I'm full of excitement and nerves. It's a lot of pressure, but it's everything I've always wanted and everything I've worked for."
But, being so close to his dream also makes way for a heavy reality.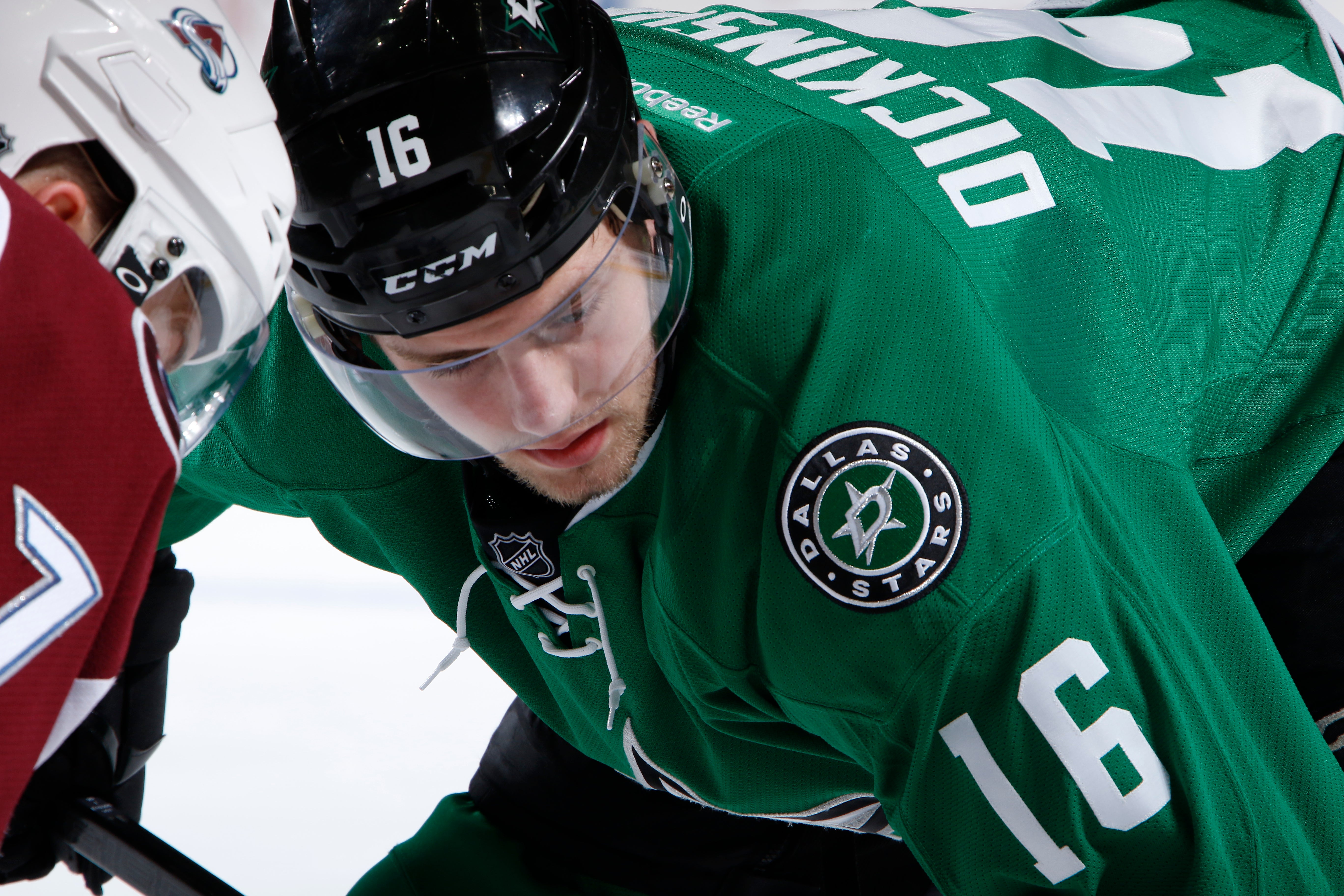 "It's nice to see my goals within reach, but it's also very scary that it's right there," said Dickinson. "It's just a few inches away, and it can come down to me and another player. Who is it going to be? That other player is going to be my friend. It's going to be somebody that I've gotten to know really well over the past few years."
Playing in the NHL is the dream, but reality is the ultimate motivator to run a little faster, skate a little longer and train a little harder.
As for the kids who just started the draft and development process? Dickinson had some advice.
"Stay humble," said Dickinson. "Be proud of what you've done, but don't stop working. It doesn't matter if you're drafted in the first round or the seventh round. You still have to keep working. Nothing is set in stone. Nothing is decided for you. You have to work for every inch. You have to work for every little bit of ice."
(Photo Credit: Christina Shapiro and Getty Images - Bruce Bennett, Dave Sandford, Claus Andersen, Ronald Martinez, Glenn James)
Back to All