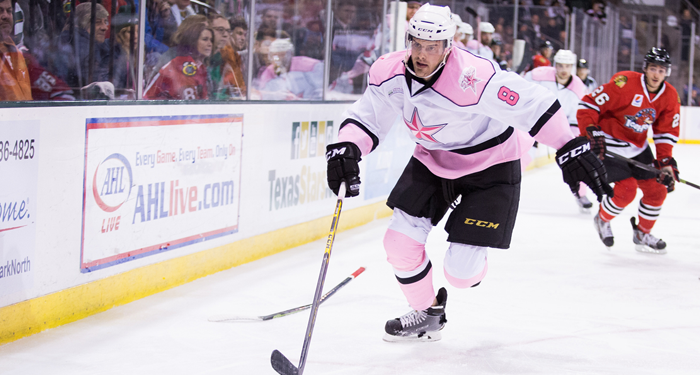 IceHogs Top Stars in a 6-3 Final
Feb 28, 2015
CEDAR PARK, Texas – A hat trick by Phillip Danault in the third period pushed the Rockford IceHogs to a 6-3 win on Saturday night over the Texas Stars in front of 6,165 in attendance at Cedar Park Center.

After the Stars (25-18-12-1) carried a 3-2 lead into the third off consecutive goals late in the second, the IceHogs (32-18-4-2) knotted things up on a power play goal. Danault then tallied goals at 12:54 and 14:47 of the third to open up a two-goal cushion, and added an empty-net goal in the final minutes to seal the win.

The Stars continue their homestand on Friday when they host the Iowa Wild at 7:30 p.m.

Jack Campbell suffered the loss despite a 35-save performance in net. Both Campbell and Rockford's Antti Raanta made key saves when needed throughout the game for their respective clubs. Raanta finished with 23 saves in the win.

Trailing 2-1 in the second, the Stars rallied off goals from Kevin Henderson and Travis Morin in the final 6:03 of the period to take their first and only lead of the hockey game. Henderson ripped a slap shot from the left circle off the post for his second of the year, and Morin buried a one-timer from the right circle off a crossing pass by Gemel Smith for his 16th and team-leading 45th point to turn the momentum in Texas' favor.

The game's scoring started at 3:42 of the middle period with a Rockford goal by Mark McNeill, but Justin Dowling responded for Texas with a power play goal at 7:05 from Matt Mangene and Smith. Peter Regin scored again for the Hogs at 11:39 of the period driving down the slot on a give-and-go play with Ryan Hartman.

Trailing 3-2 entering the third, Rockford's Garret Ross scored a power play goal at 8:50 to tie the game and set up Danault's game-winning heroics.

The IceHogs finished 2-for-4 on the power play. Texas went 1-for-5. Texas gave up multiple power play goals in a game for just the second time over their last 24 contests.

Texas maintained their hold of the Western Conference's seventh playoff spot, but now lead eighth-place Hamilton by one point. Smith finished with a pair of assists for Texas.
Back to All